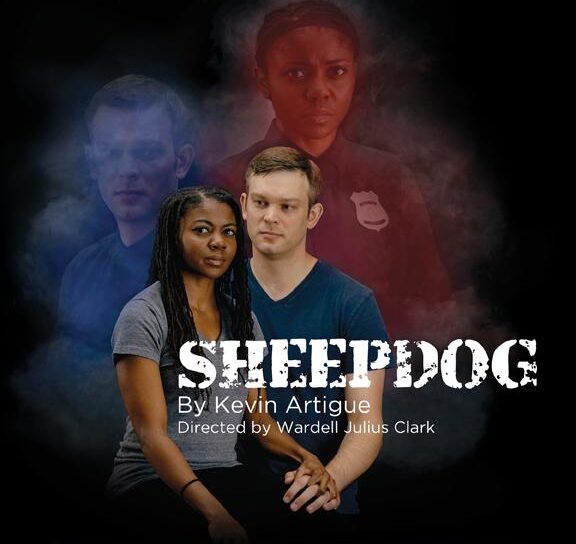 Shattered Globe Theatre presents the Chicago Premiere of SHEEPDOG.
Playwright Kevin Artigue dissects an interracial relationship of cops turned lovers. Artigue's story starts with Leslie Ann Sheppard (Amina) coming home to confront Drew Schad (Ryan). Schad playfully announces the dinner he cooked isn't the greatest. A somber Sheppard utters the wince-worthy words, 'we need to talk.' This pivotal moment is supported by a series of flashbacks.
The fierce Sheppard serves as the narrator recalling moments of significance. She drives the story in reverse often by uttering 'pause' and 'rewind.' Following those words, Sheppard and Schad reenact a relationship memory. They share philosophies and beliefs rooted in their different upbringings. When Schad's police work comes under scrutiny, Sheppard pieces through their past like evidence in a case. She goes over conversations  and police footage intent on seeking the truth. And the audience serves as her partner in crime as we are pulled into the story to puzzle together the facts.
The storytelling is aided by a slick scenic design by Sydney Lynne. Lynne's movable walls allow change of locale with a quick transition and add an intimate level when the action is partitioned off to the bedroom. The smooth walls also serve as a canvas for riveting footage from Smooch Medina (projection design). Medina illustrates an incident from the point of view of a police body camera. It is both fascinating and frightening.
The storytelling is intriguing. The acting is superb. And Director Wardell Julius Clark masterfully unravels this relationship story with a messy authenticity. SHEEPDOG is a perspective to understand.
Running Time: Ninety minutes with no intermission
Theater Wit, 1229 W. Belmont
Written by Kevin Artigue
Directed by Wardell Julius Clark
Thursdays, Fridays, Saturdays at 8pm
Sundays at 3pm
EXTENDED Thru March 15th
For more Chicago theatre information and reviews, please visit Theatre in Chicago