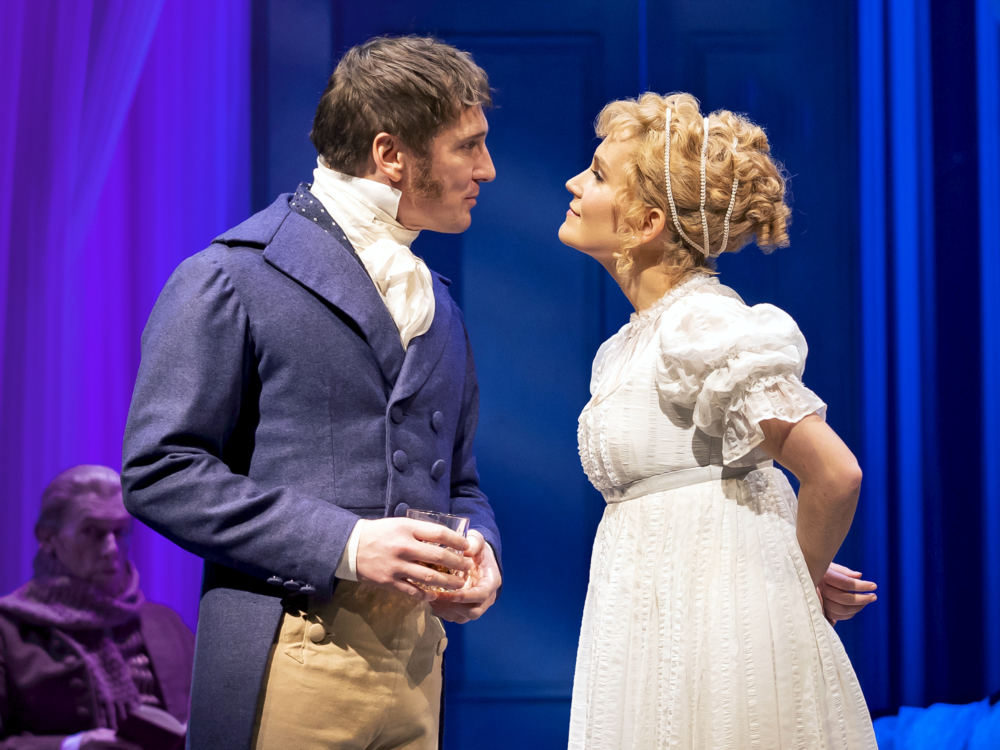 Chicago Shakespeare Theater presents EMMA a new musical.
Jane Austen's beloved tale of a young woman of privilege and her questionable matchmaking skills gets a musical makeover. Paul Gordon (book, music, lyrics) deftly adapts the classic. Gordon serving as playwright and composer aids the ongoing seamless transitions. Characters' musings go from spoken to sung with a breath and a beat. This is the underlying soft whisper of this 18th century romance. The original rom-com swirls onstage with sophisticated wit and gentle presence.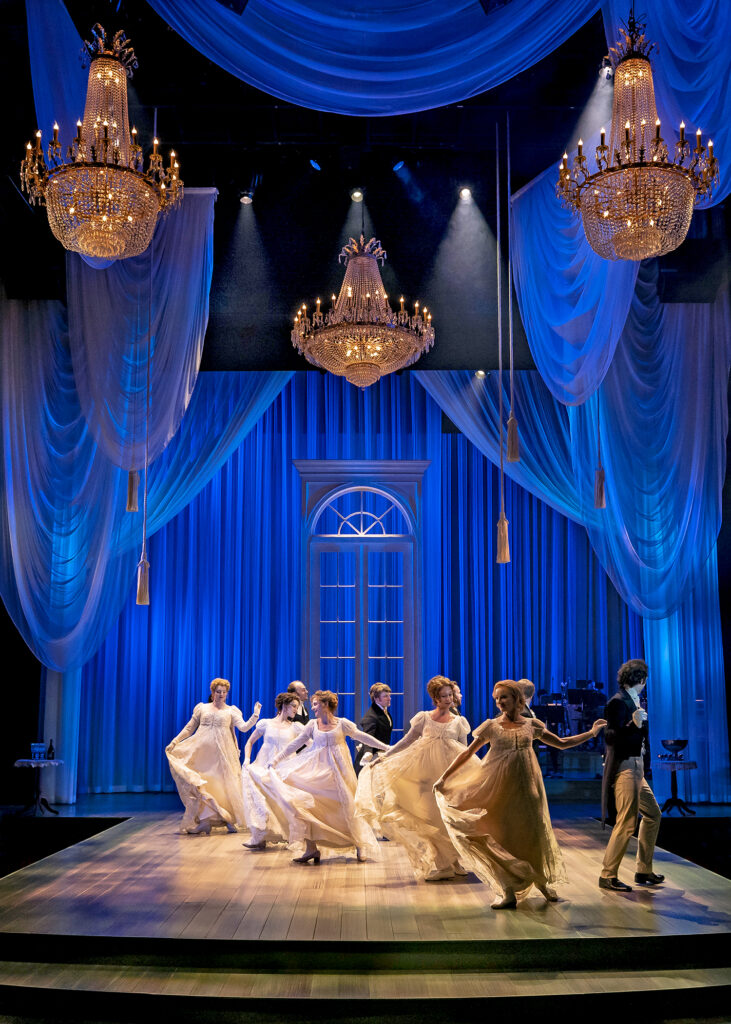 The design team, Scott Davis (scenic), Donald Holder (lighting), Mariann Verheyen (costume), Richard Jarvie (wig and make-up), add to the storytelling with refined simplicity. The stage is draped with sheer curtains lit in pinks, blues, greens or golds to frame the scene. The ladies wear white lace covered muslin and up-dos with curly ringlets. The look is elegance personified!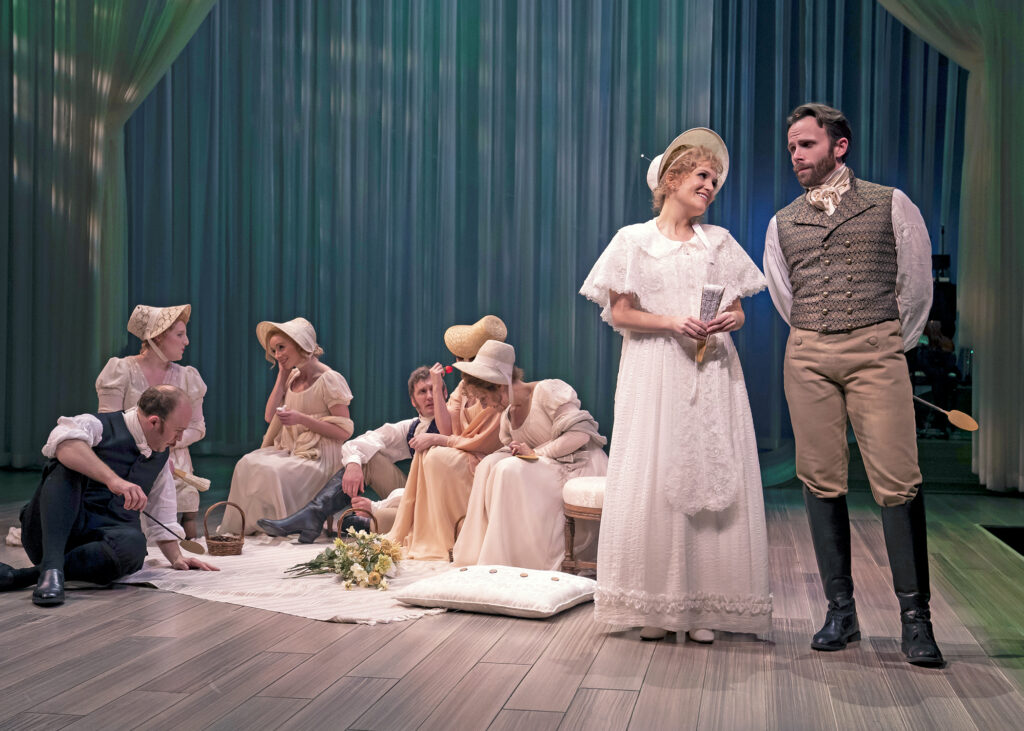 Under the skillful direction of Barbara Gaines, the talented ensemble bring the love! In the lead, the beautiful Lora Lee Gayer (Emma) plays it subtle. She delivers her criticism, her comedy and her feelings with polished posh. Her droll articulation is so even-keeled, many a one liner joke goes by without much laughter. The choices works perfectly in contrast to her friend Harriet (played by a noteworthy Ephie Aardema). Aardema is the unpolished opposite to Gayer. She is emotional, exuberant and a hoot. Her innocent gushing of "Mr. Robert Martin" is priceless.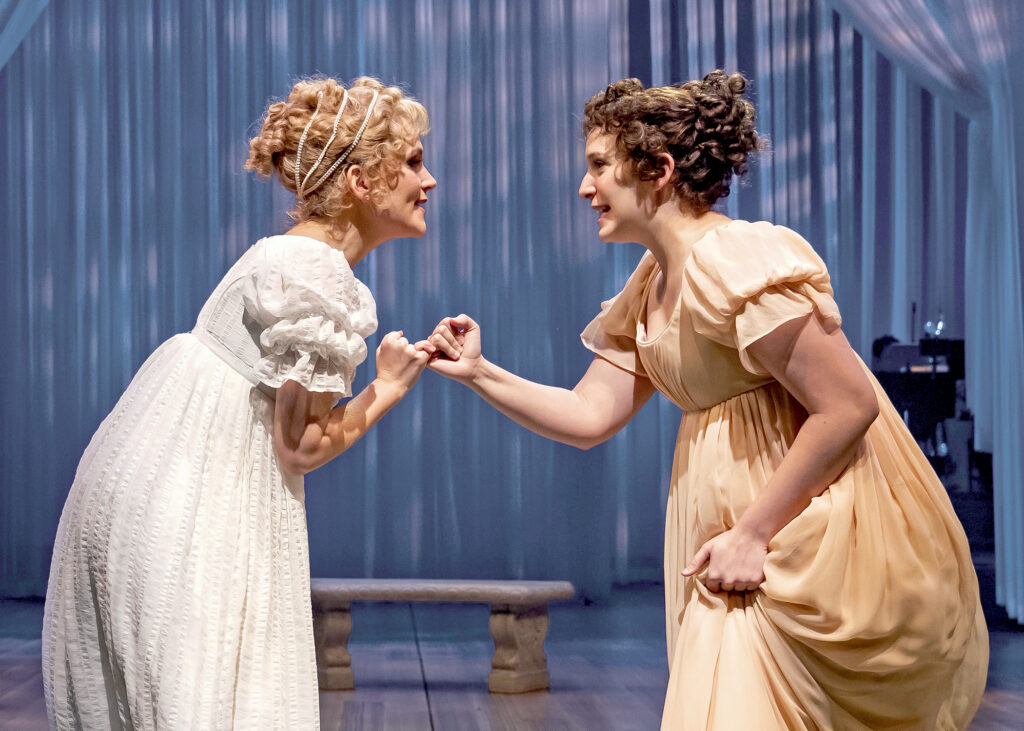 And as much as Aardema is her unpolished opposite, Brad Standley (Mr. Knightley) is her genteel match. Gayer and Standley's relationship is rooted in honesty, respect and humor. It's not so much hot and heavy chemistry as the civilized conclusion of a long-term friendship. Sweet over steamy provides a satisfying ending that Austen would approve and appreciate.         
Along with the Broadway imports, local actors shine in supporting roles. Larry Yando (Mr. Woodhouse) hilariously makes the ongoing announcement 'I don't like change.' A delightful Marya Grandy (Miss Bates) stops her tireless prattling to yell direct statements at her deaf mother. And Bri Sudia (Mrs. Elton) has the showstopping scene. Her pompous aura is hysterical. Her every utterance brings riotous laughter.   
EMMA is a cozy charming escape from the harsh brutal winter. For date night, family outing or gal-pals night out, Chicagoans should get their love fix 18th century style at EMMA!   
Running Time: Two hours and fifteen minutes includes an intermission
Chicago Shakespeare Theater on Navy Pier, 800 E. Grand
Based on the novel by Jane Austen
Book, music and lyrics by Paul Gordon
Directed by Barbara Gaines
Wednesdays at 1pm
Tuesdays, Wednesdays, Thursdays, Fridays at 7:30pm
Saturdays at 3pm and 8pm
Sundays at 2pm
Thru March 15th
Production photos by Liz Lauren
For more Chicago theatre information and reviews, please visit Theatre in Chicago