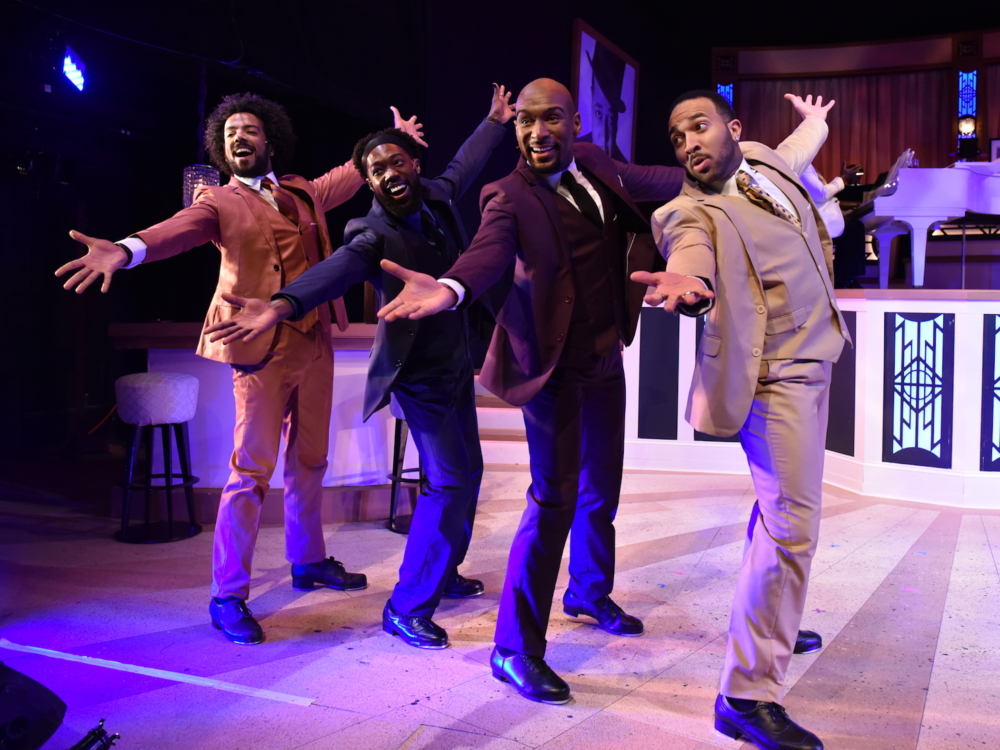 Porchlight Music Theatre presents DUKE ELLINGTON'S SOPHISTICATED LADIES.
Step into Porchlight Music Theatre, step into a different era. The design team (Angela Weber Miller – scenic and Denise Karczewski – lighting) have transformed the stage into a swank nightclub. Soft pink lighting illuminates art deco-style cut-outs. In between columns, long sweeping curtains line the backdrop. The seven piece orchestra is dressed to the nines and sitting just below an oversized portrait of the man of  honor, Duke Ellington. It's like the Duke himself is overseeing this tribute to his life's pursuit. Yet, Music Director Jermaine Hill needs no ghostly support as he  masterfully conducts this musical homage from Overture to "It don't mean a thing." He does. He does. He does…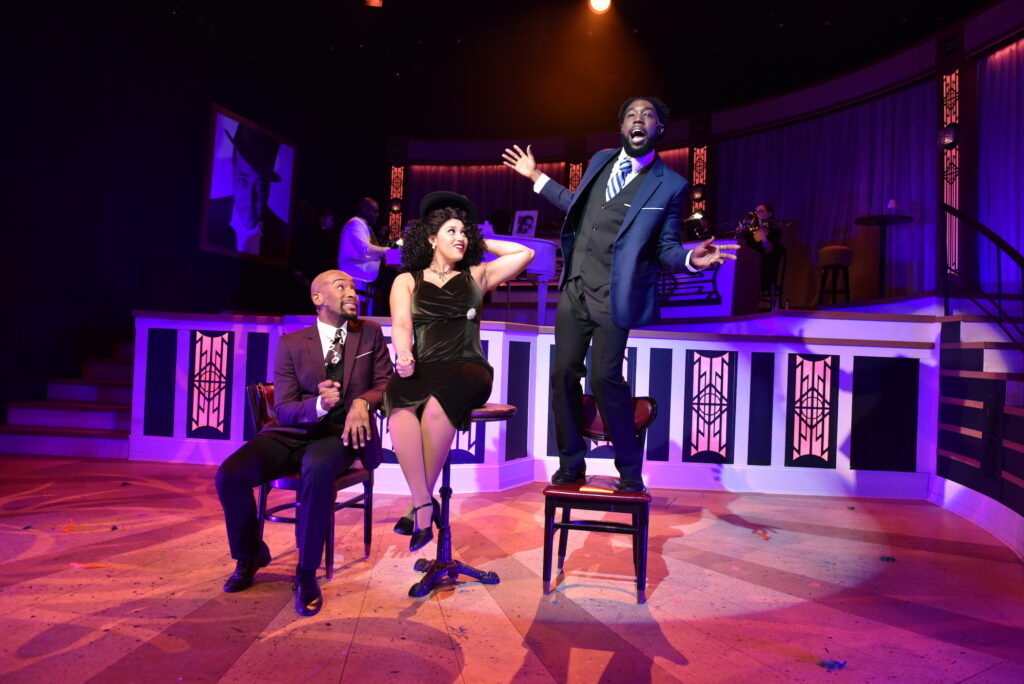 From the first note, the audience is shimmying shoulders, head swaying and toe tapping. The refined Donterrio Johnson serves as our guide back-in-time to Ellington's songbook of playful, bright tunes along with sexy elegant melodies. Co-directors and co-choreographers Brenda Didier and Florence Walker Harris perfectly pair the Duke's broad range with diversity in dance. The sophisticated gents of Johnson, Eustace J. Williams, Chuckie Benson and Joey Stone kick off the show by cutting up the rug with energetic tapping. The gentlemen are dashingly dressed in muted but colorful suits for their barber shop style quartet song and dance. Particularly notable is the delightful Stone who regularly exclaims excitement or goads the audience to show appreciation throughout his performance.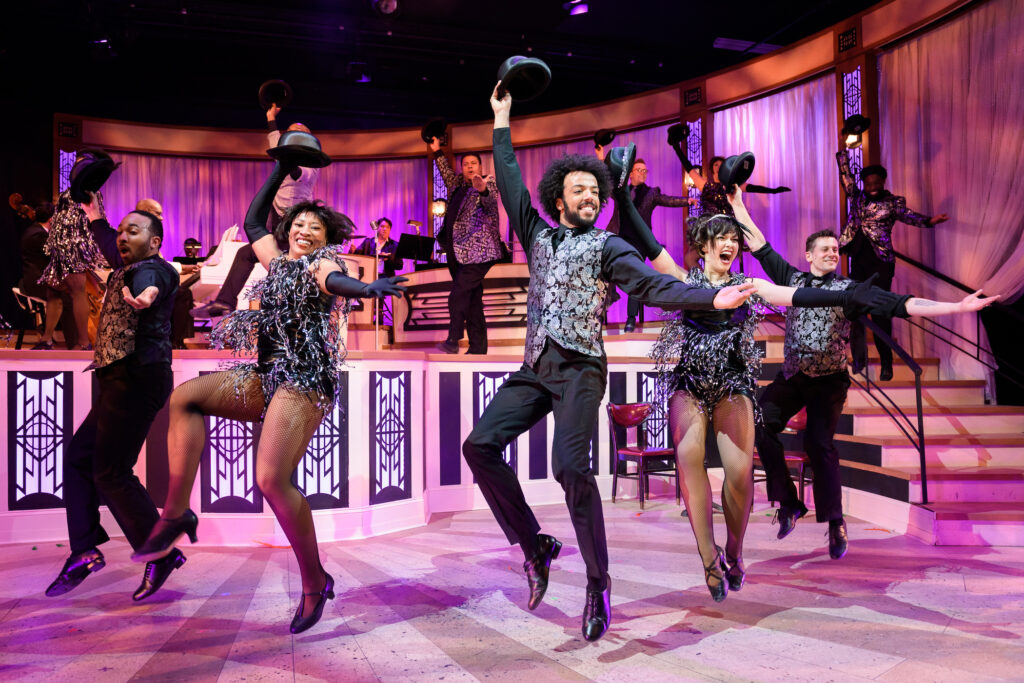 Not long after the gents, the sophisticated ladies, Shantel Cribbs, Madison Piner, Jenna Schoppe and Terri K. Woodall arrive on stage to shake their tail feathers while barefoot. Their tribal style dancing culminates with lifting and carrying Stone. Didier and Harris' amazing breadth of choreography is punctuated by Costume Designer Theresa Ham's dazzling expansive wardrobe. Each of the superb ensemble members must have 5-8 costume changes. Feathers, fedoras, velvet, satin, beads, bangles, fringe, Ham brings out every texture, fabric and color in her designer closet. The result is continuous gasp-worthy, eye candy!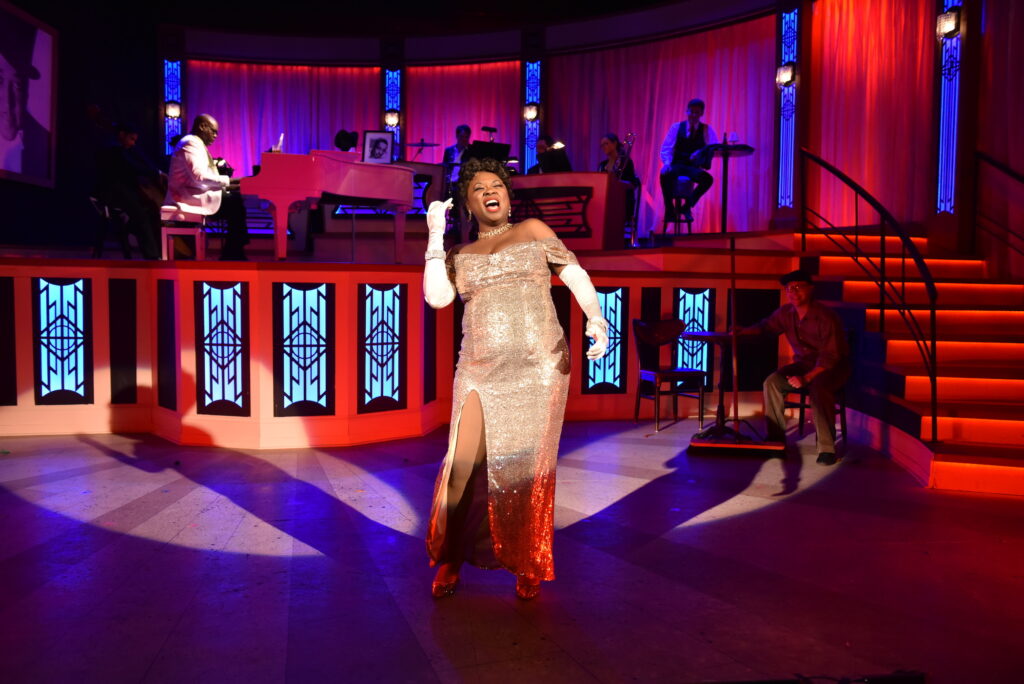 In between moments of merriment, the show slows down to feature the softer side of Duke. Familiar favorites, like "In a Sentimental Mood", "Something to Live For" and "Don't Get Around Much", are sung throughout this marvelous spectacle. The powerhouse singer Lorenzo Rush, Jr. belts out many soulful melodies. In addition, sophisticated divas, Lydia Burke, Molly Kral, Donica Lynn and Woodall, bring the sentimentality and sensuality to many solos and duets. Although many of the duets have Rush crushing a gal's dreams, Kral and John Marshall, Jr. have a sweet flirtation threaded thru multiple songs.
Singing? Dancing? Or the singing? Or the dancing? Which is better? It's a tie and we all win!! At one point, Tristan Bruns and Woodall break out into a tap duet. Their spirited movements appear effortless but shroud me in exhausted wonder. The tall and nimble Kaimana Neil also brings some athletic, high-splitting flair to a number. And rounding out this tight, talented company are the swings De'jah Jervai and Daren Patin.      
Porchlight Music Theatre struck gold… again!!!  SOPHISTICATED LADIES is the Duke's treasure! This phenomenal musical treat is the perfect night out for hipsters to oldsters. Anyone's experience will make them feel like "I'm Just A Lucky So and So."                 
Running Time: Two hours includes an intermission
The Ruth Page Center for the Arts, 1016 N. Dearborn St.
Featuring music by Duke Ellington
Concept by Donald McKayle
Direction and choreography by Brenda Didier and Florence Walker Harris
Music direction by Jermaine Hill
Thursdays at 7:30pm
Fridays at 8pm
Saturdays at 3:30pm and 8pm
Sundays at 2pm
Thru March 6th
All Photos by Michael Brosilow
For more Chicago theatre information and reviews, please visit Theatre in Chicago