Porchlight Music Theatre is proud to present THE RUFFIANS' BURNING BLUEBEARD.
I've enjoyed this whimsical show on a couple occasions (2014 , 2011 ). It's magical!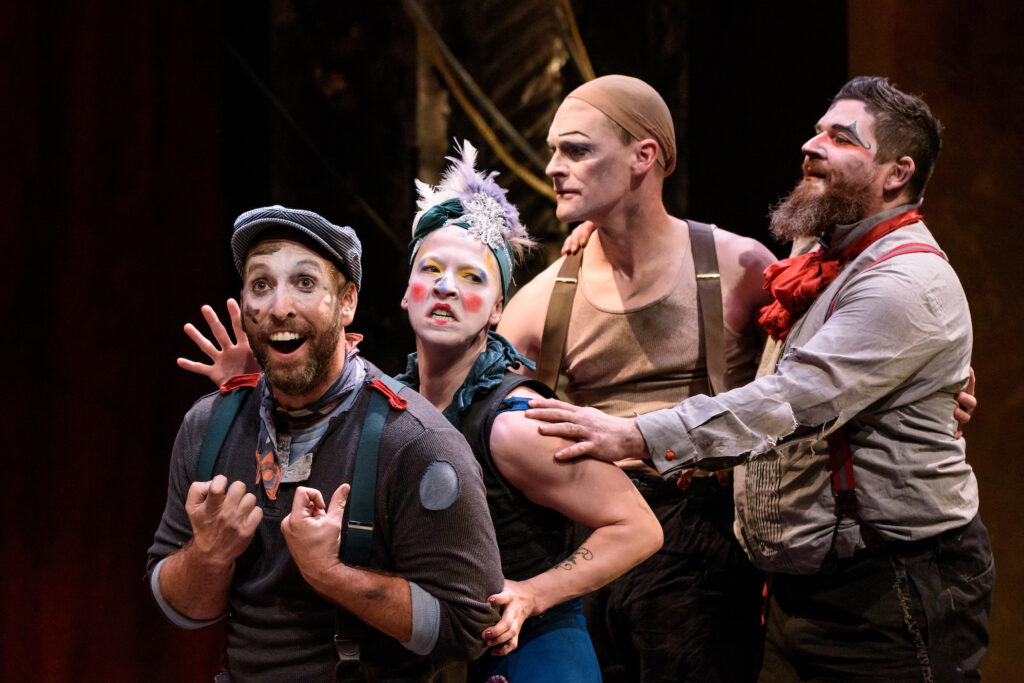 The subject matter doesn't easily lend itself to an uplifting theatrical experience. The 1903 Chicago Iroquois Theatre fire killed 600 people, mostly women and children. Yet, Playwright Jay Torrence tells the story from the first-person perspective of cast and crew. Torrence's dialogue is peppered with humor as the talented ensemble work to illustrate the disaster. From the actors' entrances to their exits, the show wraps the audience in the stagecraft/real life, light/dark and comedy/drama. The facts and fantasy mingle together to conjure up a unique spectacle.
The show is enhanced by returning Director Halena Kays. Kays and Torrence collaborative efforts make for masterful storytelling. Torrence also performs in the show along with Bluebeard veterans: Pamela Chermansky (Fancy Clown); Anthony Courser (Henry Gilfoil); Leah Urzendowski (Nellie Reed); and Ryan Walters (Eddie Foy). Newbie Crosby Sandoval (Faerie Queen) delights in his enchanting nimbleness. This fierce ensemble combine grit and slapstick to pay homage to that fateful matinee performance. It's as if the Iroquois ghosts join them onstage to bring the humanity to the playful narration.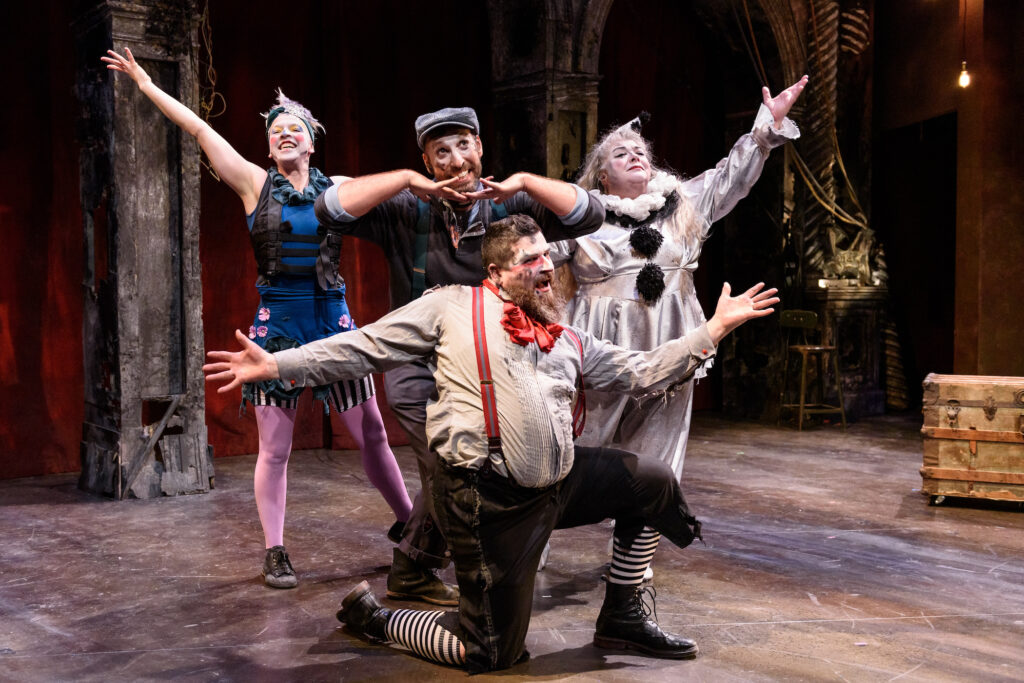 New this year is BURNING BLUEBEARD on Porchlight's stage. The change takes the already terrific show up several rungs. The show benefits from being in a traditional theatre setting. The arched remains of "Sunset Boulevard" (Scenic Designer Jeff Kmiec) is the perfect backdrop. An exit through a stage door is lit with a surreal radiance  (Lighting Designer Maggie Fullilove-Nugent). The strongest effect from the alternative stage is it's uncomfortably easier to imagine that chaotic 15 minutes experienced by the Iroquois audience. From my middle seat perch, I'm overly aware of where the exit signs are.
Running Time: One hundred minutes with no intermission
The Ruth Page Center for the Arts, 1016 N. Dearborn Street
Written by Jay Torrence
Directed by Halena Kays
Thursday, Dec. 19 at 7:30 p.m.
Friday, Dec. 20 at 8 p.m.
Saturday, Dec. 21 at 3:30 and 8 p.m.
Sunday, Dec. 22 at 2
Thursday, Dec. 26 at 1:30 and 7:30 p.m.
Friday, Dec 27 at 3:30 p.m. and 8 p.m
All Photos by Michael Courier 
For more Chicago theatre information and reviews, please visit Theatre in Chicago