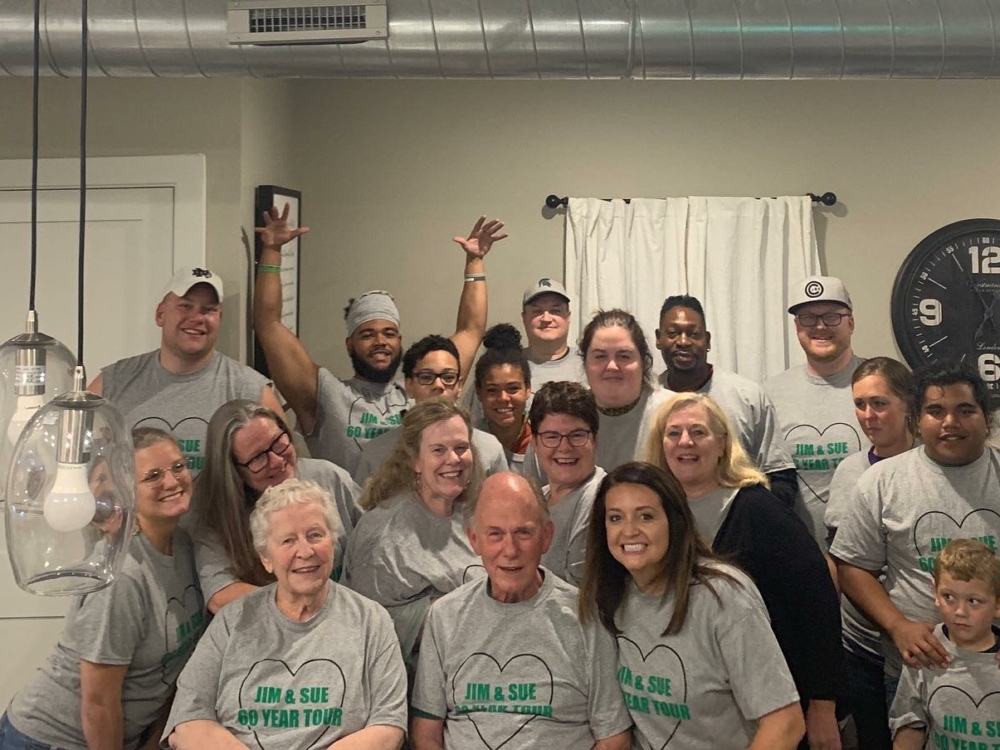 November 1st
Happy Candy Hangover Day!
Here's the biggest treat I received last month: I will start my new position of Director of Grants Management and Development at AllianceChicago on November 18th. I'm so excited. I've met with several members of the team and was impressed and inspired by their passion and commitment. I'm honored to join this team in delivering their — our mission; to advance community health through collaboration, technology and research.   
As a woman of faith, I believe the past 16 months, 254 applications, 29 interviews and 2234 levels of Candy Crush led me to this position, this team, this organization. I'm excited to bring my energy, expertise and innovation to help broaden and diversify revenue streams in support of these critical services. 
Although October 29th was the best day – official job offer letter, the last two months have been bustling with a lot of other treats. 
Serving = 33 shifts! I've given notice and resigned my Wood gig. I let management know how appreciative I've been for the opportunity, especially for the last sixteen months. Although I offered to pitch in when needed, my knees and feet are giddy to 'get off the floor.' During this past two months, I've also provided healthcare support for six hours a week to a sweet old lady navigating her recovery from surgery.   
Job Search =  10 applications, 5 interviews, two consulting gigs and THE JOB! The last couple of months had me a little wary. Not as many new positions were listed. I even broadened my thinking about what job prospects to pursue. Yet, I landed THE job. Not A job, THE job!! It's a perfect fit for me. It'll challenge me in a new arena, healthcare while tapping into my grant management expertise. Before and after the job offer, I did more consulting for Children's Home & Aid and also picked up a traveling writing gig with By Design.
Workout with Josh = 17 times! I have had plenty of wrinkles in my September and October schedule. Still, Josh has accommodated me. To combat a series of serving doubles, he has me rolling out my leg and foot muscles on a regular basis. I'm looking forward to cranking up my training during my server retirement.   
Yoga =  3 classes!  I tried a somatic/yin yoga to stretch and flex smaller muscles. I also had three Thai neck and foot massages courtesy of my gal pal Michelle… so relaxing. With my new weekend freedom, I'm going to focus on ongoing and consistent yoga classes.
Life Learner
I watched the documentary "Hello Privilege. It's Me, Chelsea." Chelsea Handler confronts her white privilege in a series of interviews with people of color. The show is relatable, powerful and entertaining. I also have watched two episodes of "The Family" documentary series on religious influence in politics. It's a disturbing reality of the power of conservative Christians over politicians, over the decades. I will force myself to watch the last three episodes.            
*4.5 books! 
"Shortest Way Home" by Pete Buttigieg: Tom, one of my Wood regulars, is committed to educating me about the Democratic candidates for President. He sent me this book from his Hawaiian vacation. Mayor Pete's book is eloquently written and a love letter to South Bend, IN. Having grown up in the neighboring city of Elkhart, I recognized a lot of his business and citizen references. His thoughtful approach to economics and city growth is an interesting read. I believe he is a smart leader and is definitely positioned for a bigger, national role.
"The Orphan's Tale" by Pam Jenoff: Scubi gave me this novel to read. Set in WWII, it tells the tale of two women hiding from Nazis as aerialists in the circus. It was clever to see the German invasion from the perspective of a traveling circus. The playful backdrop of a circus mingled with the horrific reality of genocide is eye-opening storytelling. There is a particularly disconcerting description of dead babies on a train.
"The Alice Network: A Novel" by Kate Quinn: This WWI and WWII novel is about women spies. The historic novel is a page turner. It follows two women searching for the answers in the aftermath of WWII. The story goes back and forth from present day 1947 to the life of a spy in 1915. Quinn is a master storyteller. The layers of intrigue are twisted with palpable humanity. Loved it! 
"Will My Cat Eat My Eyeballs" by Caitlin Doughty: Tom let me borrow his signed copy for a respite from politics. Doughty is a mortician. In her wacky tell-all book, she answers questions from children about what happens to dead bodies. The quick and quirky read is educational, entertaining and a little marring. Unfortunately, I've learned a Viking-style funeral on the water isn't possible so I've got to figure something else out.     
"The Book of Gutsy Women" by Hillary Clinton and Chelsea Clinton:  I'm about half-way thru this mother-daughter tribute to women. I'm thoroughly enjoying it. The Clintons portray courageous women past and present that changed the world. Some of their picks are familiar like Harriet Tubman some aren't like the women that worked for Title IX for gender equality in athletics in education. The diverse and robust collection of stories of dynamic women cover all arenas: science, arts, education, politics, sports, and technology. It's an amazing celebration of women's accomplishments.       
Theatre Reviews = 8 reviews! "Howard's End" (Remy Bumppo), "Oslo" (Timeline Theatre), "Whose Body" (Lifeline Theatre), "Equivocation" (Idle Muse Theatre), "Bernhardt/Hamlet" (Goodman Theatre), "Harrow House" (Roughhouse Theatre), "Sunset Boulevard" (Porchlight Music Theatre), and "Latin History for Morons" (Broadway in Chicago).
Journaling = 20 entries! I continue to chronicle this journey in my third book, "Unexpected Changes."
Playing = YES! The big outing was a weekend in Indianapolis to celebrate mom and dad's 60th anniversary. I was able to hang out with most of the family for a laughter-filled couple of days. I also made two trips to Jenny's lakehouse to enjoy the final days of summer. Michelle was a houseguest for several days. Her daughter Lilly even stayed for a couple nights. I also had drinks on the rooftop with Shawn/Bill/Roger and Steve. I had lunch with Blake/Collin, Rick, and Bill (3). I also had dinner with Tom, Collin, Michelle/Lilly/Bill/Roger, Bill (2), Bob/Ellen, Rick, Ellen (2), Maureen, Josh, Bill/James, Maryam/Ellen, Steve/Mike/Bill/Roger, and Ellen/Bill/Roger/James. I saw "Judy" with Bill/James/Ellen, "Downton Abbey" with Maryam and Ellen and "Hustler" with James. I got to babysit Greta and Jonah again. And last night, I passed out candy at Magnolia Manor to the brave trick or treaters that came out despite four inches of snow.  
September and October were good to me but I'm ready to get to work in November! 🙂