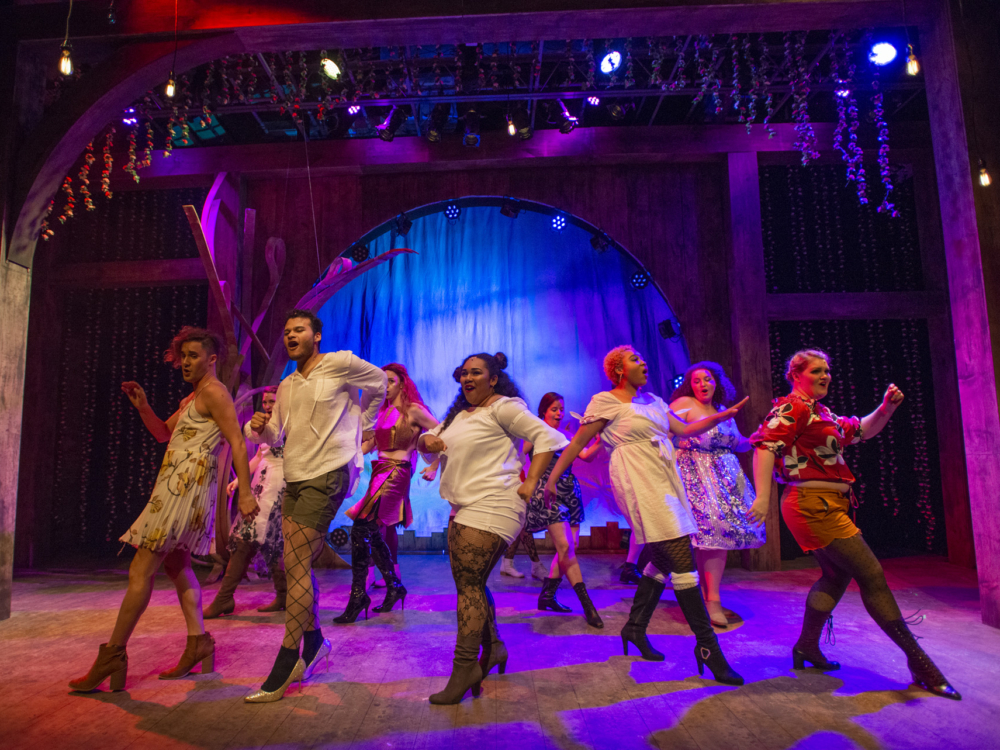 Kokandy Productions presents the Chicago premiere HEAD OVER HEELS.
Sir Phillip Sidney's "The Arcadia" gets a modern day makeover. Jeff Whitty (conceived and original book) and James Magruder (adaptor) dust off this 17th century prose romance and spin it into a queer fairytale of a musical. They cleverly weave in the music of 80s girl band, The Go-gos, to give the storytelling an energetic vibe. 
The king (played by a commanding Frankie Leo Bennett) tries to escape the oracle's prophecies by leading his kingdom on a quest. He wants to keep his daughters (played by the enchanting Caitlyn Cerza and the diva-licious Bridget Adams-King) safe from these seemingly doomed love predictions. Still, these independent gals aren't going to let their dad's rigidity stand in the way of their happiness.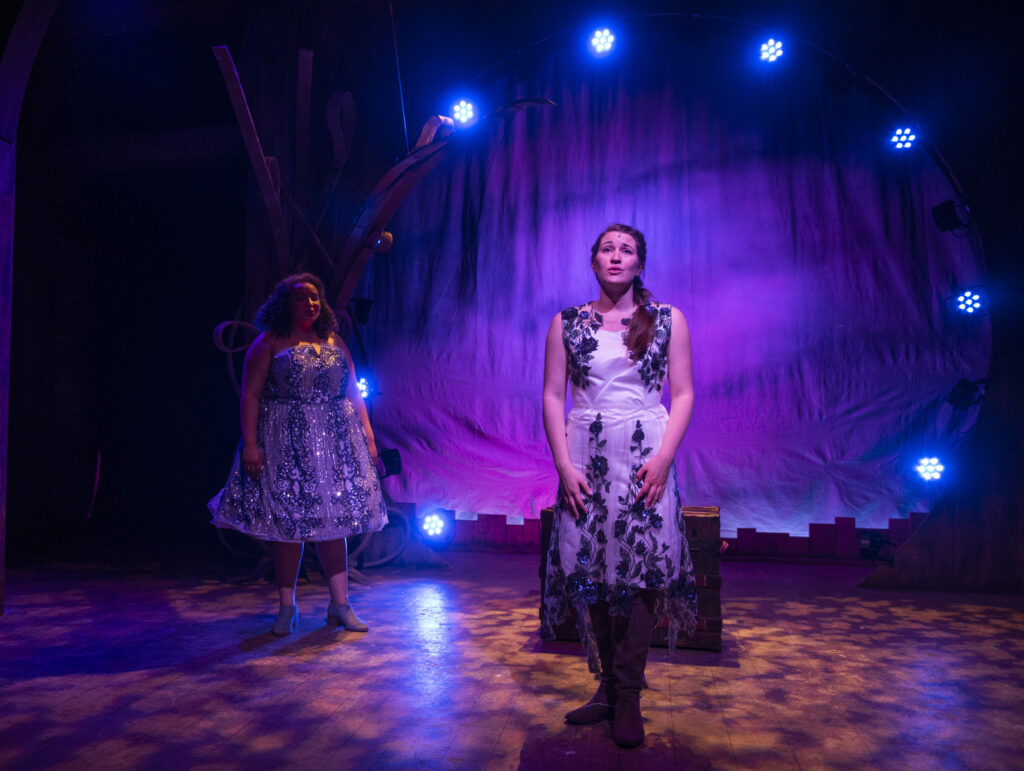 Cerza and Adams-King lead the passionate singing individually, collectively and in soulful duets with their love interests (played by a noteworthy Jeremiah Alsop and the spunky Deanlis Resto). They crush all the favorites; "Our Lips are Sealed", "Head over Heels" and "Mad about You." The 80s flashback fits neatly into the contemporary storyline. Resto even gets to work in "Vacation" on her side trip to Lesbos.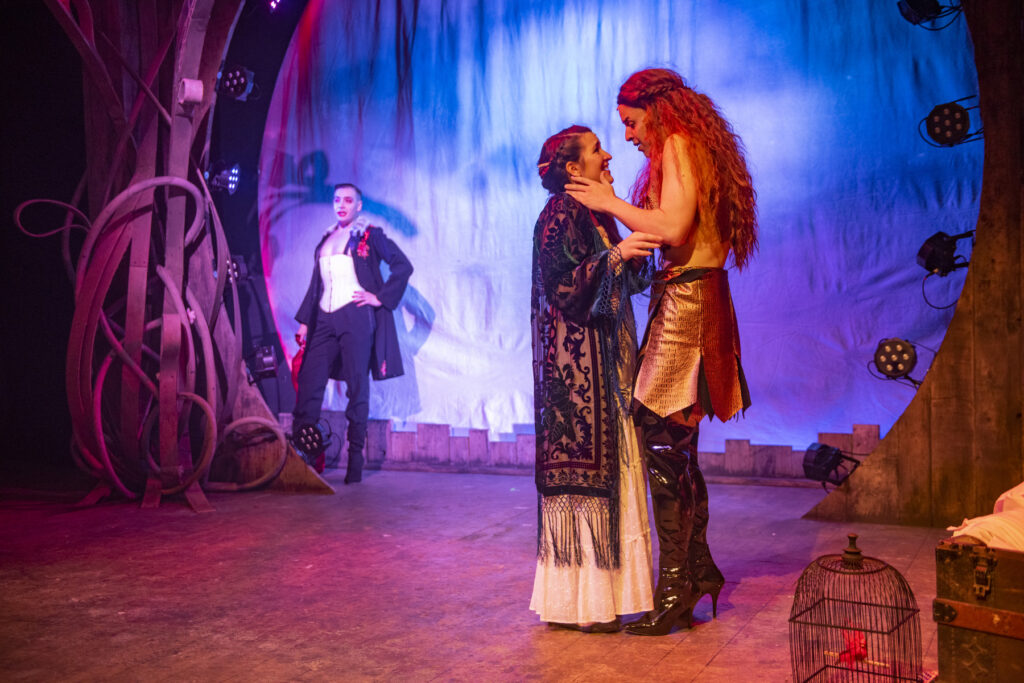 The hilarious Alsop, in disguise as a woman warrior, is scene-stealing! In one number where Bennett and Liz Norton (Queen) are lustfully imagining him, Alsop distinctly and impressively shifts back and forth from female to male in his dance moves (choreographed by Breon Arzell).        
In this new innovative version, 'mistaken identities' have a deeper level. It's not as easy as a man wearing a wig pretending to be a woman. These characters are grappling with their own sexual identity, gender fluidity and how to live their best life. Co-directors Derek Van Barham and Elizabeth Swanson use integrated casting to support the forward-thinking narrative.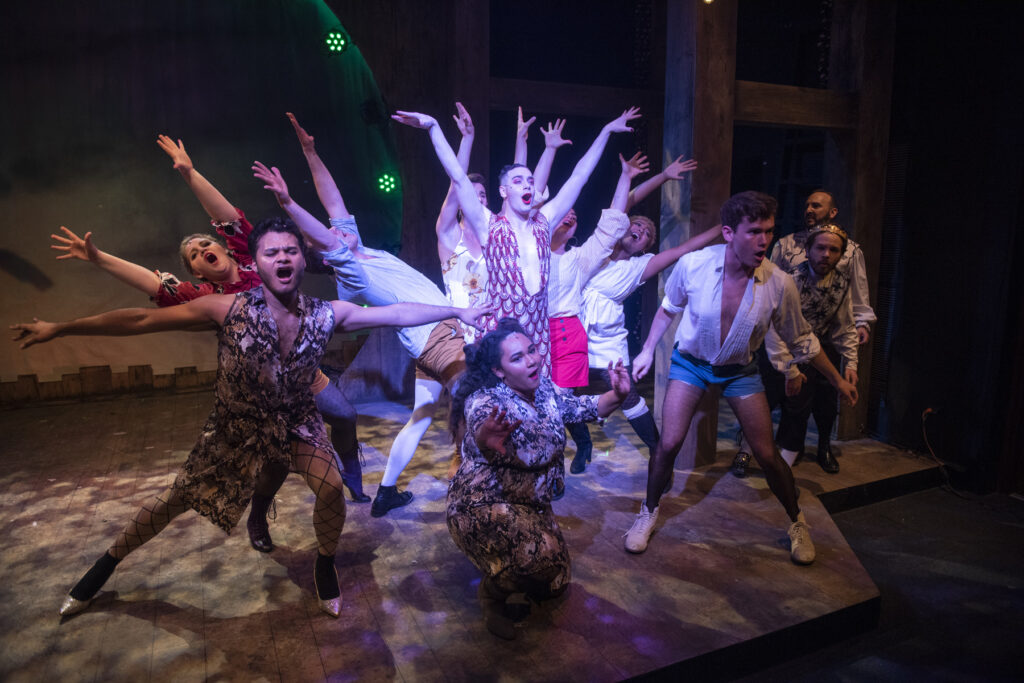 Costume Designer Uriel Gomez also fortifies the visual illustration of non-traditional. Although Gomez dresses the royals in classic splendor, the rest of the cast is in any combination of fishnet stockings, high heels, and short shorts. Gomez transforms the ensemble from snake to sheep to bird with a texture focused jacket. This is one eclectic spectacle of a revolving fashion show. Looking the most comfortable for the summer heat, Roy Samra rocks a breezy sun dress. Gomez changes Alsop from lowly shepherd to bad ass warrior with a wig and a mini. Yet, the best outfits are reserved for Parker Guidry as the oracle. Guidry is absolutely stunning in multiple flashy numbers.
This is musical! And Music Director Kyra Leigh and Arzell give us an amazing tribute to The Go-gos. They have definitely 'got the beat.' The sound and look is energetic and playful! The high-spirited ensemble sing and dance with an irresistible exuberance.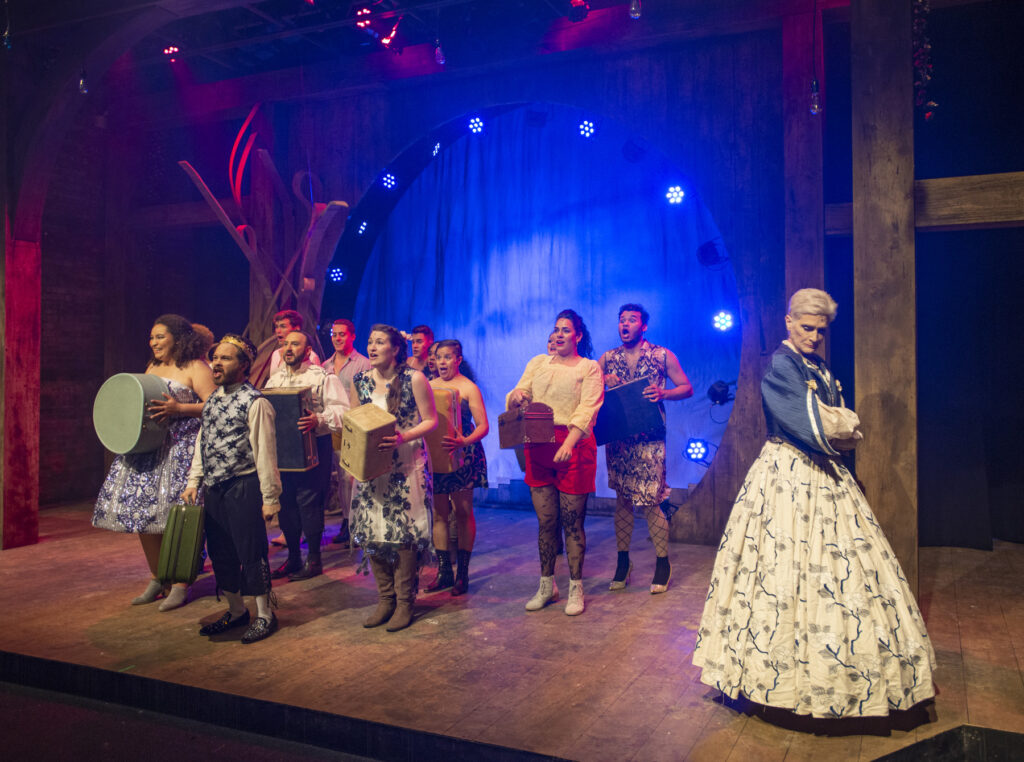 As a huge fan of The Go-gos (I had all three albums and Charlotte Caffey is my spirit animal), I was excited to see this modern day twist on a classic accompanied by music of my youth. HEAD OVER HEELS was more than poppy, it was poignant. Although my twelve year old niece, from Indiana, enjoyed it, the two older couples in our row didn't return after intermission. HEAD OVER HEELS is not your mama's musical, it's your niece's.         
Running Time: Two hours and fifteen minutes includes an intermission
At Theater Wit,1229 W. Belmont
Based on "The Arcadia" by Sir Phillip Sidney
Conceived and original book by Jeff Whitty
Music by The Go-gos
Adapted by James Magruder
Co-directed by Derek Van Barham and Elizabeth Swanson
Music direction by Kyra Leigh
Choreographed by Breon Arzell
Thursdays, Fridays, Saturdays at 8pm
Sundays at 3pm
Thru August 25th 
Pictures by Michael Brosilow
For more Chicago theatre information and reviews, please visit Theatre in Chicago