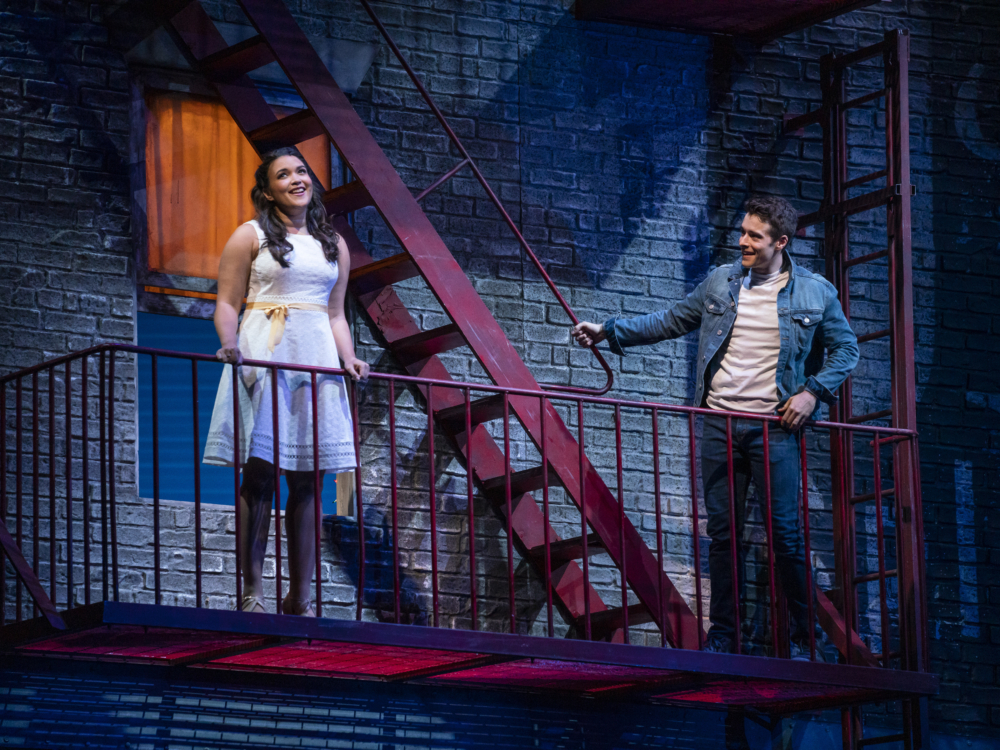 Reviewed by Tom Lawler
Who should this see this: Fans of Broadway Classics, Leonard Bernstein and Doomed Teenage Love.
What's it all about: A revival of the Leonard Bernstein-Stephen Sondheim musical that transposes Shakespeare's timeless Romeo and Juliet tragedy to a gritty 1950s New York City, replete with warring (and singing and dancing) Jets and Sharks. In a sumptuous co-production with Houston Grand Opera and Glimmerglass Festival, no expenses seem to be spared in Lyric Opera's West Side Story – the cast of artists and musicians totals almost 100! Also, because this production uses the original, formative direction and choreography of Jerome Robbins and a top-drawer cast, this staging is the closest you will likely ever get to seeing WSS when it made its thunderous Broadway debut in 1957 and ran for 732 performances before going on the first of its many national tours and revivals.
Stand-out performance: It's stiff competition in an ensemble of dancers and singers this uniformly strong, but you have to give this one to Mikaela Bennett as Maria. A recent Julliard graduate gifted with a gorgeous soprano and an innate radiance, Bennett has us in her pocket from when we first meet her in the bridal shop to [SPOILER ALERT] to her Tony's final, gasping breaths in a NYC alley.
Also, check out: God bless Rita Moreno, but dios mio!  If Amanda Castro isn't even better in the exquisite role of Anita, the saucy girlfriend of Maria's older brother, than I need to rewatch the classic 1961 film adaptation and correct myself (at least before Spielberg gets his hands on it).  As it is, Castro is an EGOT threat-in-the-making based on the absurd dancing, singing and acting levels she was blasting out all night as if she had all the cheat codes. Per that old Ginger Rogers maxim (she did everything Astaire did, but backwards and in heels) Castro nailed maneuvers and landings in heels that I couldn't execute in Nike high tops.
More of this, please: The staging of the final rumble between the Jets and the Sharks is hypnotic. A flickering light reveals a flash of metal and suddenly…nothing will ever be the same for Maria and Tony. Regardless of where you're sitting in the Lyric Opera House, this expert use of sound and light by lighting designer Mark McCullough and sound designer Mark Grey will completely transfix you as a stunning choreography of violence and dance suddenly turns deadly.
Also: In addition to the large, talented cast and a live orchestra (conducted by James Lowe) pumping out Bernstein's brassy, jazzy score, the production values astound throughout. Peter J. Davison's sets effectively transport us to an earlier (if not mythical) New York and dazzle when they open up and slide across the stage during transitions – particularly in one instance when an exterior set rotates to take us inside Maria's bedroom as she crawls back in from the fire escape. Jessica Jahn's colorful and sumptuous costumes play perfectly with Mark McCullough's bold lighting schemes – the sky is often blue or purple until the fateful rumble when it goes gray.
In summary: It's not an opera, but Lyric Opera brings its superior, best-in-class production values and talent to a Broadway classic making this essential viewing for any West Side Story fan who has always wanted to see it live. It's never looked or sounded better (the number of songs you'll recognize from this soundtrack is absurd). Moreover, its central conflict about the overt and institutional racism that these striving Puerto Ricans were experiencing every day doesn't seem quaint at all when compared to today's political climate. This is a seductive production with a necessarily bitter aftertaste.
Running Time: 2 hours, 30 minutes (including one 15-minute intermission)
At the Lyric Opera House, 20 N. Wacker Dr.
Book: Arthur Laurents
Music: Leonard Bernstein
Lyrics: Stephen Sondheim
Original production directed and choreographed by Jerome Robbins
Staged by: Francesca Zambello
Conducted by: James Lowe
Thru June 2
Tickets: Starting at $29
Buy Tickets: lyricopera.org/wss or by calling 312-827-5600.
Photos by:  Todd Rosenburg
For more Chicago theatre information and reviews, please visit Theatre in Chicago