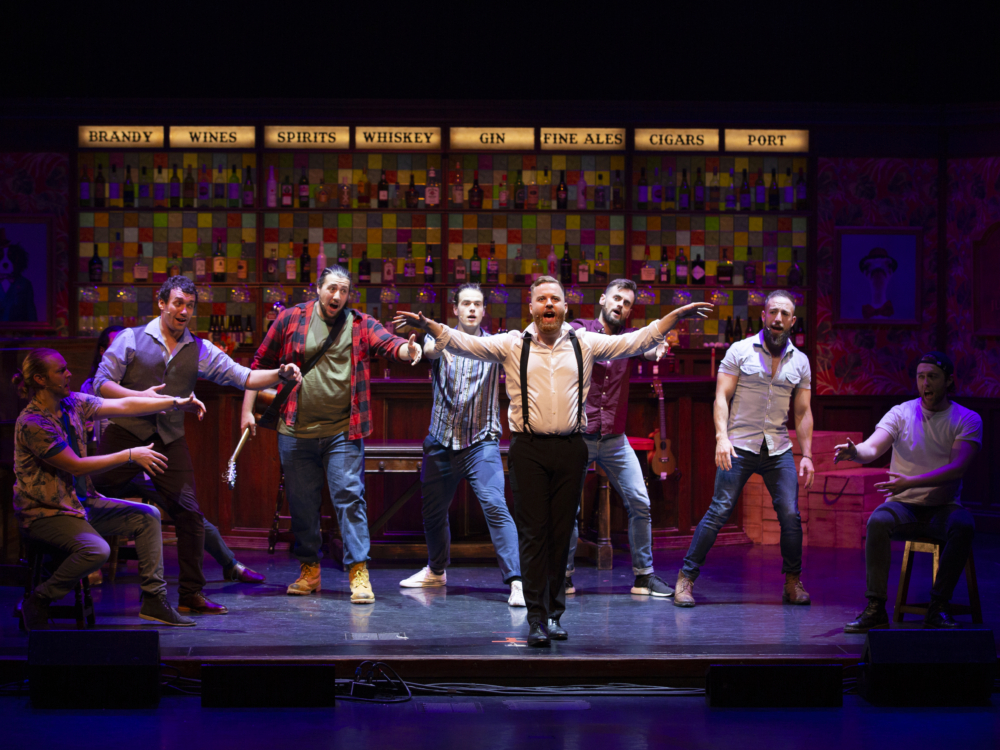 Broadway in Chicago presents THE CHOIR OF MAN.
When was the last time, you were in a bar with nine guys who could sing? You have less than a week to remedy that. THE CHOIR OF MAN has embarked on its USA tour. From across the pond, the fellows hail from Ireland, England and Scotland.  And they have arrived in Chicago just in time to get us ready for St. Patrick's Day.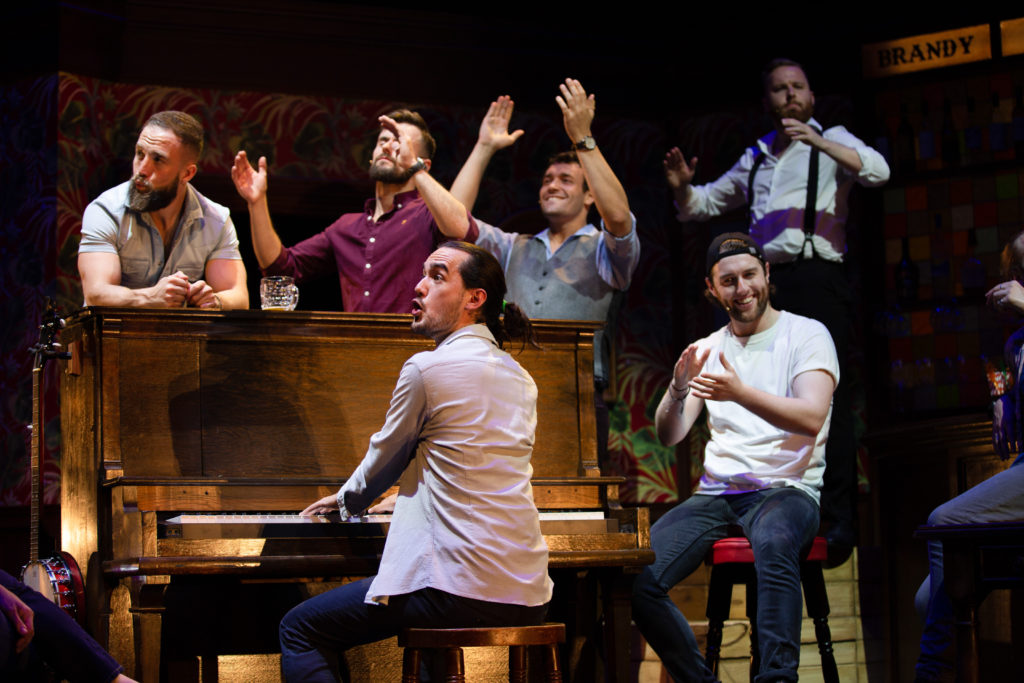 Andrew Kay and Nic Doodson created a unique concert experience. Nine lads are hanging out at their favorite pub called The Jungle. They break into a high octane version of "Welcome to the Jungle" to kick off the party. Denis Grindel steps up to serve as narrator. He introduces us to his mates by the role they play in the group. Andrew Bateup is the guy with boring factoids. Aidan Banyard is the prankster. Tom Brandon is the muscly hot guy. Mark Loveday is the bartender. And the rest of the crew is Matt Cox, Peter Lawrence, John Sheehy, and Connor Going.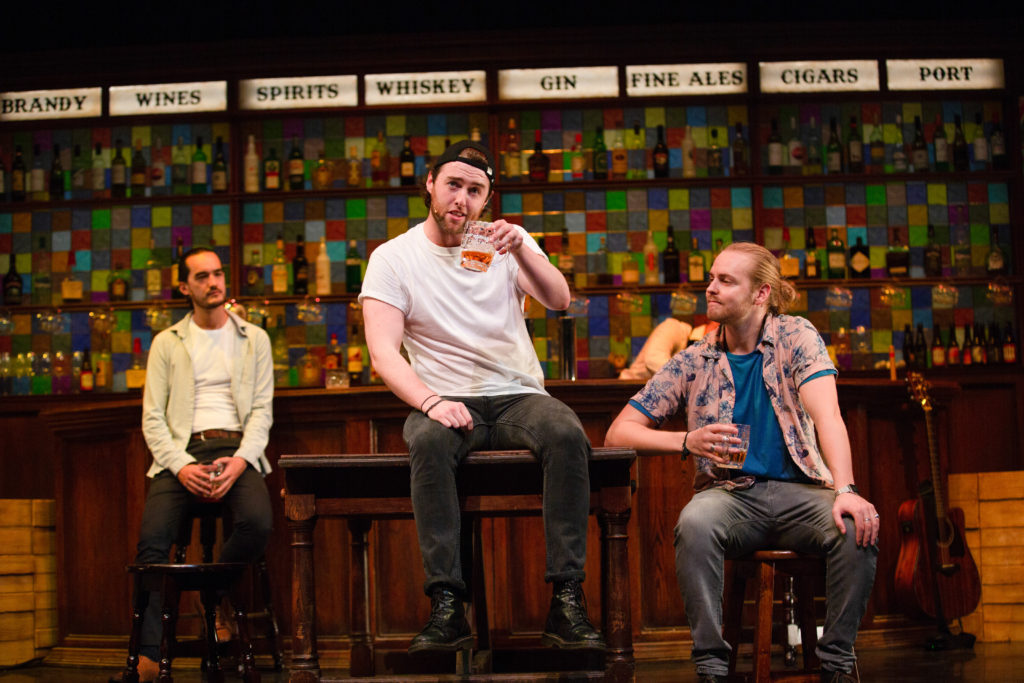 Grindel will continue to act as host in their virtual bar meet-up. He'll tell us Loveday and his high school sweetheart wife hit a rough patch. This prelude cues up Loveday to start singing "Escape (The Pina Colada Song)". The fellas join him singing and dancing to the well-known tune. Through a series of songs, we get to know these guys better. The score goes from Queen's irresistible "Somebody to Love" anthem to Adele's beautiful "Hello" ballad. The guys crank out the tunes in unforgettable harmonies. They are certainly a choir. Yet, they are also lads in a pub having a good time.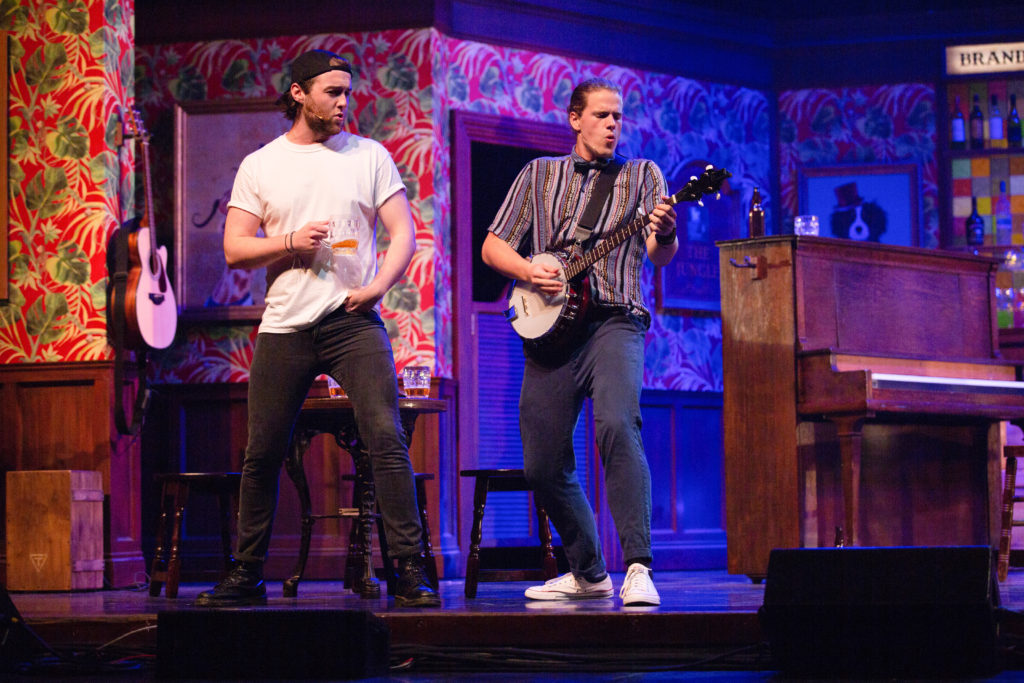 At different points in the show, some of the men go into the audience to pass out beer,  coax someone onstage or lead the clapping to a tune. The ambiance is beer swigging merriment. The show is fun! Besides exceptional singing, the guys sporadically start playing instruments. Sometimes, it's just Lawrence on the guitar or Going or Grindel on the piano. Other times, a banjo or even bagpipes are played. 
And there's dancing! A guy swings around a gal from the audience. Or Cox tap dances across the stage or across a table. Choreographer and Movement Director Freddie Huddleston has the guys toasting in unison or jumping off the bar. The shenanigans feel spontaneous but look precise. Huddleston also orchestrates an impressive beer mug dance. Each of the guys has two mugs that they continually clink in synchronized perfection. It's cool!  
THE CHOIR OF MAN is exhilarating. The familiar songs are dynamically sung. And these fellas are fun to hang out with. After a standing ovation, the lads sang an encore. It was a gorgeous lullaby sendoff from their country. I'd drink to and with THE CHOIR OF MAN… Slainte! I left their show grinning and humming. 
Running Time: Ninety minutes with no intermission
At Broadway Playhouse, 175 E. Chestnut
Created by Andrew Kay and Nic Doodson
Written by Ben Norris 
Directed by Nic Doodson
Music supervised and arranged by Jack Blume 
March 13th, 14th, 15th at 7:30pm
March 16th at 2pm and 8pm
March 17th at 2pm and 7:30pm
Thru March 17th
For more Chicago theatre information and reviews, please visit Theatre in Chicago