Mercury Theater Chicago presents LITTLE SHOP OF HORRORS. 
The residents of Skid Row want a better life. Seymour (played by Christopher Kale Jones) dreams of fame. Audrey (played by the amazing Dana Tretta) wishes for a home. Mr. Mushnik (played by Tommy Novak) wants a successful business. Dr. Orin (played by the hilarious David Sajewich) yearns for pain inflicting euphoria. And Audrey II (voice-Jonah Winston and puppet-Sam Woods) craves the tasty morsels of mortals.    
The creative team of Howard Ashman (book and lyrics) and Alan Menken (music) made the Skid Row flick (by Roger Corman and Charles Griffith) into a cult-classic musical. An exotic plant gives the neighborhood status. And Ashman and Menken give the horror comedy unforgettable tunes like "Skid Row (Downtown)" and "Suddenly, Seymour". The lyrics describe the gritty reality of life in the gutter. Yet, the upbeat tempo provides hope and heart. We are rooting for these misfits to find love and a stable life in the 'burbs.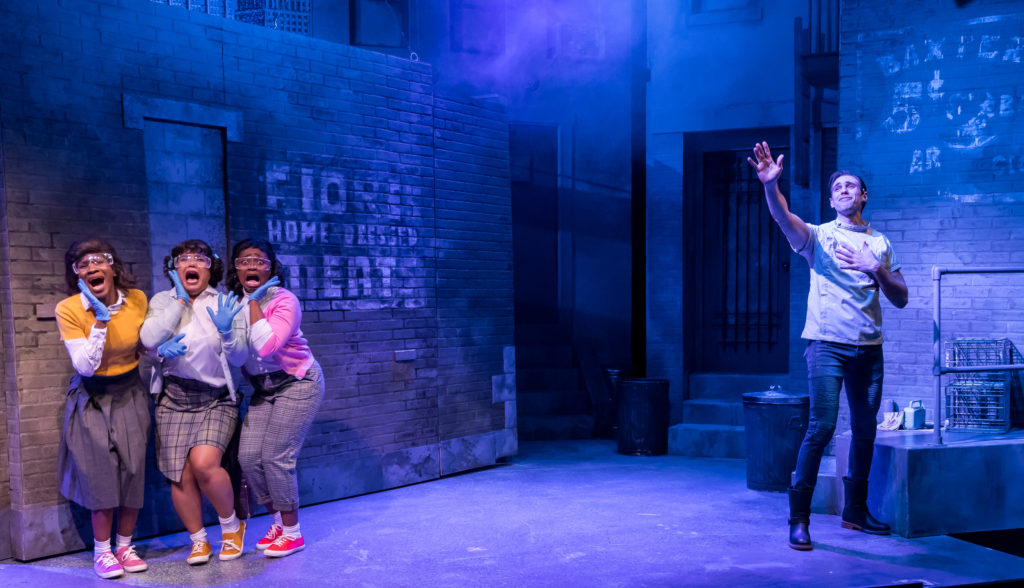 Director L. Walter Stearns has cast a dream team. His stellar ensemble hit the notes and the comedy with zest. The harmonious lady trio, Shantel Cribbs (Chiffon), Nicole Lambert (Crystal), Adhana Reid (Ronnette), sing and sass with hand-waving, head-tilting, eye-rolling attitude. And their evolving green wardrobe, designed by Serena Sandoval, goes from drop-out chic to fringe fantastic. Each of their individual outfits have a unified girl group look. They must change costumes 5+ times.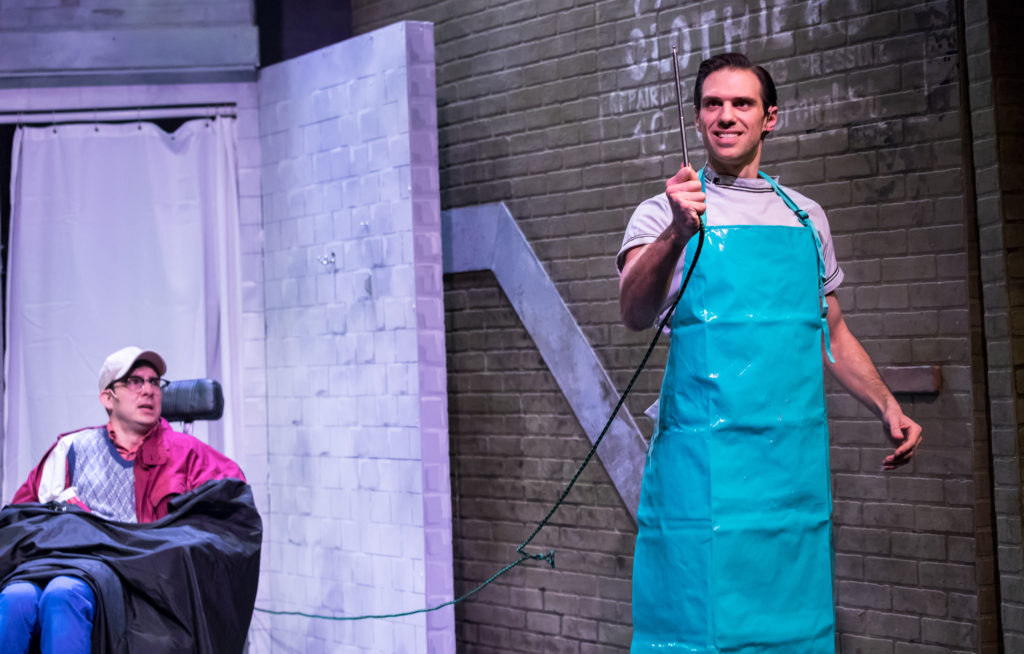 In the lead, Jones channels a lovable idiocy. He adoringly strokes his plant and stares longingly at his co-worker. His touching devotion to both Audreys has him confront a known sadist. He and Sajewich bring-down-the-house in their duet of "Now (It's just the Gas)". The ever-present ripples of audience laughter is particularly uproarious during this number.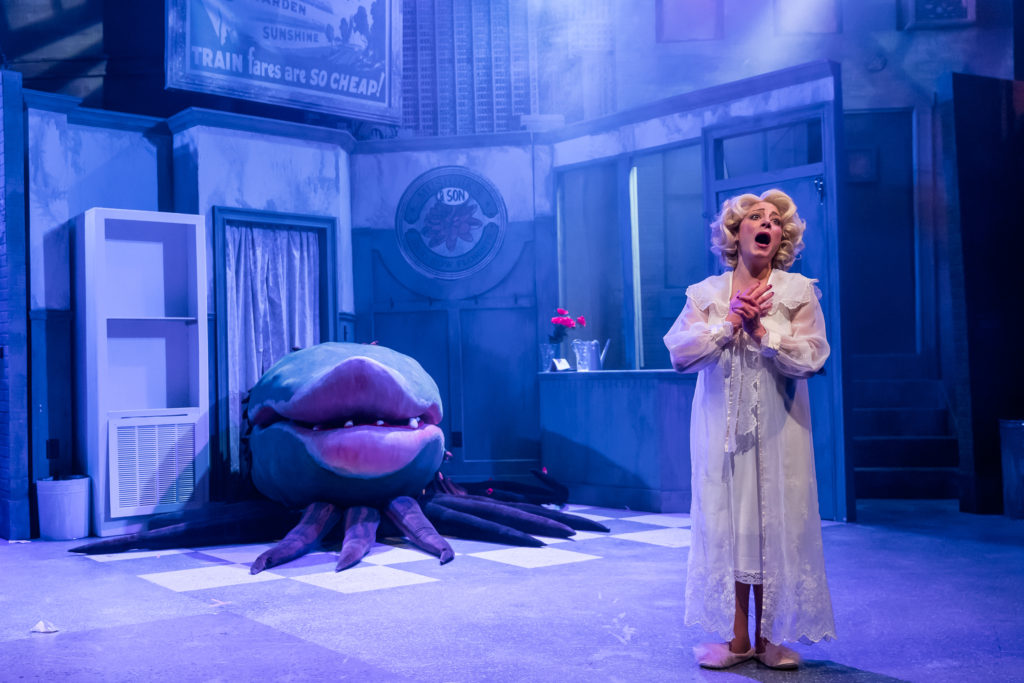 Although the entire cast is terrific, Tretta stands out with both her comedic timing and powerful pipes. Tretta's high-pitched voice drops down several octaves to utter 'I've got a past.' Her razor-sharp delivery accompanied by a look of wide-eye innocence is perfection. At the end of duet with Jones, she looks legitimately startled when he pulls her in for a kiss. Hysterical! Tretta also beautifully belts out "Somewhere That's Green" and "Suddenly Seymour."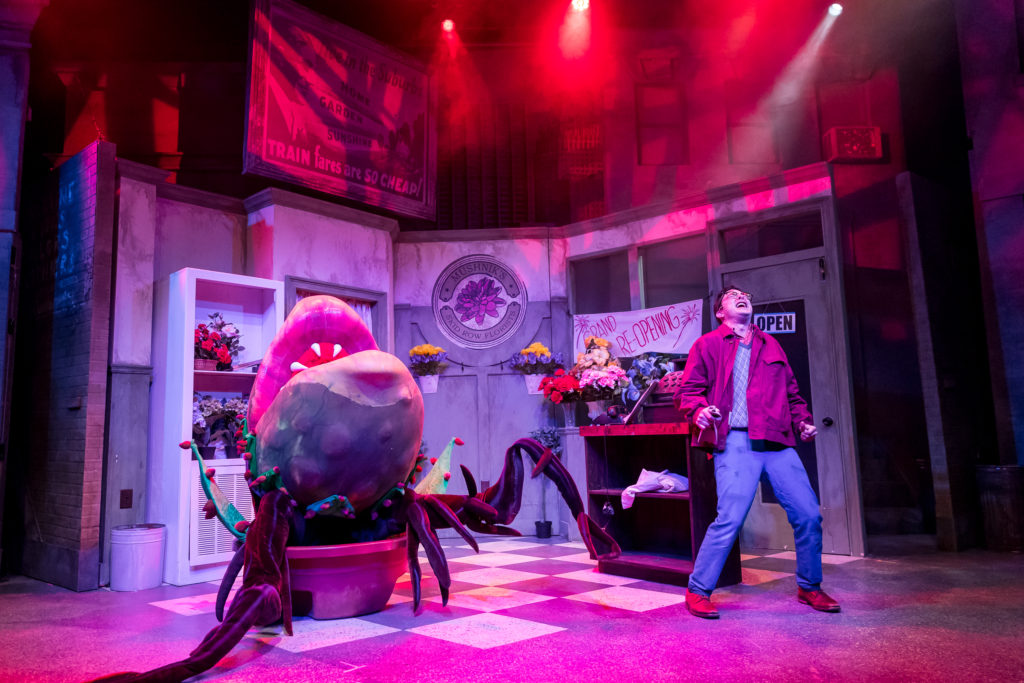 This production is top-notch! I highly recommend visiting this LITTLE SHOP OF HORRORS. For fans or newbies to the horror comedy, take a trip to Skid Road by way of Southport.  
Running Time: Two hours with an intermission
At Mercury Theatre, 3745 N. Southport
Based on the film by Roger Corman, Screenplay by Charles Griffith  
Book and lyrics by Howard Ashman
Music by Alan Menken
Vocal arrangements by Robert Billig
Orchestrations by Robert Merkin
Puppets designed by Martin P. Robinson 
Directed by L. Walter Stearns
Music direction by Eugene Dizon 
Choreographed by Christopher Chase Carter
Wednesdays, Thursdays, Fridays at 8pm 
Saturdays at 5pm and 8:30pm
Sundays at 3pm 
Thru June 30th
For more Chicago theatre information and reviews, please visit Theatre in Chicago