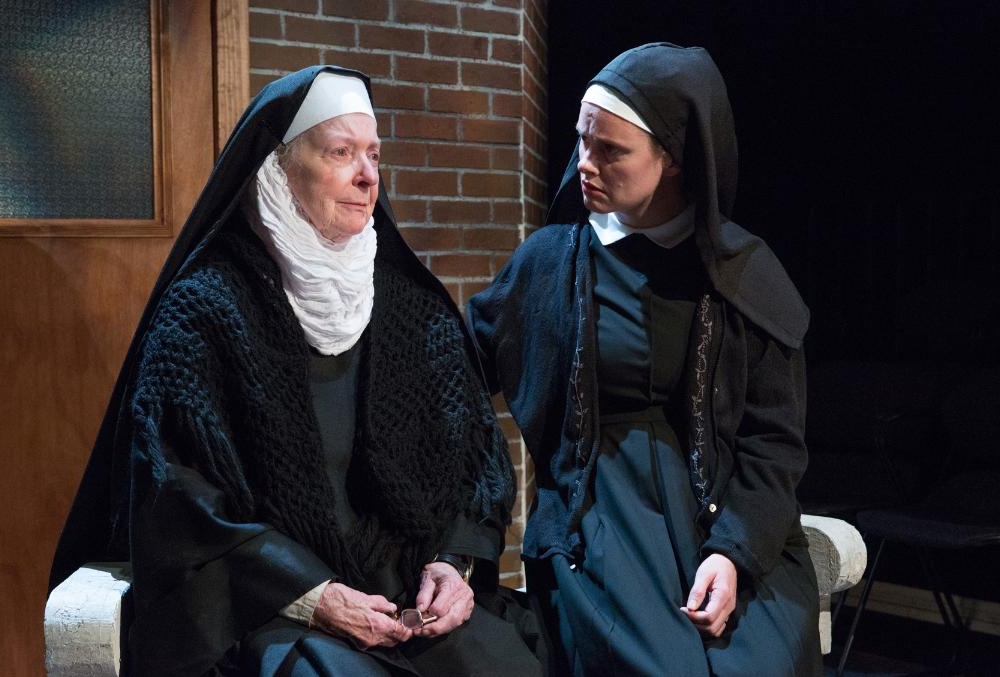 The Gift Theatre presents DOUBT: A PARABLE.
Playwright John Patrick Shanley debuted this play in 2004. The story, set in the Bronx in 1964, is about a priest accused by a nun of molesting a child. Shanley's premiere was after the Boston Globe's 2002 report on numerous pedophile priests and before a decade long avalanche of scandal involving priests as child molesters. The timeline undoubtedly shifts how this play is now perceived. Because of the overwhelming number of pedophile priests still being uncovered, it's easier to assume guilt. I've seen this play multiple times. My current experience was absolutely tainted by the ongoing crimes of the Catholic Church. It's hard for me to doubt. My innocence has been shattered.
Although DOUBT may not have the same 2004 intrigue, it still nicely showcases issues of the 60s. It delves into child molesting, race, sexual orientation, church hierarchy, and 'the old ways verses the new ways.'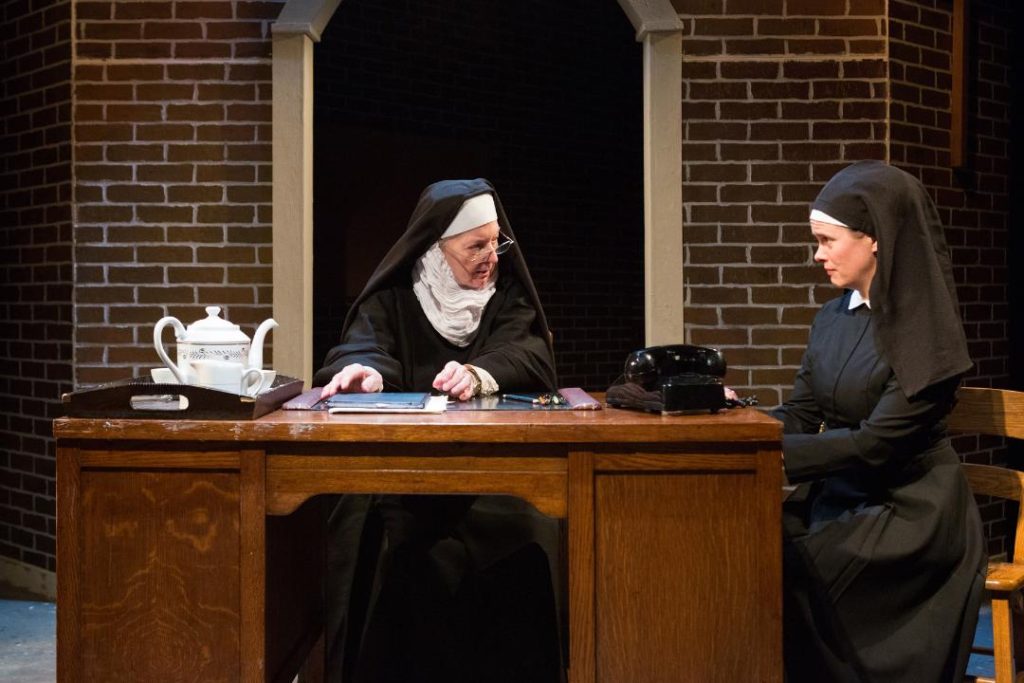 Under the skillful direction of John Gawlik, this production is tight. The ensemble is superb. Mary Ann Thebus (Sr. Aloysius) is the tough-as-nails principal. She unapologetically criticizes her subordinate (played by Cyd Blakewell). Thebus nitpicks Blakewell from her teaching style to overall personality. An earnest Blakewell physically crumples under the weight of the negative assessment. Thebus delivers the stinging blows with plenty of zinging wit.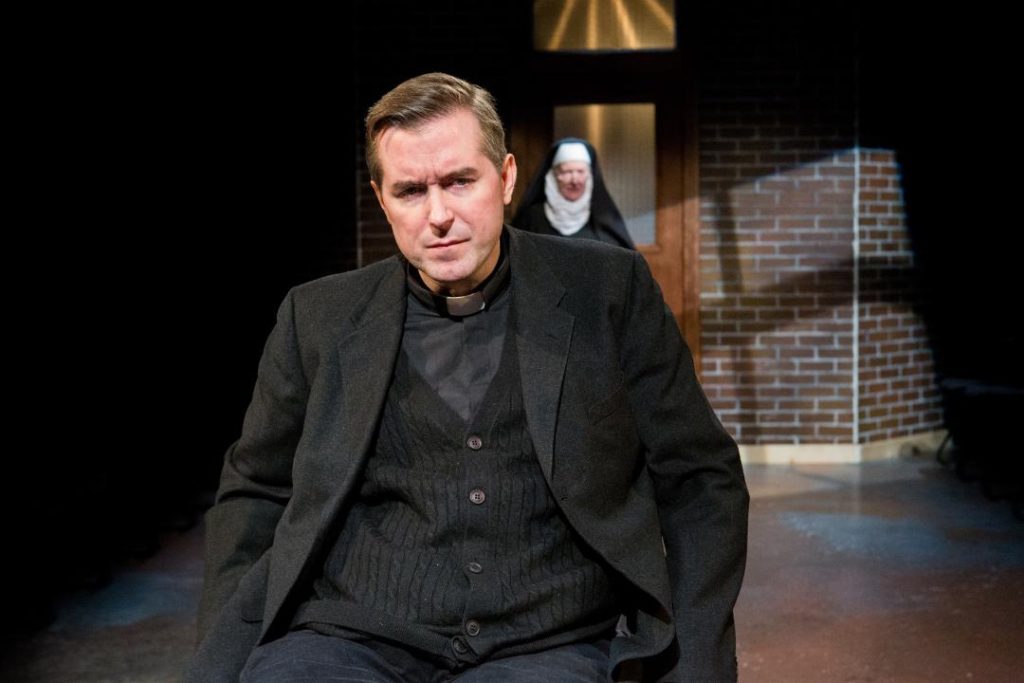 Michael Patrick Thornton (Father Flynn) does a terrific job as the priest. His charisma is apparent whether he is preaching from the pulpit, coaching the team on nail etiquette or dazzling a young nun. Thornton is laidback and in charge until Thebus attacks. The pair spar with palpable disdain.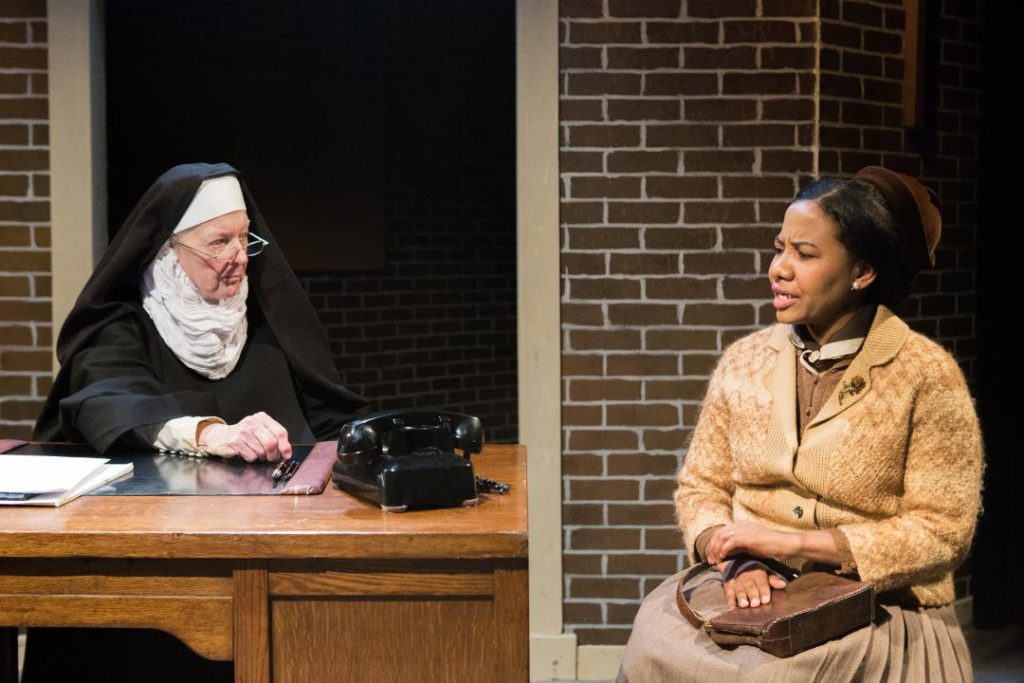 In a smaller role, Jennifer Glasse (Mrs. Muller) is fierce. She understands what is happening and she is ready to accept it for the greater good. I'd encourage audience members to sit on the east side of the theatre to watch Glasse's facial expressions. In one moment, she is pure lioness protector. In the next, she is terrified and desperate.    
Have no doubt that this DOUBT is great! Unfortunately, the original heartwrenching struggle between innocent and guilt isn't there. Any DOUBT is overshadowed by the ongoing monstrosities of the Catholic Church's shameful coverup.  
Running Time: Ninety minutes with no intermission
Steppenwolf's 1700 Theatre, 1700 N. Halsted
Written by John Patrick Shanley
Directed by John Gawlik
Thursdays, Fridays at 8pm 
Saturdays at 4pm and 8pm
Sundays at 3:30pm
Thru March 31st 
For more Chicago theatre information and reviews, please visit Theatre in Chicago