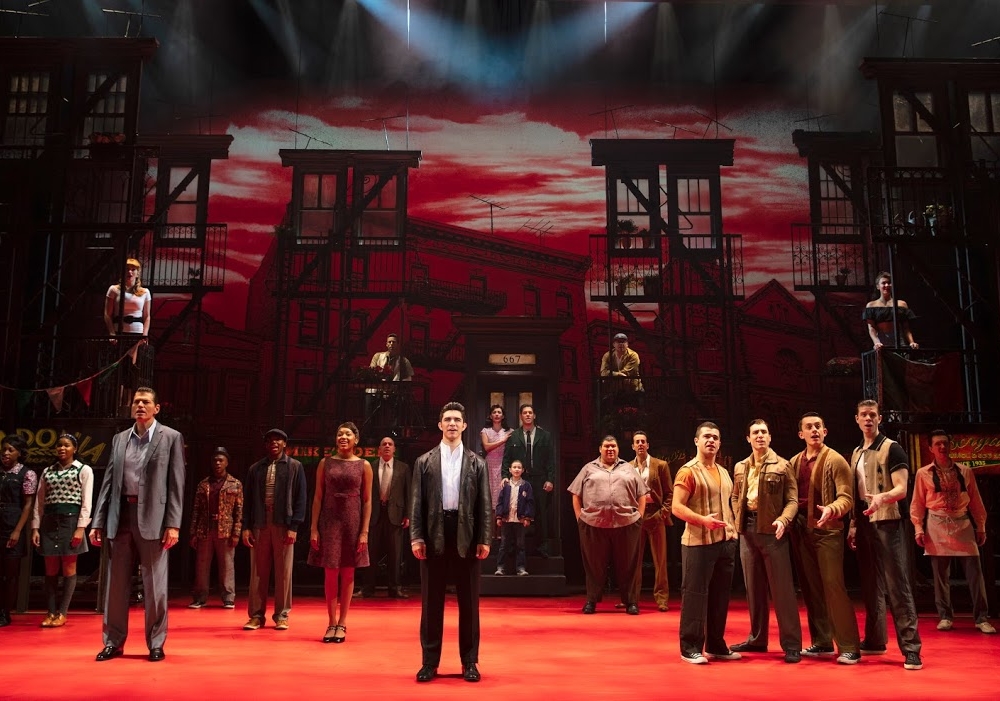 Broadway in Chicago presents A BRONX TALE.
It's the Bronx 1960. Belmont Avenue is a close-knit Italian-American neighborhood of bakeries, bars and gangsters. Over on Webster Avenue, African-Americans have established their own community. Calogero (played by a charismatic Joey Barreiro) narrates his personal story about defying his father (played by Richard H. Blake). First, as as a boy (played by Frankie Leoni), Calogero befriends a mobster (played by Joey Barbara). Later, as a man, he pursues Jane (Brianna-Marie Bell). His father doesn't approve of either choice. Dad wants him to have a solid yet safe life. Calogero wants much more! A BRONX TALE is "Sopranos" meets "West Side Story".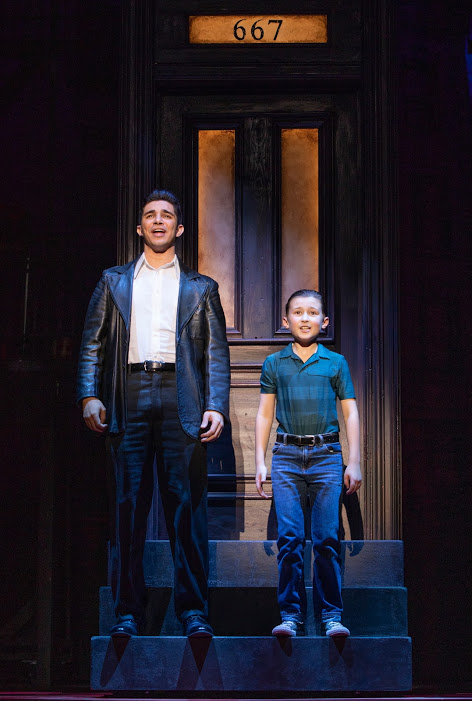 The interesting story behind A BRONX TALE is its evolution. It started as a one man off-Broadway show. Chazz Palminteri wrote and performed his play in 1989. Audience member Robert De Niro liked the show so much he made it into a movie. Palminteri wrote the screenplay and also starred as Sonny – the mobster. De Niro directed the film and played the father. After the success of the 1993 movie, Palminteri performed his one-man show on Broadway in 2007-2008. In 2016, A BRONX TALE debuted as a musical with Palminteri (book) joining forces with Alan Menken (music) and Glenn Slater (lyrics). And De Niro returning to direct with Jerry Zaks.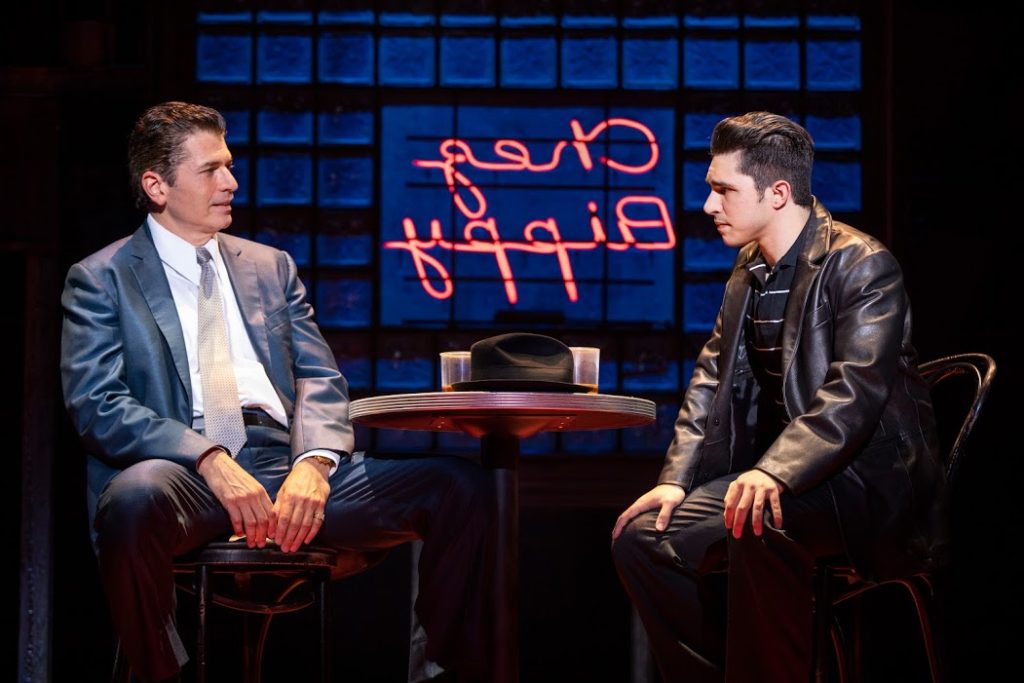 This is a guy's musical! It's like "Guys and Dolls" without the dolls. There are a variety of shady characters: Rudy the Voice, Eddie Mush, Frankie Coffeecake, JoJo the Whale and Tony-Ten-To-Two. They drink, gamble and kill at the drop-of-a-bat. Because he knows it pisses Sonny off, Rudy the Voice (played by John Gardiner) sings his responses instead of saying them. It's the edgy playfulness of relationships based on fear but wanting to look tough.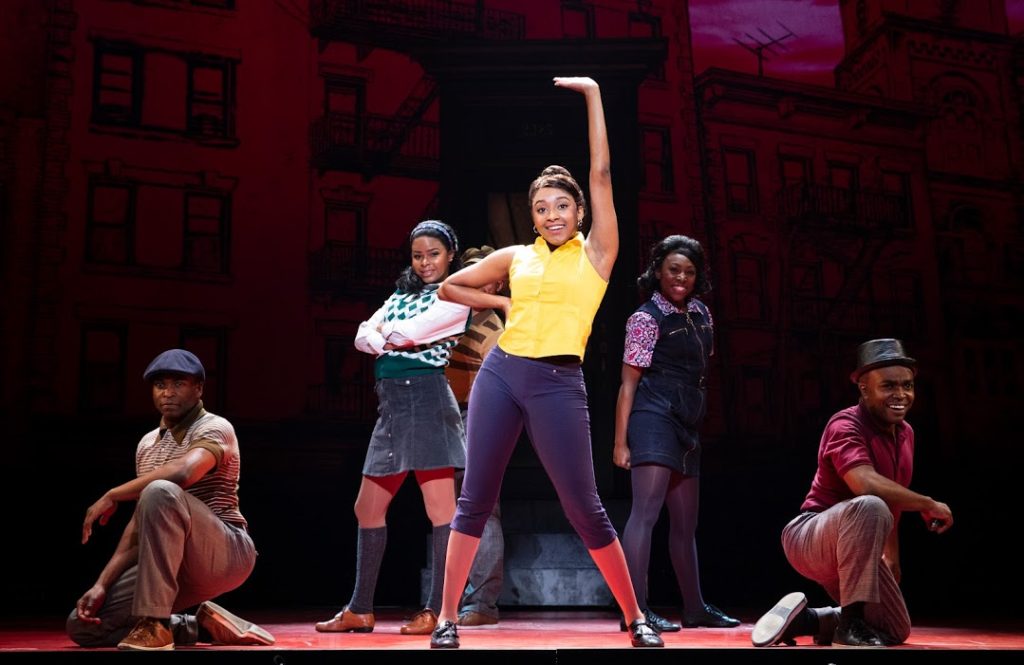 The effervescent Bell is a surprise twist in the first act. The focus on all-things-Italian on Belmont Avenue shifts to explore love in a different neighborhood. Although Barreiro and Bell ignite passion in their beautiful duets, the real love story isn't about them. It's the love triangle between father-son-mobster guy.
Both Blake and Barbara showcase a loving paternal concern for Barreiro's best interest. They just define what's best differently. Dad thinks it's driving a bus, a steady paycheck and a loving wife. Sonny, mobster-guy, believes in rolling the dice and taking what you want. Blake displays an earnest love. Barbara portrays more aggressive feelings. Yet, they both love Barreiro making this dude-focused show unexpectedly tender.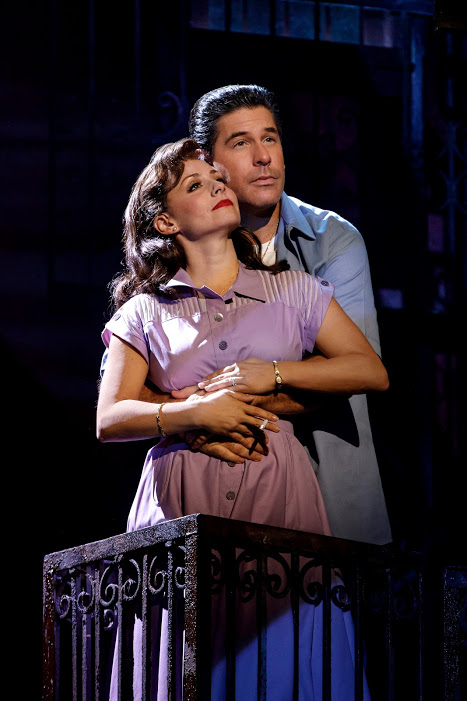 I enjoyed the story and the evolution of A BRONX TALE. Although I didn't feel the music was all that memorable, I loved "The Choices We Make" as the final song. It not only nicely tied up the story, it left me feeling hopeful and empowered.    
Running Time: Two hours with no intermission
At Nederlander Theatre, 24 W. Randolph
Book by Chazz Palminteri
Music by Alan Menken
Lyrics by Glenn Slater
Directed by Robert DeNiro and Jerry Zaks 
Choreographed by Serigo Trujillo
Tuesdays at 7:30PM
Wednesdays at 2:00PM & 7:30PM
Thursdays at 7:30PM
Fridays at 7:30PM
Saturdays at 2:00PM & 8:00PM
Sundays at 2:00PM and 7:30PM (no evening performance on March 24) 
Thru March 24th
For more Chicago theatre information and reviews, please visit Theatre in Chicago