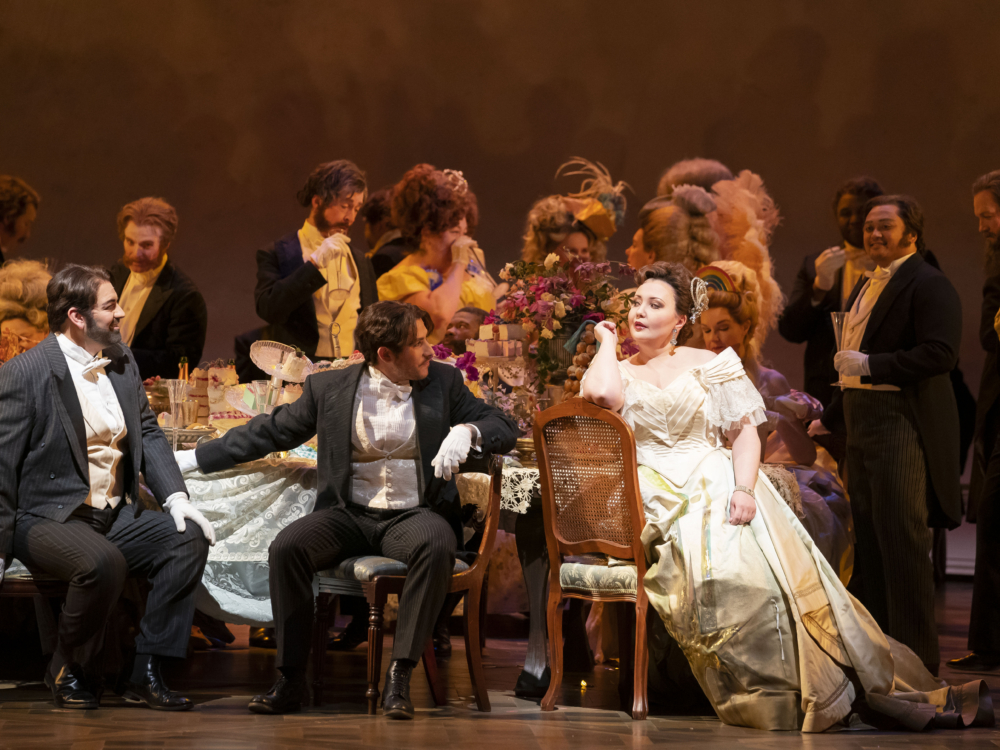 Lyric Opera presents LA TRAVIATA.
Verdi's scorching score heats up the Lyric this winter! Paris' favorite party girl falls into an all consuming love. Verdi gives us a roller coaster of emotion as Violetta is on a life-altering pursuit. Based on the play 'La Dame aux  camelias" by Alexandre Dumas with libretto by Francesco Maria Piave, LA TRAVIATA is one woman's heart-breaking quest for true love. This Lyric production is a feast for the senses with exquisite singing, vibrant party scenes and enough passion to blow the roof off!    
As Conductor Michael Christie commences with Verdi's prelude, Director Arin Arbus introduces Violetta (played by the magnificent Albina Shagimuratova) and her servant (played by Lauren Decker). A sheer with a floret pattern, that will be featured throughout the show (Set Designer Riccardo Hernandez), keeps the ladies partially separated from view. It's like we are peeking through a curtained window and observing a private exchange. Shagimuratova struggles to get off the floor and into a gown. Decker assists her in the efforts.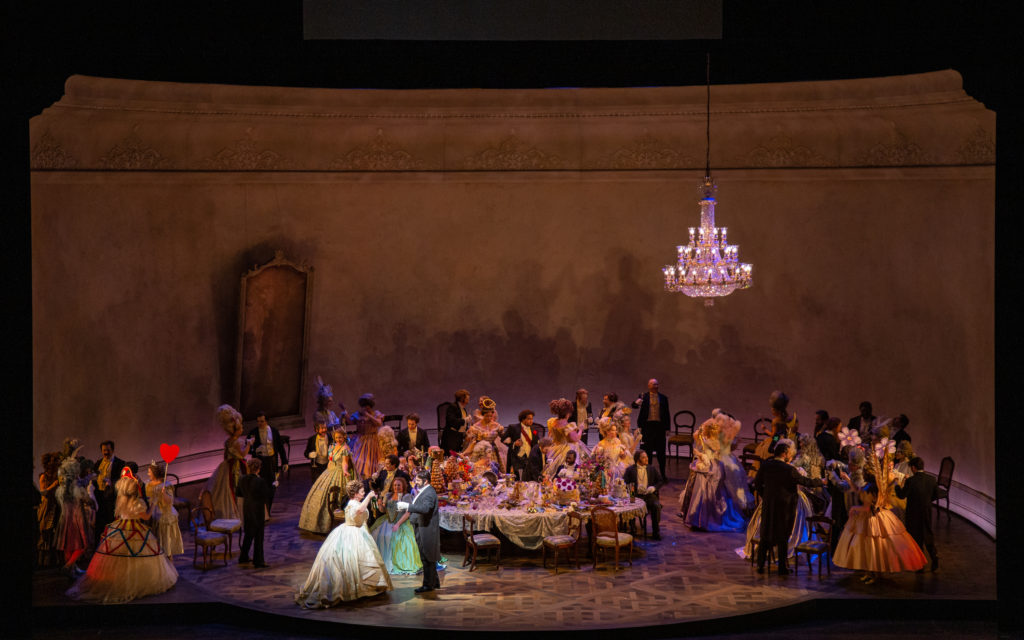 The dress is on. The sheer lifts. The party starts! Costume and Puppet Designer Cait O'Connor and Wigmaster and Makeup Designer Sarah Hatten heighten the festive vibe. The design team mingle formal aristocratic posh with outlandish whimsy for a playful spectacle! The fun and debauchery is in full swing when the guests call out for the drinking song.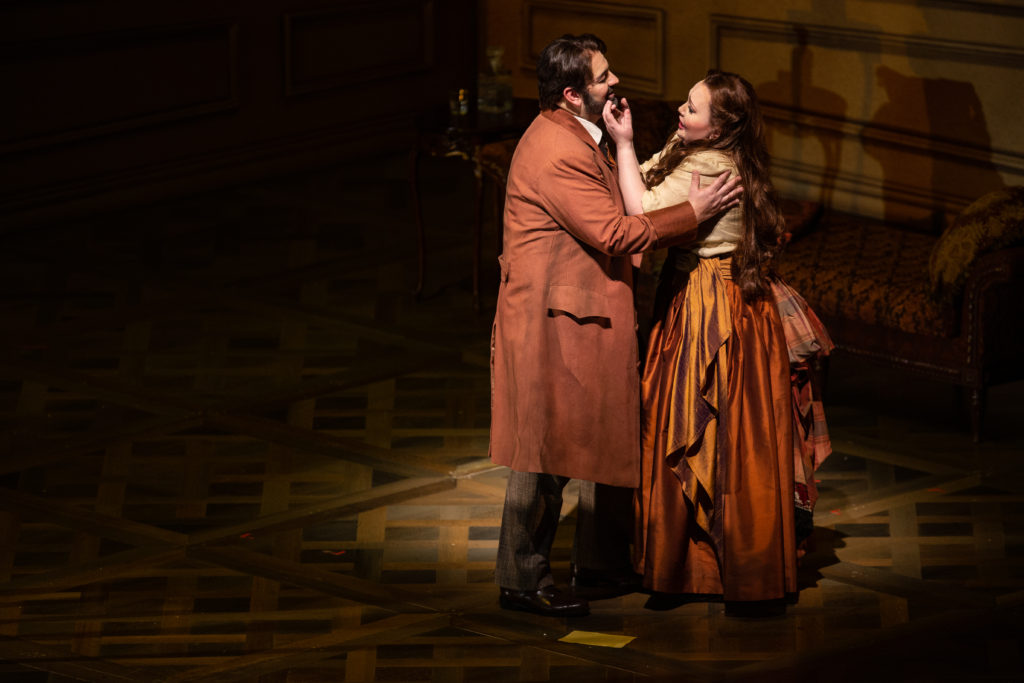 Alfredo (played by the outstanding Giorgio Berrugi) and Shagimuratova lead a vigorous rendition of Libiamo nè lieti calici. The Verdi classic will sound familiar. It is a well-known salute to pleasure. As the guests relish in toasting champagne, Berrugi and Shagimuratova's flirtation escalates. At first, Shagimuratova shrugs off Berrugi's pledges of love. Then, she relents with a soul-stirring, heart-wrenching, vulnerably beseeching Amami, Alfredo. She begs him to love her. He promises. She invites him to return tomorrow after the party.
Oh, love conquers all! Well, not quite!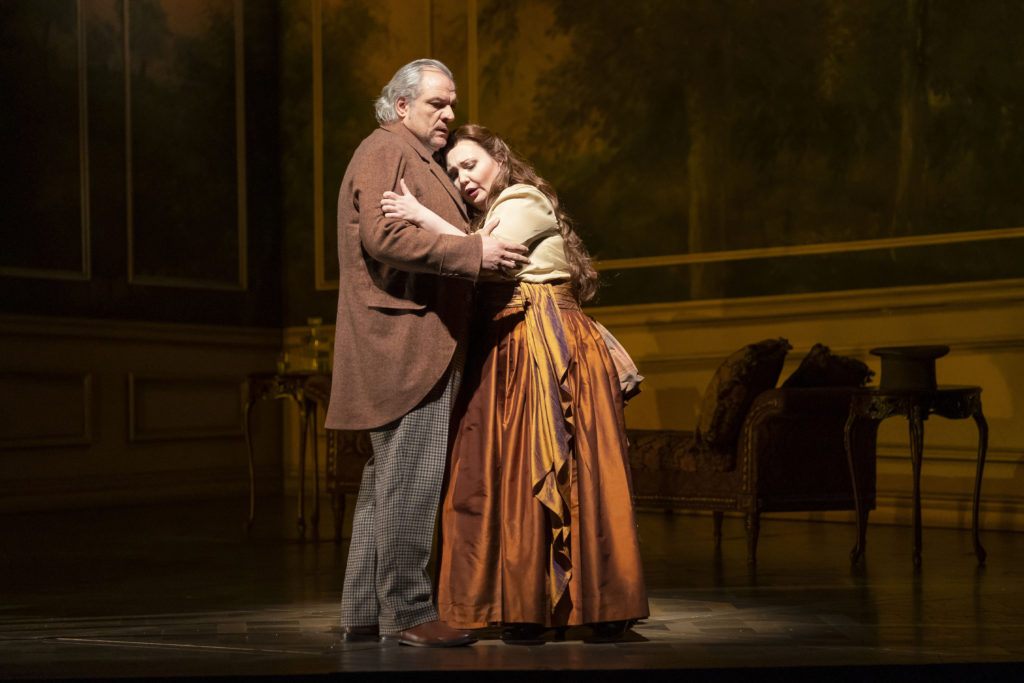 Act 2 & 3 put up plenty of barriers to the lovers' happiness. The prominent obstacle is Alfredo's father (played by the wonderful Zeljko Lucic). Lucic is silky smooth in convincing Shagimuratova to break up with his son. Even though she insists the love loss will kill her, she agrees. They even part ways with wishes to each other of 'may you always be happy.' When Berrugi finds out that he has been dumped, Lucic is there to comfort him too. Despite being meddlesome, Lucic comes off as the guy who wants the best for everyone.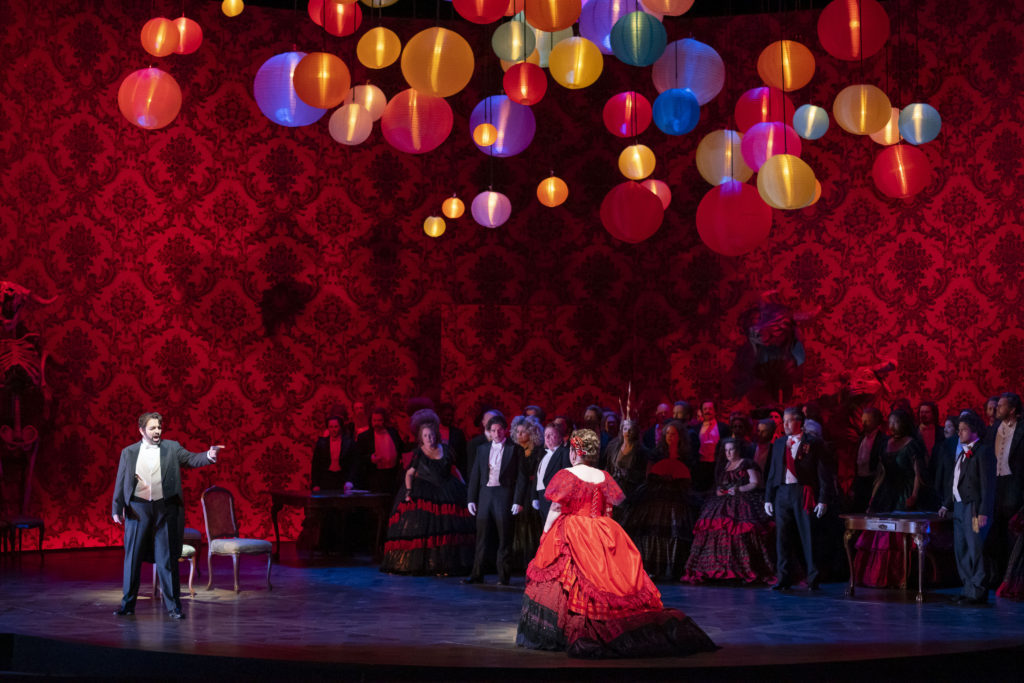 In Act 2, another fabulous party brings the merriment and showcases the Hernandez, O'Connor, Hatten, Marcus Doshi (light) and Christopher Ash (projections) design team. Within the lively affair, Berrugi cruelly confronts Shagimuratova. She is destroyed and flees to Paris.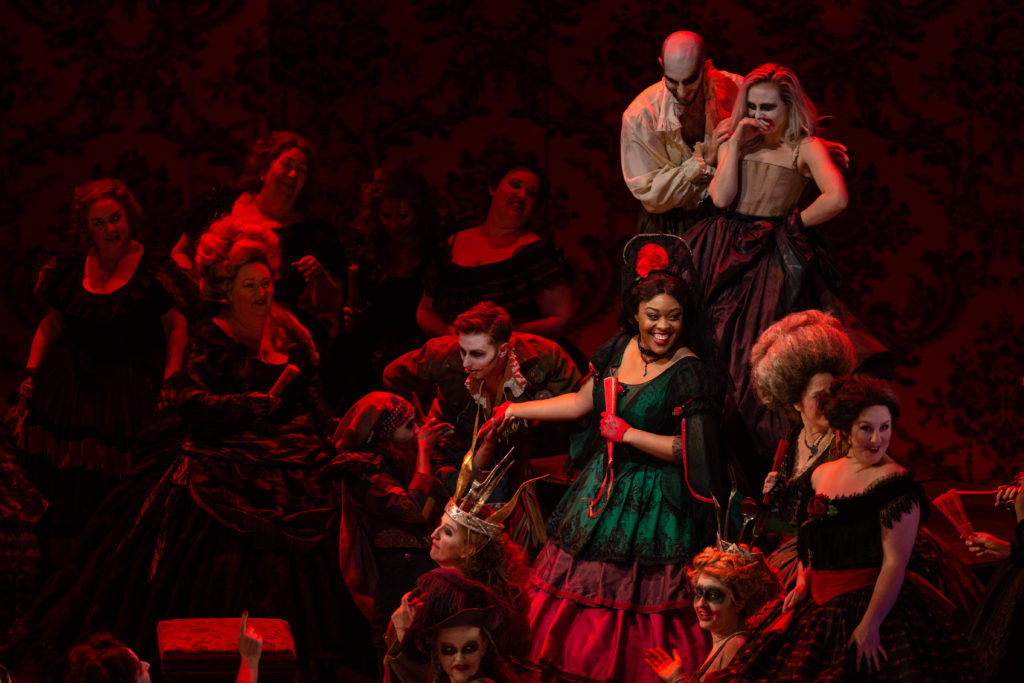 A month later, they meet again in Paris. Berrugi is remorseful. A sickly Shagimuratova is happy to see him. Their vows of love are bittersweet. Lucic also arrives at Violetta's home to beg her forgiveness. In the final moments of the show, Shagimuratova's desperately clings to Berrugi. The emotion is palpable and tear-inducing.    
LA TRAVIATA provides a perfect winter escape. It may be cold outside but there is a party -parties- going on at the Lyric. Love, lust and champagne is flowing nonstop. And even though this love story is tragic, it is beautifully told.  
Running Time: Two hours and fifty minutes includes two intermissions
At Lyric Opera, 20 N. Wacker
Opera in three acts in Italian
Composed by Giuseppe Verdi
Based on the play 'La Dame aux  camelias" by Alexandre Dumas
Libretto by Francesco Maria Piave 
Conducted by Michael Christie
Directed by Arin Arbus
February 20th and 26th 
March 1st, 4th, 7th, 10th, 13th, 16th and 22nd 
For more Chicago theatre information and reviews, please visit Theatre in Chicago