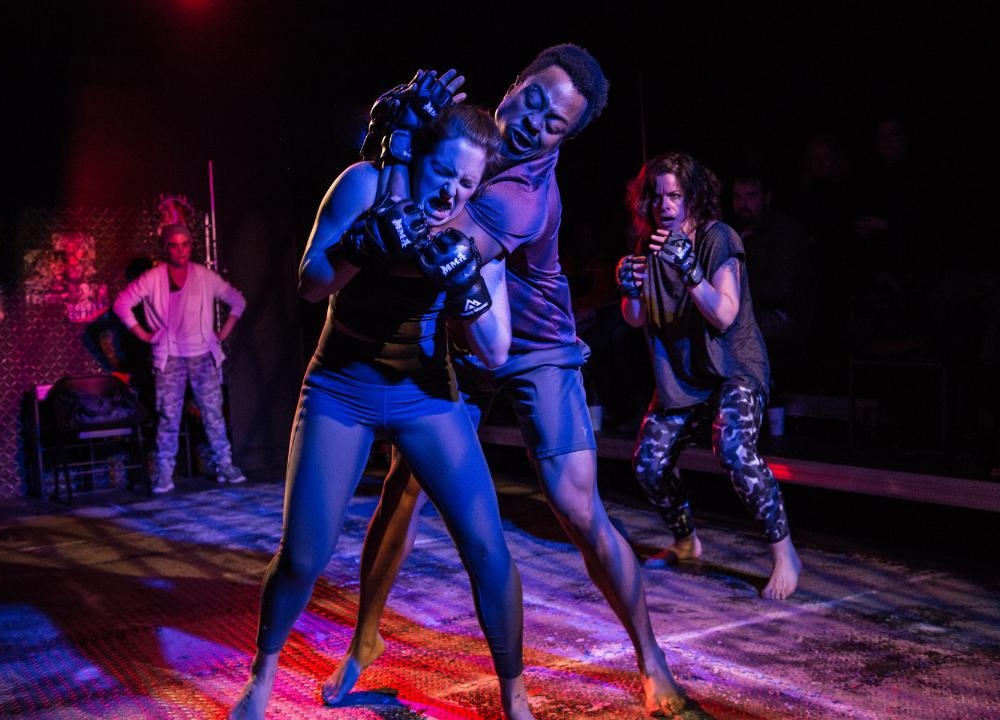 Broken Nose Theatre presents the Midwest premiere of GIRL IN THE RED CORNER.
Elise Marie Davis (Halo) opens the show by confiding to the audience. Her address is controlled constraint. Her marriage is over. She quit her job. And she moved back in with her mom. Despite the series of unfortunate events, Davis doesn't come off like a victim. She sounds pissed and has decided the only outlet for her anger is to the beat the crap out of someone.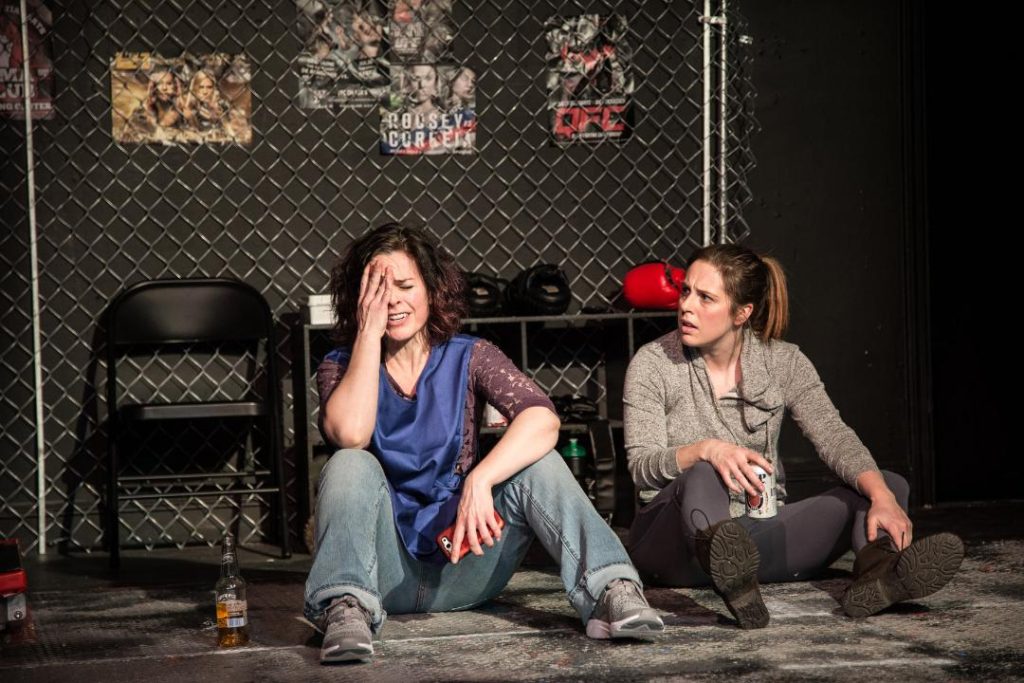 Playwright Stephen Spotwood pens the tale of ordinary people escaping their reality. Halo's mom (played by Michelle Courvais) turns to drinking and redecorating to deal with her pay being cut. Halo's sister (played by Kim Boler) wants to go clubbing when she can't control her twelve year old. Halo's new supervisor (also played by the versatile  Courvais) copes with mean customers by plastering on a fake smile. Halo's trainer (played by August N. Forman) stays sober by being an impenetrable fighting force.  Spotwood made his flawed characters have relatable but not easily solvable scenarios. Although humor is laced throughout the dialogue, this isn't a sitcom set-up. This feels like real life with true grit.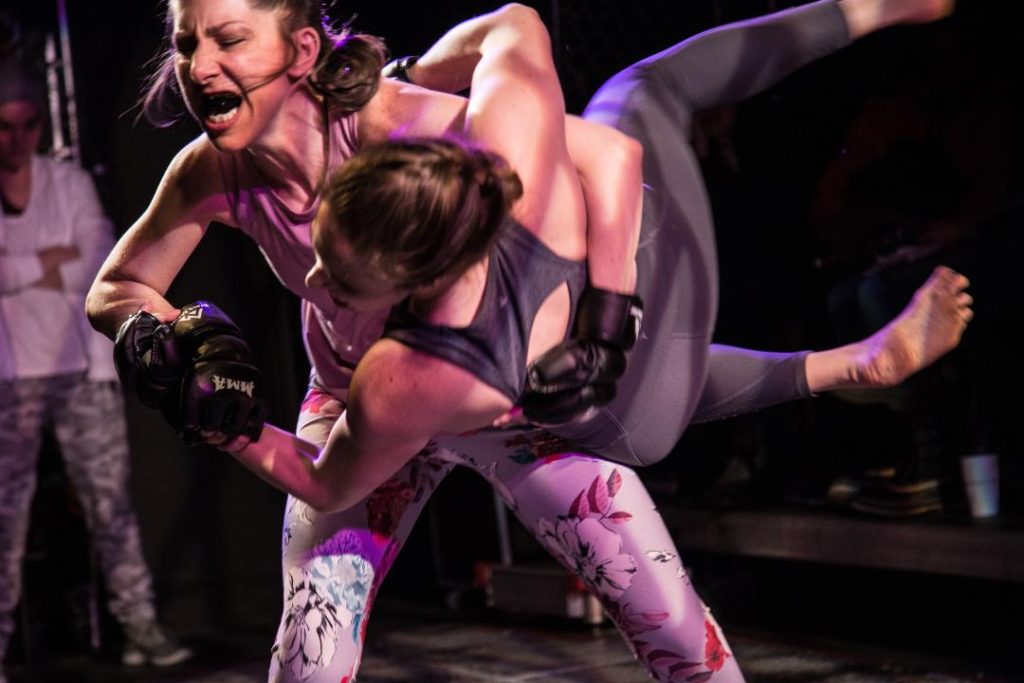 Director Elizabeth Laidlaw skillfully tethers us to the action. Laidlaw places us ringside for the combat and the drama. The audience is seated on two sides of a traverse stage.  The configuration makes the fight scenes, the family angst and a phone call meltdown by Davis … uncomfortably real. We are so close that Courvais' slight tightening of a smile gets a laugh. The deafening smack of Mark West hitting the mat triggers gasping. And Boler's tear stained face has heads tilted in concern. The intimacy connects us to the humanity and the fight in these people.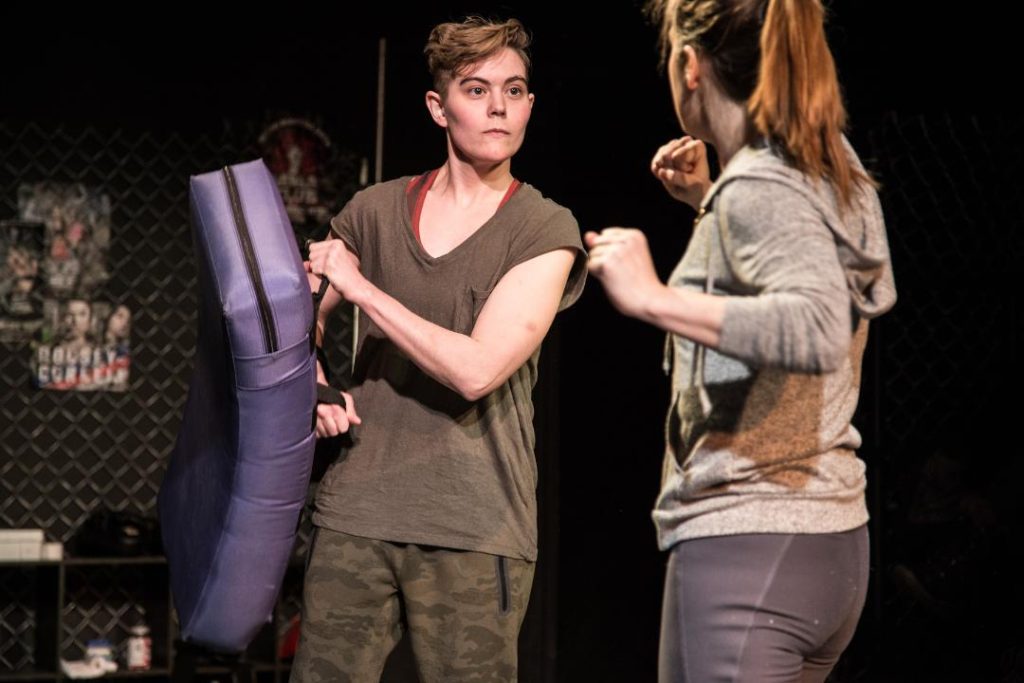 This show is a mixed martial art showcase. And the athleticism is impressive with energetic fight choreography by John Tovar. Although the entire scrappy ensemble get physical at some point, most of the ass kicking is done by Davis and Forman. Forman is training Davis to cage fight. But before Davis can even spar, Forman forces her to build her stamina in burpies, crunches, planks and high kicks. Their workouts are grueling. The fierce Forman has an icy intensity. The outstanding Davis transforms from whiner to warrior. They are both fighting for their lives… for different lives than the ones they have had. Their struggles are palpable. Their focus is hardcore. Their tireless commitment is exhausting.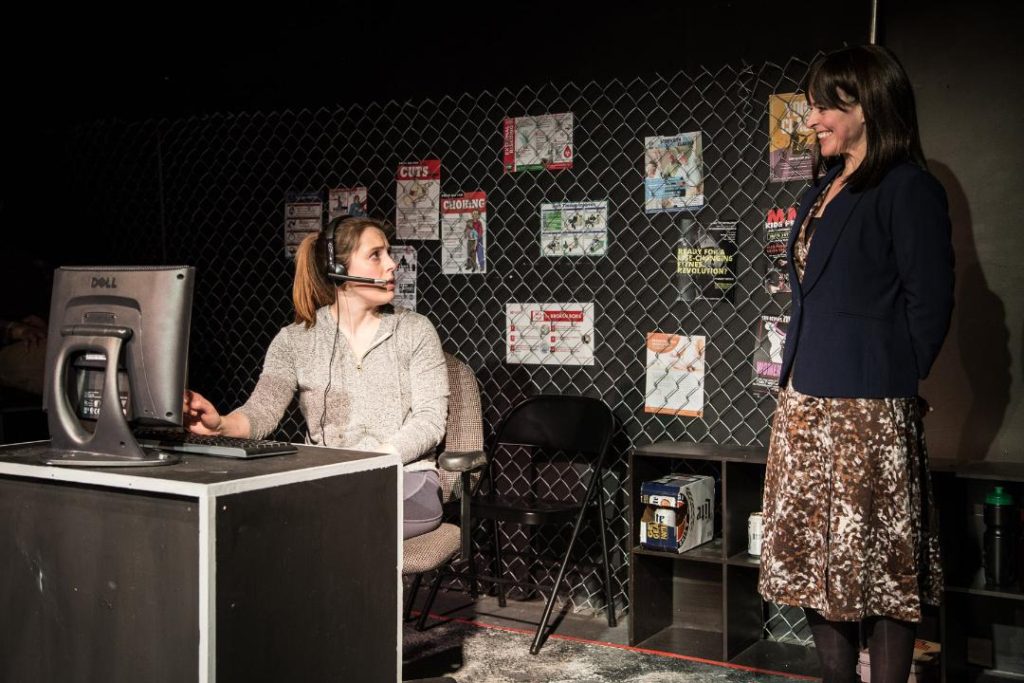 This show will inspire you to fight back… against a bad relationship, a crappy job, a life that has let you down. GIRL IN THE RED CORNER is a powerful tribute to change.        
Running Time: Two hours includes an intermission
At The Den Theatre, 1331 N. Milwaukee
Written by Stephen Spotswood
Directed by Elizabeth Laidlaw
Thursdays, Fridays, Saturdays 7:30pm
Sundays at 3pm
EXTENDED Thru March 9th  
Production photos by Austin D. Oie
For more Chicago theatre information and reviews, please visit Theatre in Chicago