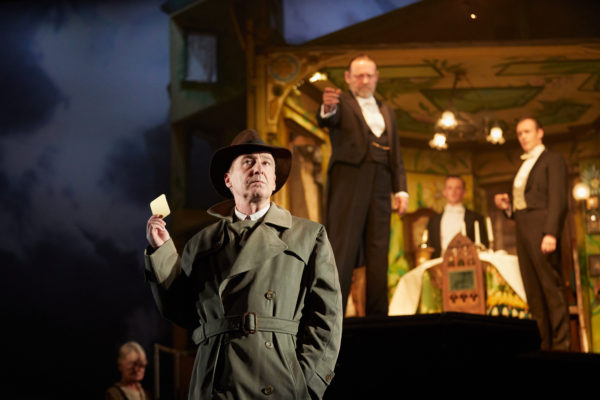 Chicago Shakespeare Theater presents The National Theatre of Great Britian's Landmark Production of JB Priestley's Classic Thriller, AN INSPECTOR CALLS.
This show is about the intrigue from story to style. It starts with a little boy ( played by a spunky Judah Abner Paul)running through the theatre. Once onstage, he attempts to raise the massive red curtain. Once he and we are able to see behind the curtain, Designer Ian MacNeil's set is charming and puzzling. A red English phone booth with broken panes is beside an old fashioned streetlight. The focal point is an oversized Victorian dollhouse. Through the windows, we can see people inside the miniature house. We hear a dinner celebration in progress. An engagement is being announced.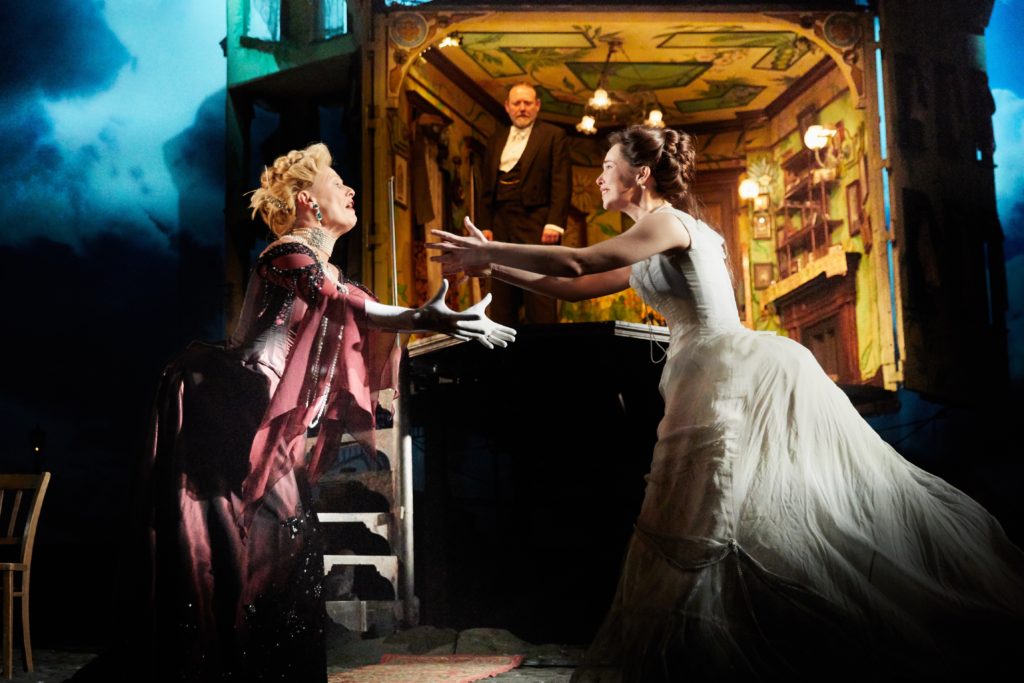 I'm transfixed. Who are these people in this tiny house? When Inspector Goole (played by Liam Brennan) unexpectedly arrives to question the inhabitants, the house literally opens up and the family's secrets spill out. Cue the misty fog, eery lighting (Designer Rick Fisher), and dramatic music (Stephen Warbeck), it's the perfect creepy set-up for a mystery.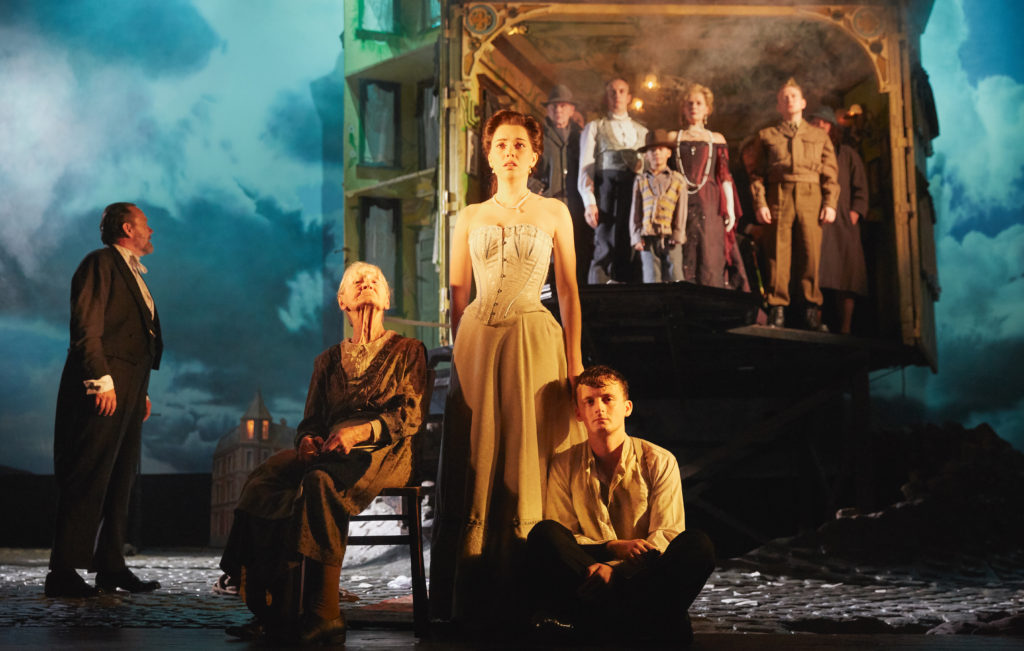 Playwright JB Priestley pens a classy whodunit. It's 1912 England. An inspector interrogates a family about their involvement in the town's scandal. The Birlings are miffed to be under investigation. After all, they are pillars of the community. And more importantly, they are rich! Sybil (played by Christine Kavanagh), in particular, does not hide her annoyance at the dinner party disruption. Kavanagh is hilariously haughty. She wearily sinks in to a chair that her servant (played by a nimble Diana Payne-Myers) quickly places under her.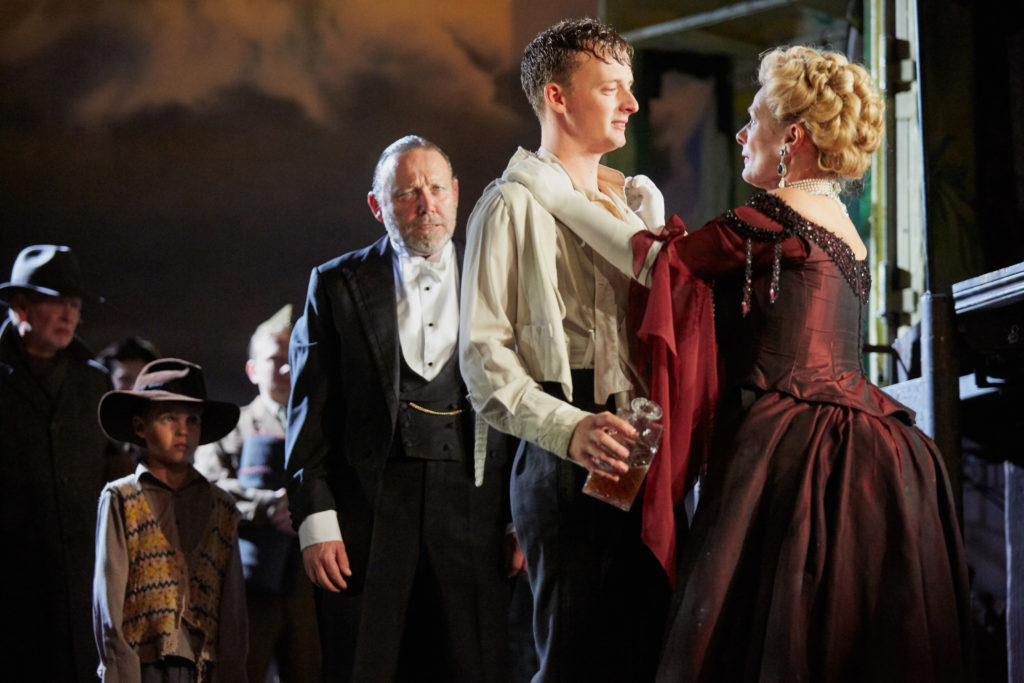 Through a series of, sometimes wacky, questions, Goole cleverly connects each person to a character flaw and its dire impact on an individual. Although the gents respond to the revelations with anger, drinking and leaving, Shelia Birling (played by Lianne Harvey) awakens to the reality of her and her family's actions. Harvey joins Brennan in needling the family into owning their responsibility in the despair of a fallen woman. The damage has been done… to the woman and now the foundation of this family. The visual reenforcement is fascinating.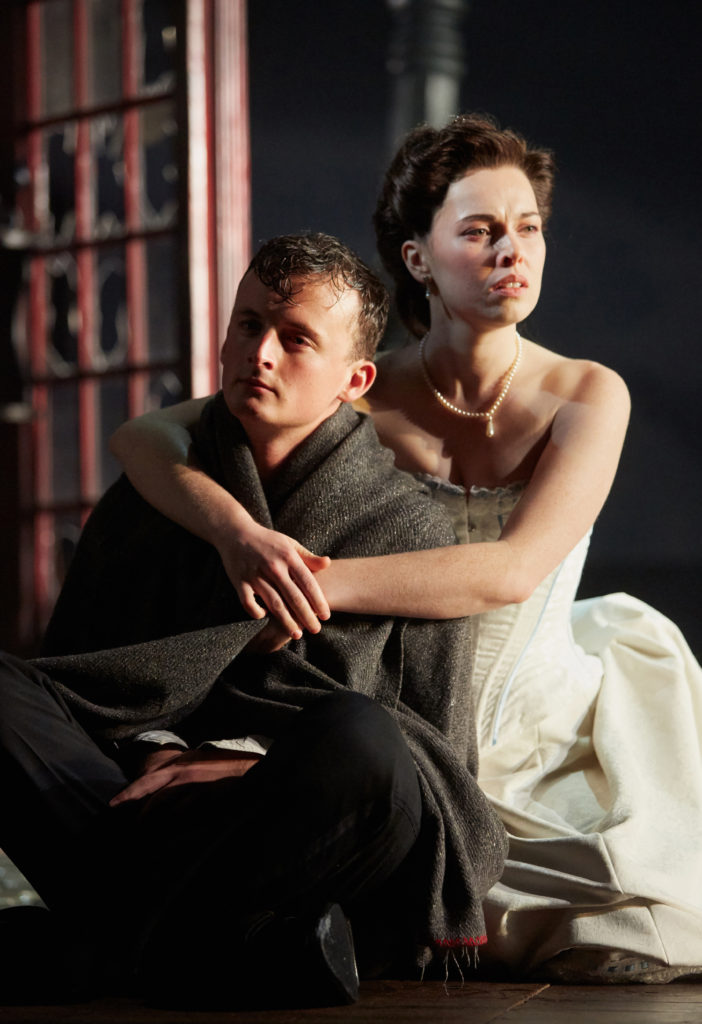 And even when the puzzle seems to be solved, it's not. What just happened? Or didn't happen? Director Stephen Daldry impressively orchestrates this surreal mystery. His terrific ensemble and design team leave us perplexed and entertained. 
Running Time: One hour and fifty minutes with no intermission
At The Yard at Chicago Shakespeare Theater on Navy Pier, 800 E. Grand Avenue
Written by JB Priestley
Directed by Stephen Daldry
Tuesdays, Wednesdays, Thursdays, Fridays at 7:30pm 
Wednesdays at 1pm
Saturdays at 3pm and 8pm
Sundays at 2pm 
Thru March 10th 
Production photos by Mark Douet  
For more Chicago theatre information and reviews, please visit Theatre in Chicago