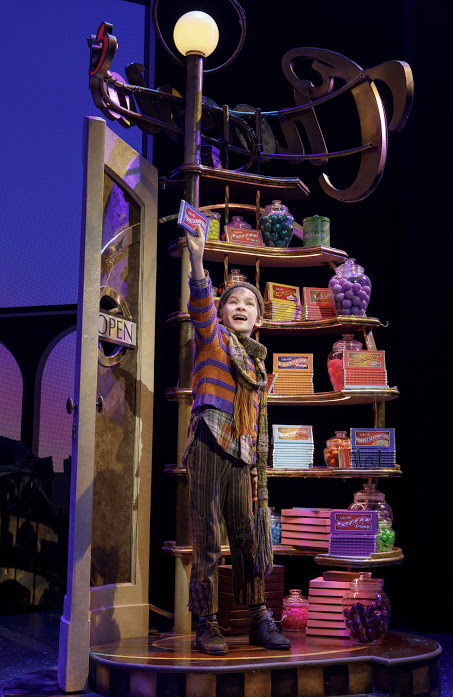 Broadway in Chicago presents Roald Dahl's CHARLIE AND THE CHOCOLATE FACTORY.
This show is a trip down memory lane! I'm a huge fan of the 1971 film that introduced oompa loompas into my life. The staged musical version of Roald Dahl's beloved story is both more beautiful and ugly than the movie. David Greig (book) makes Charlie Bucket (played by the outstanding Henry Boshart, one of three young actors performing the title role) a selfless dreamer. Greig, Marc Shaiman (music and lyrics) and Scott Wittman (lyrics) uses the entire first act to tether us to the sweet boy who takes care of his family. In the song "A letter from Charlie Bucket", a sincere Boshart asks Willie Wonka for candy inventions like licorice shoelaces for his mom and marshmallow pillows for his grandparents. His I-don't-need-anything-for-me is a strong contrast to the other golden ticket winners.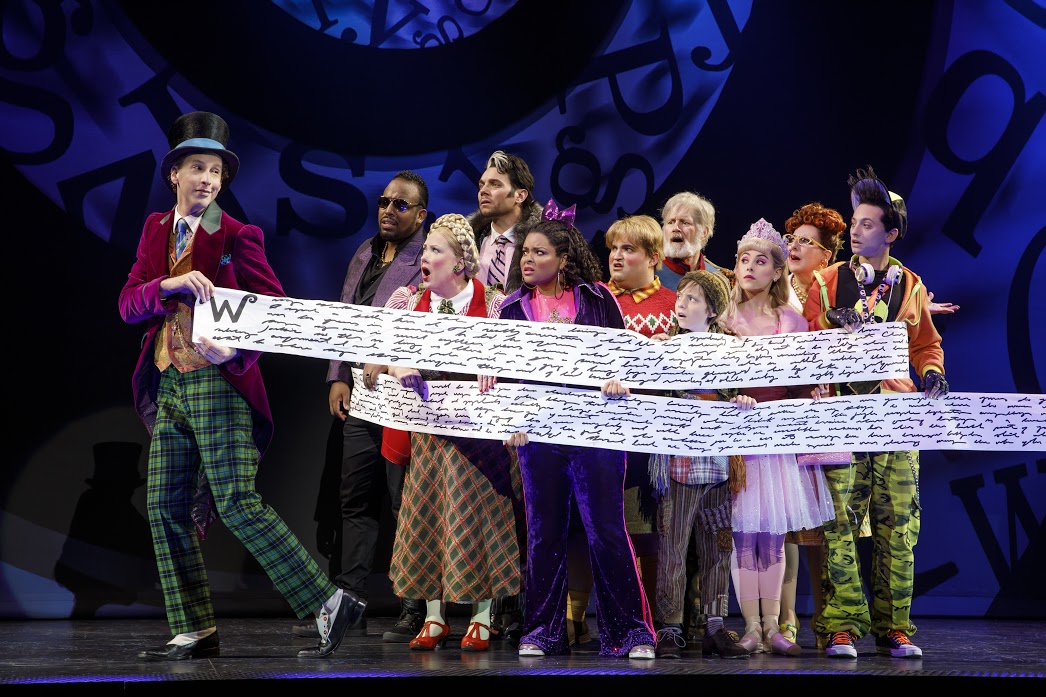 The other lucky winners are still a motley crew of spoiled brats but Greig, Shaiman and Wittman have updated them for contemporary times. Violet Beauregarde (played with moxie by Brynn Williams) is the self-proclaimed 'Queen of Pop' on social media. Mike Tevee (played by Daniel Quadrino) is not just addicted to TV. His attention deficit disorder is illustrated by his video game playing and cell phone obsession. These kids, along with the demanding Veruca Salt (played by Jessica Cohen) and gluttonous Augustus Gloop (played by Matt Wood), are the worst kinds of kids.
Each time a new ticket winner is revealed, we return to a dejected Boshart at the candy store. The candy store owner aka Willie Wonka in disguise (played by the hilariously quirky Noah Weisberg) is delighted at candy sales and seemingly unfazed by this starving boy. Our investment in Charlie grows as his chances at winning a ticket decreases. His mom (played by Amanda Rose) gorgeously sings our sentiments in "If your father were here".  Rose wistfully fantasizes how much better Charlie's and the family's lives would be if her husband was alive. She even dreamily dances with her husband. Poverty, single working mother, disabled elderly are all anchors of despair weighting us down. Then, the magic happens. Boshart gets the last golden ticket.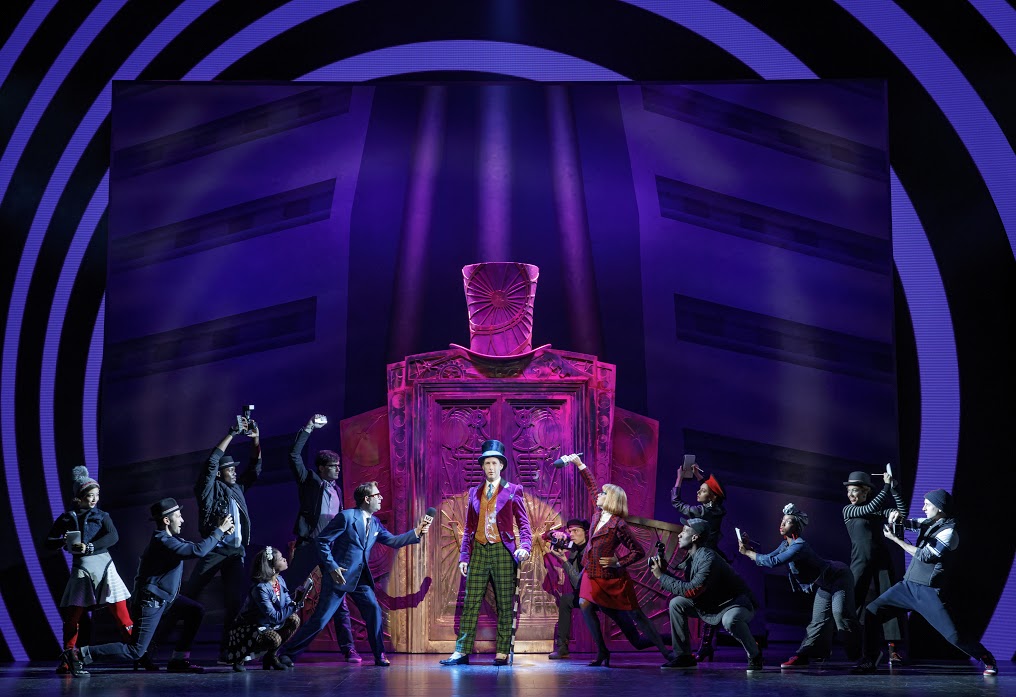 Although we know it's coming, the moment is hugely up-lifting. And Boshart channels all the enthusiasm of his luck finally changing in the infectious "I've got a golden ticket". I love that the song from the movie (written by Leslie Bricusse and Anthony Newley) returns in this musical. Another familiar favorite, "Oompa Loompas", also is featured. 
A main reason to see the show is the Oompa Loompas. Since digital projections are being used more and more to cut production costs, I feared the fate of the Oompa Loompas. I was delighted to have my fears squashed. The Oompa Loompas are alive and extraordinary!! Director Jack O'Brien, Choreographer Joshua Bergasse, and Basil Twist (puppet and illusion design) make these Oompa Loompas unforgettable. Ensemble members wearing dark clothing, orange faces and tiny white puppet bodies become Oompa Loompas. The terrific ensemble crawl on their hands and knees to make this illusion so cool. In some larger dance numbers, each Oompa Loompa has a second puppeteer, one works the feet, the other does the hands. Along with animated facial expressions, the visual is mesmerizing! Loved it!!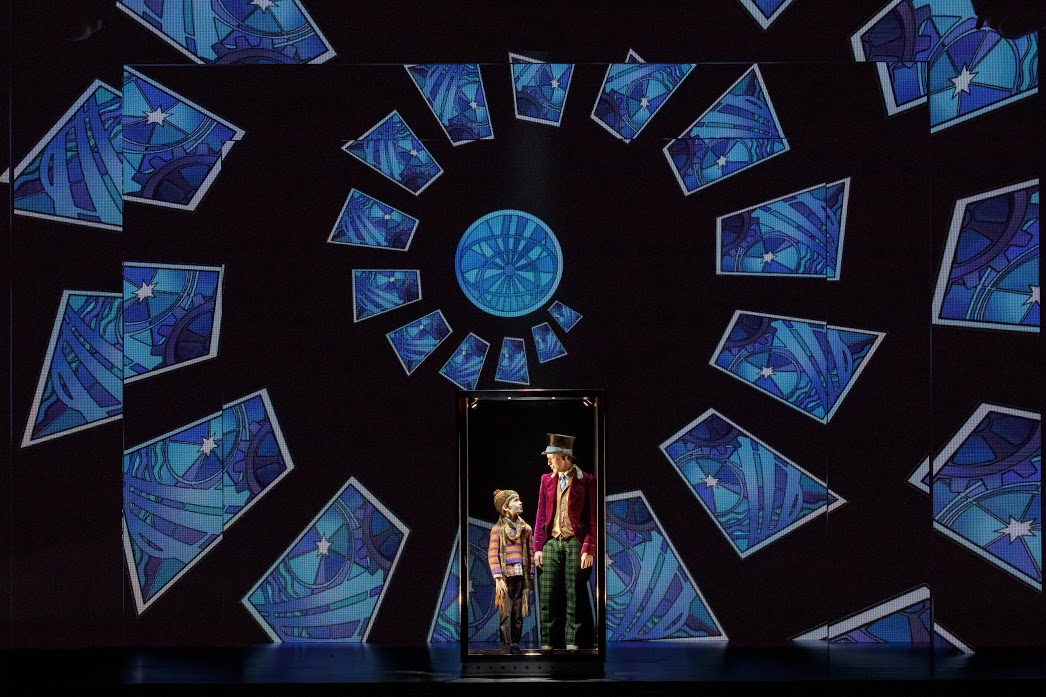 As enchanting and heart-warming as this show is, I did want to caution parents that it's a little dark. The naughty kids are punished… maybe forever. In the number "Veruca's Nutcracker Sweet", Cohen dancing with huge squirrels starts out beguiling and ends in dismemberment. It's hard to come back from that. The movie is more forgiving of the brat pack than the staged musical.
Still, I really enjoyed CHARLIE AND THE CHOCOLATE FACTORY. It was a solid return to my candy-coated childhood memories. As Willie Wonka says, "It must be believed to be seen!"
Running Time: Two hours and thirty minutes includes an intermission
At Oriental Theatre, 24 W. Randolph
Based on the novel by Roald Dahl
Book by David Greig
Music by Marc Shaiman
Lyrics by Scott Wittman and Marc Shaiman
Additional songs from the 1971 Warner Bros film by Leslie Bricusse and Anthony Newley
Directed by Jack O'Brien
Music supervision by Nicholas Skilbeck
Tuesdays, Wednesdays,Thursdays, Fridays, Sundays at 7:30 p.m. 
Saturdays at 8 p.m.
Wednesdays, Saturdays, Sundays at 2 p.m. 
Thru October 21st  
Production photos by Joan Marcus
For more information and reviews on Chicago theatre, visit Theater in Chicago.