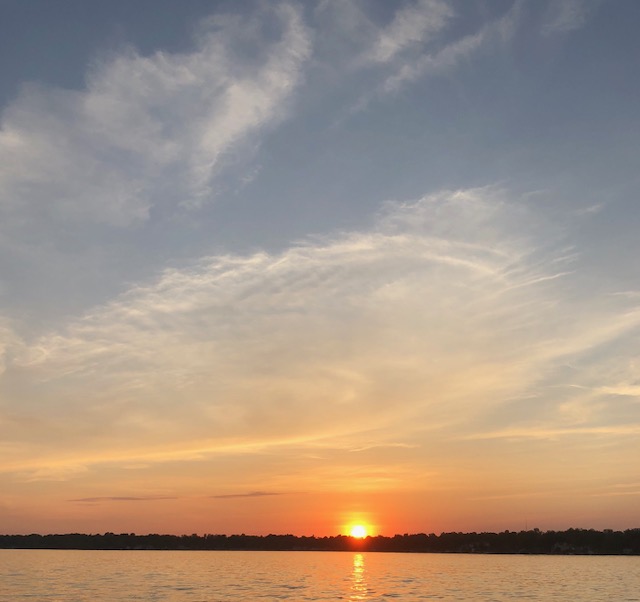 I have some bad news. I didn't hit 900 in Candy Crush this month. I'm stuck on Level 894. Oh and I resigned my job of fourteen years.
On Friday, May 25th at 5:20pm, the NRS' board chair let me know I wasn't being invited to interview for the position of Executive Director. I had been preparing for the ED position since 2012 when Maureen let me know she was 'retiring in two years.' When she really did announce her retirement at the December board meeting, I submitted myself as a candidate the next day. The board chair told me he would get back to me about my submission after January 6th. When I hadn't heard from him, I reached out again on February 6th to inquire if I was being considered. He assured me I was but the process was now being guided by a search firm.
Every day from February 6th to May 25th has been agony. Loving people in my life were split. Some believed I was being lied to and used by an organization I served loyally for a decade and a half. Others encouraged me to be patient that I was the only choice given my institutional knowledge as the unofficial 'chief operating officer.' I believed I would blow the hiring committee away with my aggressive transformation plan. A plan that could only be implemented by me. So, I spent the last five months imagining NRS 2.0 and working on my presentation to the board.
14 years of service. 6 years of waiting for my chance. 5 months of preparing for the interview. On May 25th, I was giddy with excitement. Finally, I was going to be heard. Waiting for the board chair for two hours and twenty minutes because he was stuck in traffic…on a holiday weekend…didn't even phase me. I spent the time putting final touches on my power point presentation for the interview.
Upon his arrival, he apologized for being late and said he needed a cocktail. I chuckled empathetically. I eagerly nodded as he outlined the process. I smiled as he said you were one of the small group being considered out of the fifty candidates. And then he said 'but you aren't being invited to interview.' Blah blah blah 'going in a different direction.'  Blah blah blah 'people with proven experience in taking a national organization to the next level.'  Blah blah blah 'do you want to talk about it?'
WHAT? I'm not getting an interview. The agency dated me for fourteen years but when its time to get married they pick someone else. And you made me wait for two hours and twenty minutes for this rejection? I resign. I'm giving you my four week notice. Go get your cocktail.  
I'm still transfixed! I'm dismantling my office. I'm getting life guidance from my loving supporters. I'm looking for a job. I'm a victor not a victim.
That's how my month ended. Yet, I had a pretty good month. I worked out with Josh 11 times. I took 3 yoga classes, one of which was taught by my niece Abby, a newly certified instructor. I reviewed 5 plays. I wrote 4 LinkedIn posts. I saw Infinity Wars and watched the suggested 8 movies leading up to that one. I spent time with family and friends. I'd give myself an A for the first three weeks of May and an incomplete for this last week.
And as far as my 2018 goals…
Student for Life: I listened to 3.05 books. I started "12 Rules: An Antidote to Chaos" by Jordan B. Peterson. He is the author and the narrator. If I had listened to the sample, I wouldn't have gotten it. His voice is annoying! And the content is old-school-men-are-the-true-leaders based on lobsters and the bible. YUCK! I shut it down in the second chapter.
I then listened and thoroughly enjoyed Make Trouble by Cecile Richards. Richards is the former CEO for Planned Parenthood, daughter of the late Governor Anne Richards and lifelong 'troublemaker.' Richards chronicles her life of standing up, speaking out, and finding the courage to lead. Inspiring!
I followed that up with The Servant, A Simple Story About The True Essence of Leadership by James C. Hunt.  A parable about leading based on service. I loved it. And wrote about it on LinkedIn.
I just finished Bring Your Whole Self to Work by Mike Robbins. Robbins tackles the whole self. His book was full of great nuggets. I'm noodling on a future LinkedIn post capturing the best life tips. Here's a few of his suggestions that seem particularly important given my future under-employment. He suggests a gratitude practice: say it, express it, write it. He also says instead of saying Why is this happening to me? start saying Why is this happening for me? And another powerful message was worry less about what's on my resume and more about what people will say at my eulogy. Timely and relevant!
I also started Change Your Outcome, a Monday evening course with communications guru Joel Kessel.  Although I have to rewrite my first week goals that were all focused on NRS, it's another reminder to me of divine intervention. The group coaching will help me look at my career broader.
Be an Advocate for Vulnerable Populations: While I'm finishing up my tenure with service to runaway and homeless youth, I'm contemplating where else I can have a significant impact in the future.
Be Kind: After being on prescription iron for a few months, I passed the test and gave blood. I don't like needles. I feel the process is gross, seemingly barbaric, critically needed and kind. I'm giving blood for three reasons. I'm honoring my father's life-long practice of donating blood. I'm giving back for the blood made available for my sister when she needed transfusions. And I'm subbing in for my mom who feels guilty that she can't give blood.
I leave May knowing I leave NRS in a couple weeks. A life changer! But I'm a woman of faith. I embrace change. And in a yoga book that Abby gave me, this notion resonated with me over the weekend… don't break down, break open.