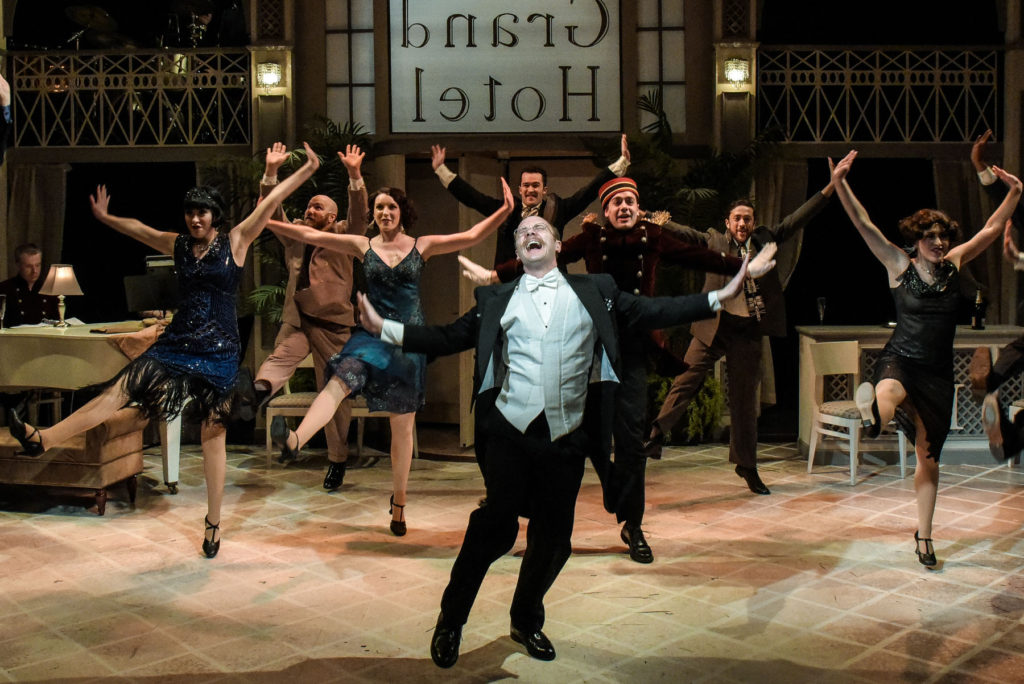 Kokandy Productions presents GRAND HOTEL.
Flappers kicking it up. Guests lapping up the champagne. In 1928 Berlin, the Grand Hotel welcomes an aging prima ballerina, a wannabe actress, a sickly bookkeeper, a broke baron and other eccentrics to the fading, posh lifestyle. As depression and war threaten to change the world forever, Berlin holds on to hope for one more grand time. I had never experienced GRAND HOTEL before this production. I kept connecting it to the more familiar "Cabaret" musical also set in Berlin circa 1932. GRAND HOTEL seems like the classy, sophisticated, hopeful prequel to the sexy, alternative nightlife of "Cabaret".  GRAND HOTEL croons and swoons with the shiny innocence of a pre-cataclysm moment.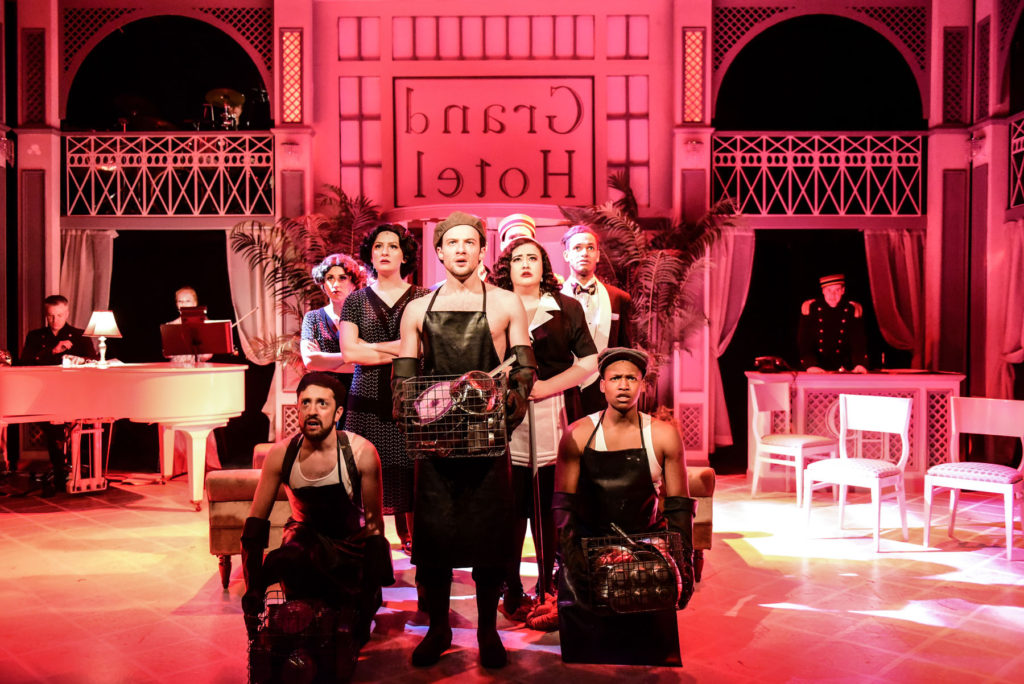 The design team, Jeffrey D. Kmiec (scenic), Alexander Ridgers (lighting), John Nasca (costumes), Keith Ryan (hair and wig), put the 'grand' in GRAND HOTEL.  They create the art deco splendor of another time. On to the elegant stage spills an energetic and terrific cast committed to bringing the song and dance. Director John D. Glover orchestrates sparkly pleasure mingled in with gritty reality. The characters are dealing with loss of life, status, time and integrity. Still, everyone is up for one more musical distraction. The best show number, facilitated  by Aaron Benham (music direction) and Brenda Didier (choreography), is the  "H-A-P-P-Y/We'll Take a Glass Together" led by the endearing Jonathan Schwart (Otto Kringelein) and dashing Erik Dohner (Baron Felix von Gaigern). Schwart and Dohner's friendship drinking song has the ensemble joining in with dazzling moves and harmonies. Another standout number is the vivacious Leryn Turlington (Flaemmchen) flanked by the hilarious Jimmys (Darren Patin and Travis Austin Wright). The trio (pictured below) are transfixing in their vitality and merriment.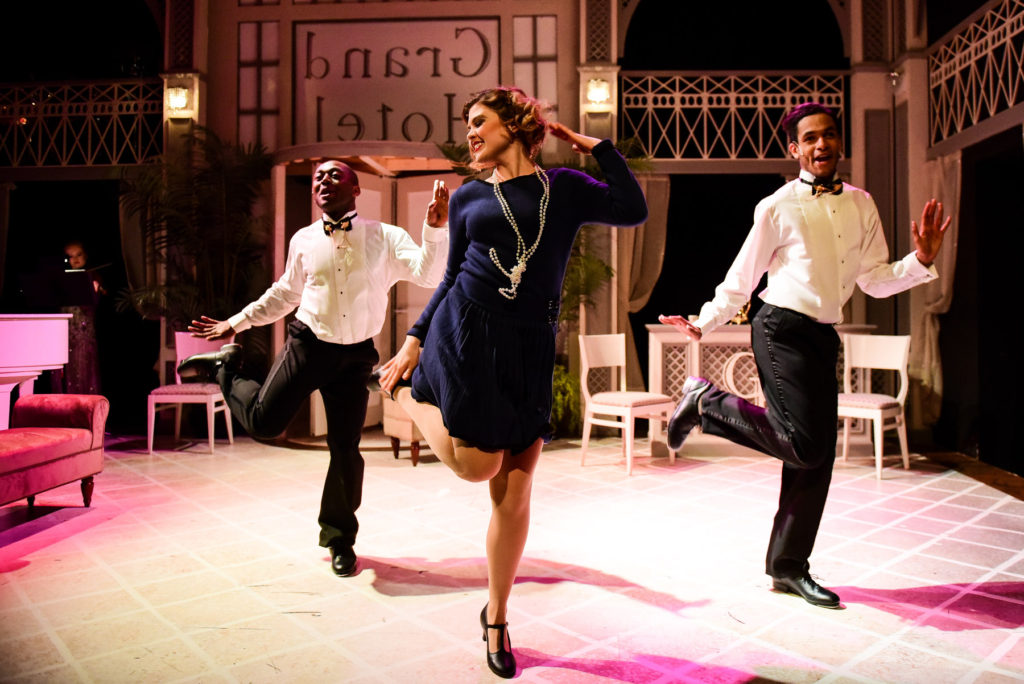 Although Turlington strategically flirts with Dohner and Jeremy Trager (Herman Preysing), it is her interactions with Schwart that charm in an unexpected way.  The lovely Michelle Jasso (Elizaveta Grushinskaya) plays fading diva with bittersweet poignancy. Her thirst for adoration is illustrated in a soulful duet with the smooth-talking Dohner. And nod out to the stoic Liz Norton (Raefella) who captivates as Elizaveta's protector.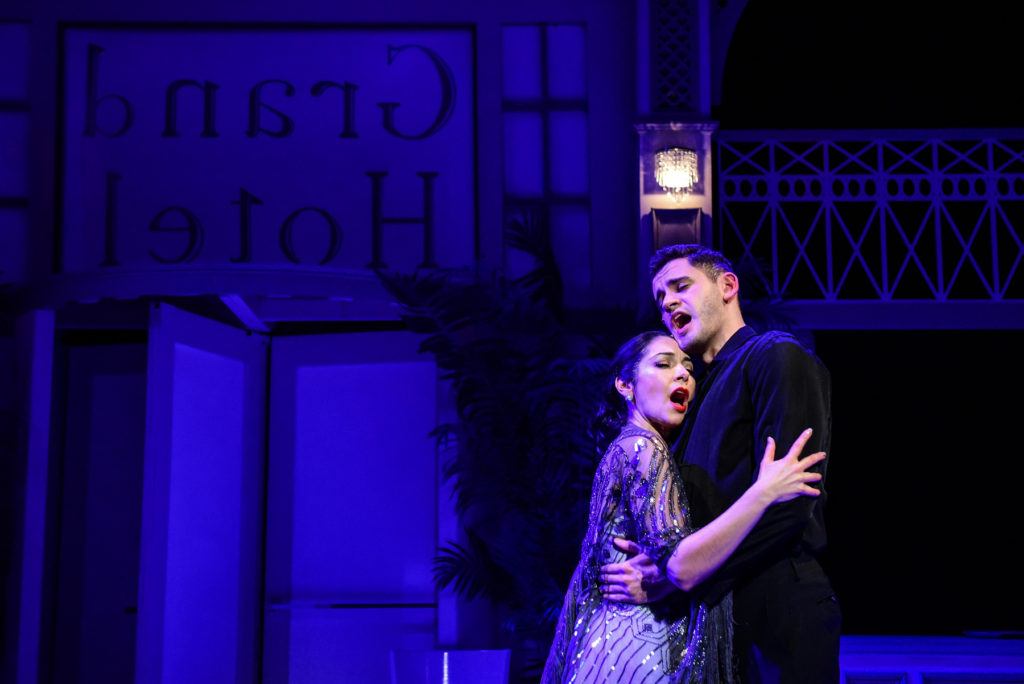 GRAND HOTEL is THE place to be for one last pre-war/depression indulgence. The beauty of the place belies the despair beneath the glitter and pearls. Based on Vicki Baum's 1928 play and novel Menschen im Hotel (People in a Hotel) and the subsequent 1932 MGM feature film, Playwright Luther Davis weaves together the stories of people desperate to hang on to their yesterdays and others searching for the promises of tomorrow. Glover's crew welcomes us to experience the pleasure and pain of both.
Running Time: One hour and forty five minutes with no intermission
At Theater Wit, 1229 W. Belmont Ave. in Chicago
Based on Vicki Baum's 1928 play and novel Menschen im Hotel (People in a Hotel) and the subsequent 1932 MGM feature film
Book by Luther Davis
Music and Lyrics by Robert Wright and George Forrest
Additional Music and Lyrics by Maury Yeston
Directed by John D. Glover
Music Direction by Aaron Benham
Choreographed by Brenda Didier
Thursdays, Fridays & Saturdays at 8 pm
Saturdays at 3 pm on May 19 and 26
Sundays at 3 pm
Thru May 27th
Tickets are available at www.kokandyproductions.com, by calling (773) 975-8150 or in person at the Theater Wit Box Office.
Production photos by Evan Hanover.
For more information and reviews on Chicago theatre, visit Theater in Chicago.