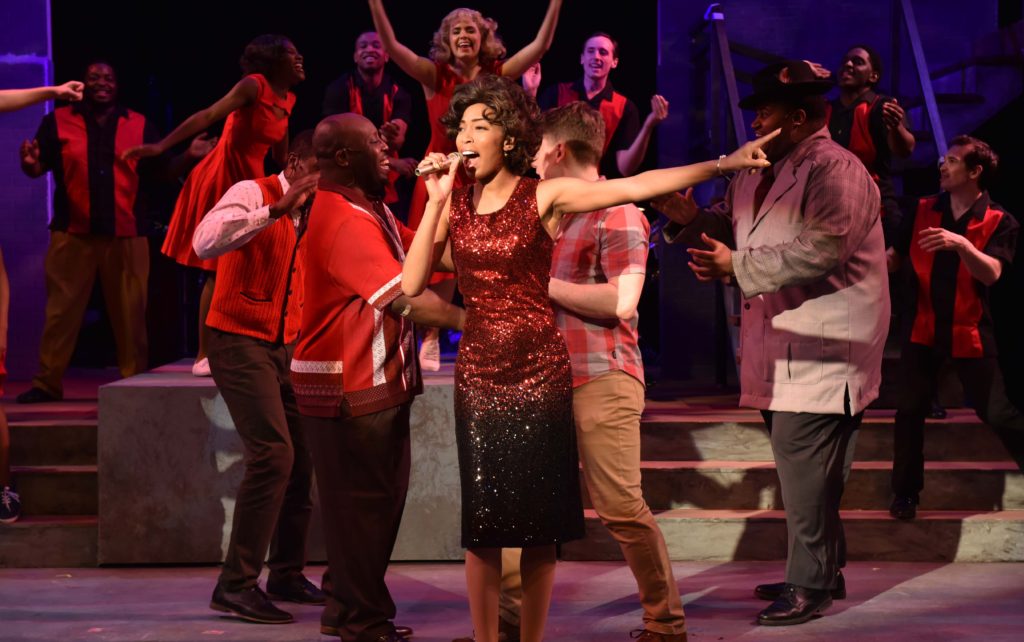 Porchlight Music Theatre presents MEMPHIS.
I LOVED my trip to MEMPHIS!  This musical is a powerful tribute to race relations within our rock and roll roots. The story is based on a concept by George W. George and the real life of DJ
Dewey Phillips. 
 The creative team of Joe DiPietro (book and lyrics) and David Bryan (music and lyrics) imagine a rogue DJ breaking the color barrier by playing 'race music' on an all white listener radio station.  The DJ, Huey Calhoun (played by Liam Quealy), refuses to conform to segregation laws and white Christian bullying. The kooky and cocky Quealy aggressively promotes r&b and pursues Felicia Farrell (played by Aeriel Williams). His zealous quest clashes worlds, changes lives and makes us dance.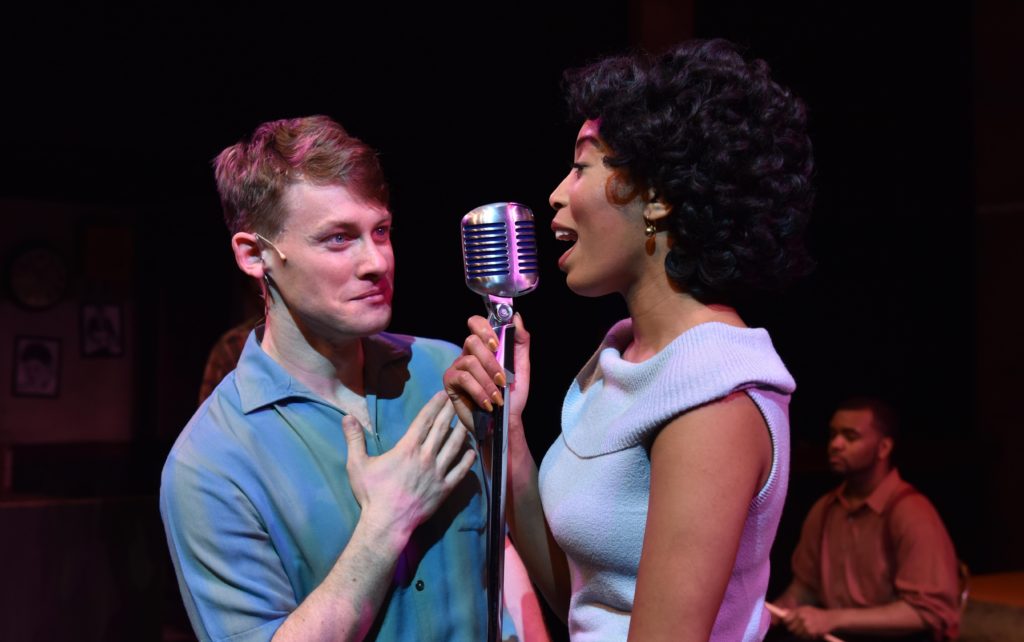 DANCING! This show has some of the most memorable choreography I've seen. Choreographer and Assistant Director Christopher Carter, along with Assistant Choreographer Reneisha Jenkins, have this fabulous and tireless ensemble moving and grooving nonstop. In a Beal Street night club, it's sultry. On a playground, it's playful. In a TV studio, it's polished perfection. The dancing is bouncy athletic synchronicity delivered smiling. At one point, during his amazing "Big Love" solo, James Earl Jones II (Bobby) cartwheels across the stage. The fierce crew make the work-out look so effortless and engaging, I momentarily muse being able to join in the high-spirited antics.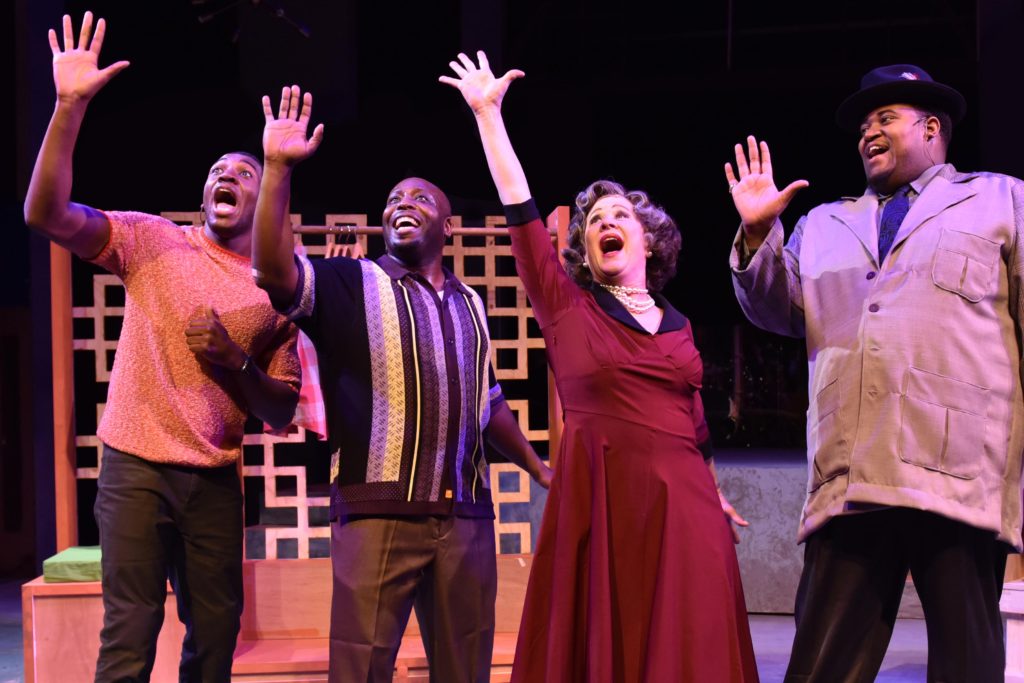 Although the dancing was my favorite aspect, the music (Jermaine Hill, music director) tells the story. Lorenzo Rush Jr. (Delray) sets the tone describing his nightclub in "Underground". His powerhouse pipes sing about welcoming the black community to safely drink, dance and socialize at his club. Williams joins her brother singing about her own songstress aspirations. Williams easily wins over the audience as her fans in the soulful "Someday." We want both Felicia and Williams to soar to success! Despite Williams' diva-like presence, the showstopping moment is produced by a previously silent Gilbert Domally
(Gator) belting out "Say a Prayer."  Domally sends me into intermission with tears in my eyes and angst in my heart. Later, the transformational song, 
"
Change doesn't come easy", is sung with moxie and hope by Nancy Wagner
(Gladys) with Domally, Jones and Rush. DiPietro and Bryan's songs effectively serve the storyline and the life lessons. At a pivotal life moment, Quealy sings to his first love in "Memphis Lives in Me."  And the "Steal Your Rock and Roll" finale provides an uplifting anthem to send us back in to Chicago.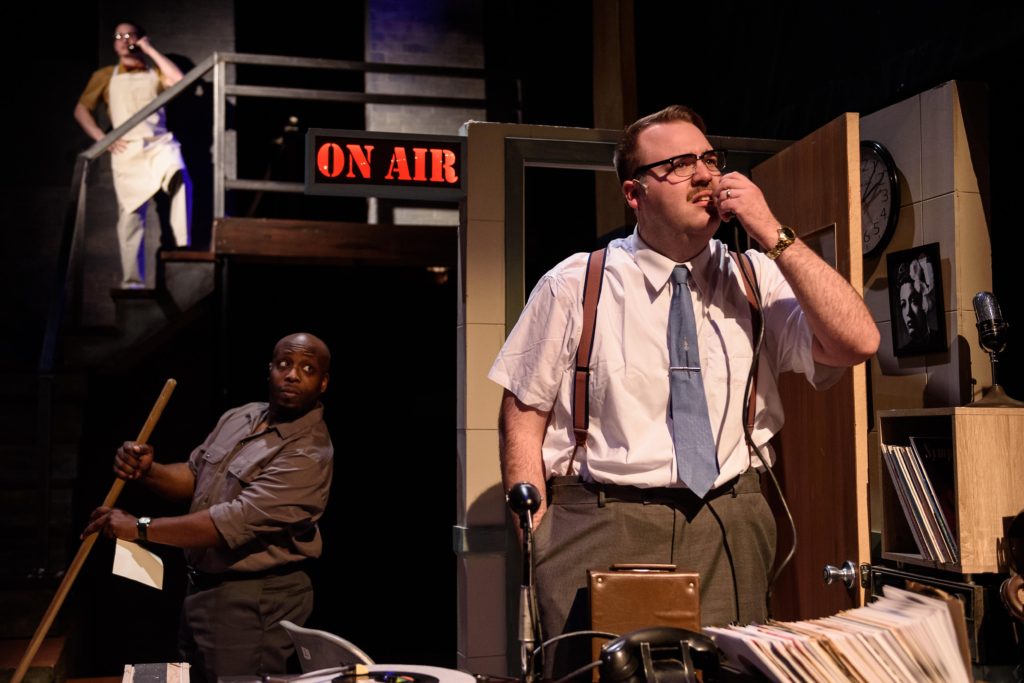 Director Daryl D. Brooks masterfully directs MEMPHIS. Although we are thoroughly entertained by the rock and roll spectacle, we never lose sight of the 1950s racial tensions. And even though Americans now embrace all types of music from different artists, racial tensions still exist nearly 70 years later. Somehow, change should come easier than that.
Nod out to Scenic Designers Jacqueline Penrod and Richard Penrod for creating a versatile set where DJ booths and rooms move in and off stage to make room for the dancing. And special gratitude to Costume Designer Bill Morey for the massive, twirling, mid-century fashion show.  You need to see it, hear it and experience it yourself! MEMPHIS is your musical destination!  Get a ticket before this show sells out!
Running Time: Two hours and thirty minutes includes an intermission
At The Ruth Page Center for the Arts, 1016 N. Dearborn Street
Based on a concept by George W. George
Book and lyrics by Joe DiPietro
Music and lyrics by David Bryan
Directed by Daryl D.  Brooks
Assistant directed and choreographed by Christopher Carter
Music directed by Jermaine Hill
Assistant choreographed by Reneisha Jenkins
Thursdays at 7:30 p.m.
Fridays at 8 p.m.
Saturdays at 4 p.m. and 8 p.m.
Sundays at 6 p.m. (April 29 and May 6) and 2 p.m. (May 13, May 20, May 27 and June 3)
Weekday matinees Wednesday, May 9, Wednesday, May 16 and Thursday, May 24, at 1:30 p.m
There is no 4 p.m. performance Saturday, April 28 and no 7:30 p.m. performance on Thursday, May 24.
EXTENDED thru Sunday, June 16
Tickets are $38 – $60 and are available at 
PorchlightMusicTheatre.org
 or by calling the Porchlight Music Theatre box office, 773.777.9884.