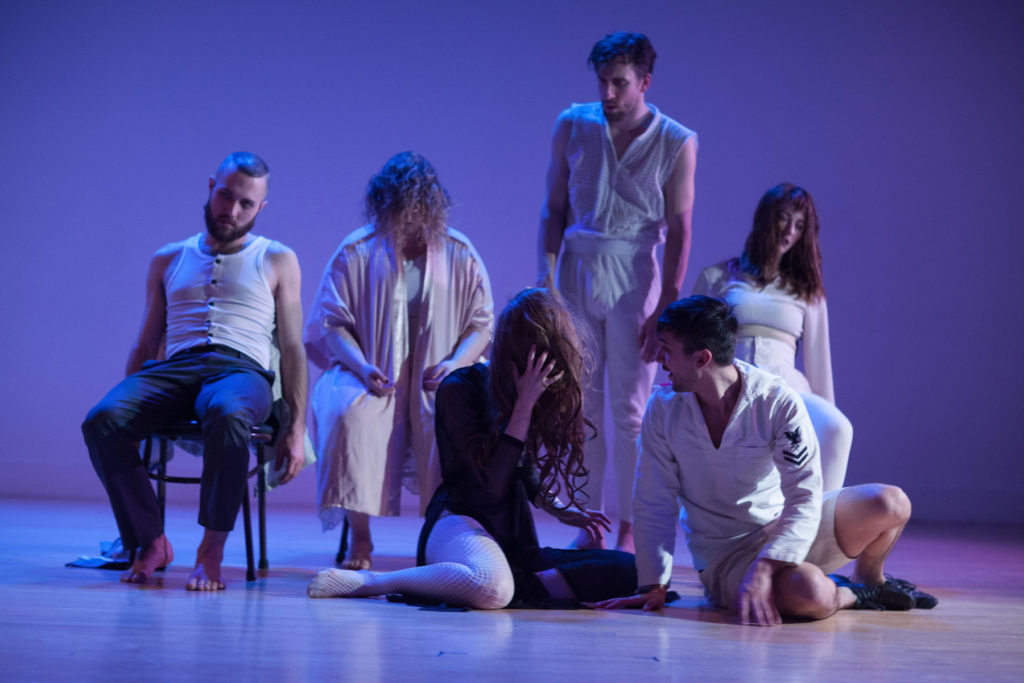 Walkabout Theater Company and Links Hall present the U.S. Premiere of  "THE BRINK! or Nobody's Ever Kissed Me Like That…".
The Walkabout ensemble, Nigel Brown, McCambridge Dowd-Whipple, Cooper Forsman, Dana Murphy, Katie Mazzini, Thom Pasculli (also serves as director), and Alex Rodriguez, showcase a theatrical spectacle of movement and music.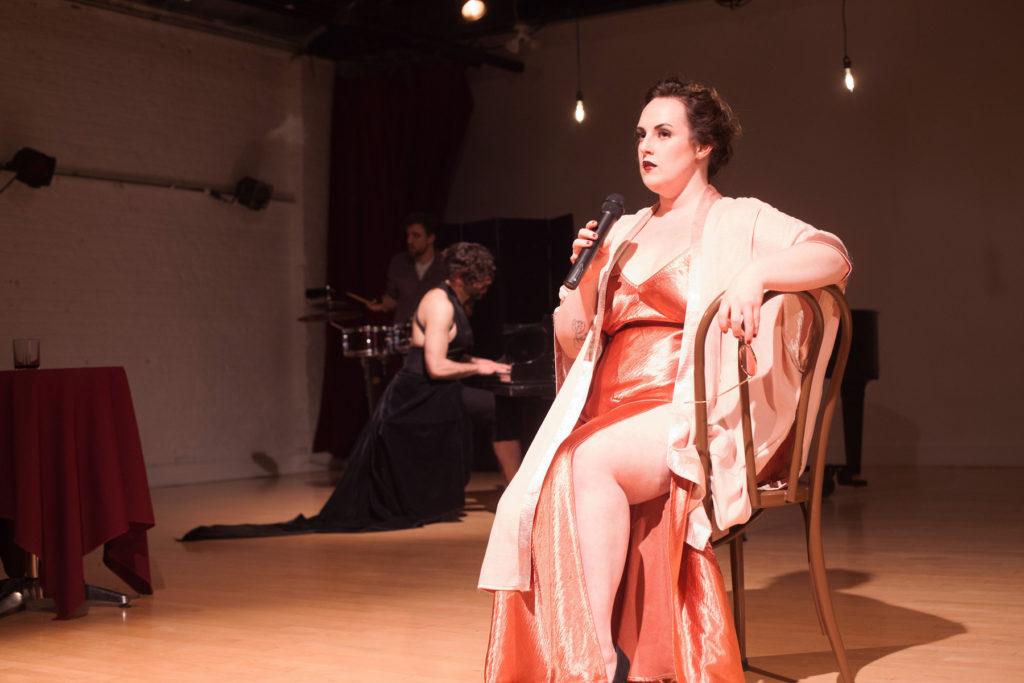 In Links Hall's vast space, Walkabout establishes a cafe with minimalism. Three tables with chairs are in the center. A piano and snare drum are off to one side. And on the other side of the room is a bar and radio tended by a sunglass-wearing Forsman. Costume Designer Myron Elliott-Cisneros weaves in color and texture to the stark room. Pasculli has a long flowing black haltered garment. Mazzini wears a pink satin negligee. Murphy is dressed in gauzy loose cotton. The looks are very different and distinct. The eclectic vibe provides subtle nuisance into the characters. A commanding Pasculli conducts from his piano. A sensual Mazzini belts out a torch song. And an animated Murphy floats around the room with innocence.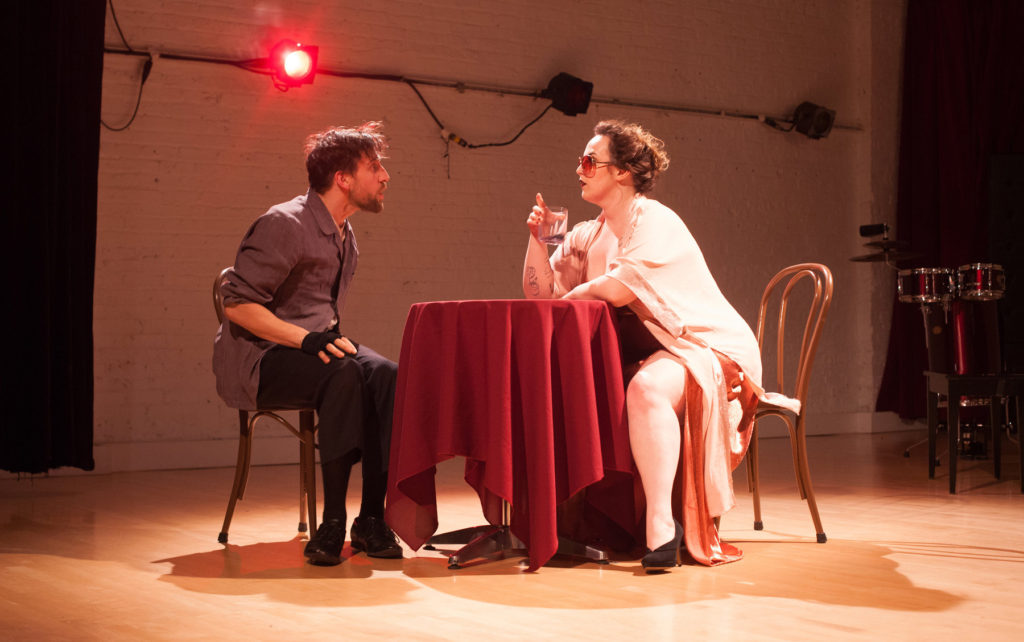 The show starts with Brown looking for Tracy. After flopping across the floor in a series of backwards, makeshift somersaults, Brown plops down at each table already occupied by Mazzni, Dowd-Whipple or Murphy. The interactions are the same as the ladies mirror each other in response. Throughout the show, the ensemble uses elegant synchronicity to tether us to the joy and the angst.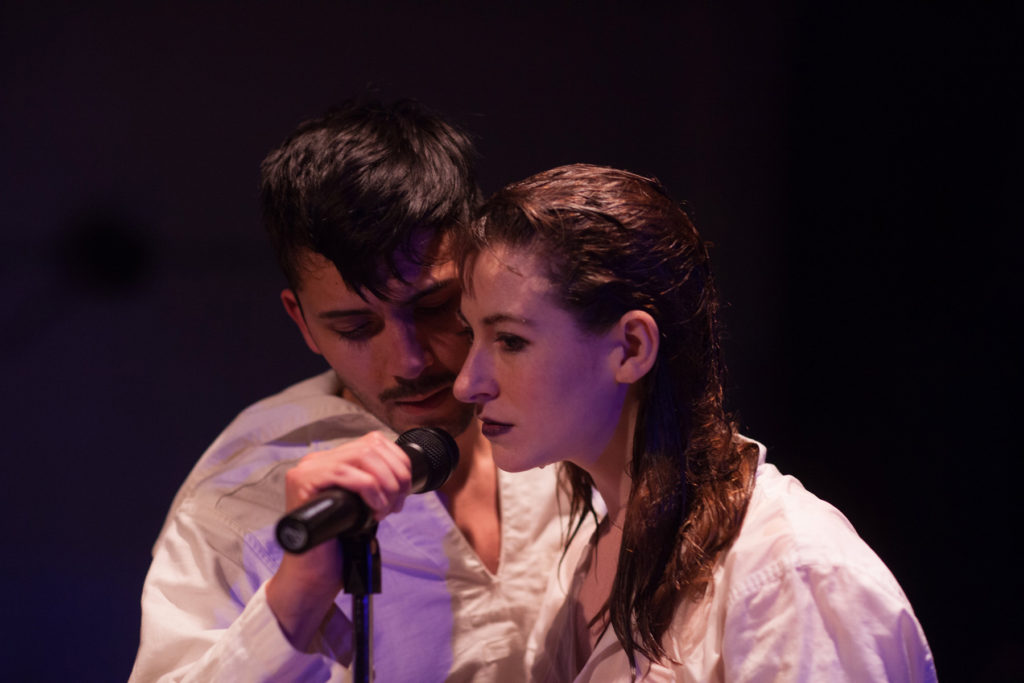 Individualism and gender are blurred. Long hair masks faces. Dance sequences have men lifted by women. The fanciful invention tickles the senses.  Dowd-Whipple and Rodriguez sensually strip in a bucket of water. The ensemble continually create these moments of unexpected visual engagement.
And as pleasing as the aesthetic is, THE BRINK! is steered by the music. Several familiar pop and jazz tunes navigate us through through this poetic maze.  And the singing is remarkable. When Mazzni owns the microphone, Dowd-Whipple or Murphy provide an a cappella-style chorus. Later, Dowd-Whipple sings with haunting depth. My senses are completely captivated in the experience. This show looks like performance art and sounds like a musical. Walkabout seals it together with a satisfying kiss.
"THE BRINK! or Nobody's Ever Kissed Me Like That…" is a total original.
PRESS RELEASE NOTES: Fresh from its preview performance at the Cricoteka Centre in Krakow, Poland, THE BRINK! will run for three weekends only at Links Hall before traveling to India for the 8th International Theatre Olympics in Mumbai and New Delhi.  
Running Time: Eighty minutes with no intermission and a delayed start
At Links Hall, 3111 N. Western
Directed by Thom Pasculli
Co-created by the Walkabout Ensemble: Nigel Brown, McCambridge Dowd-Whipple, Cooper Forsman, Dana Murphy, Katie Mazzini, Thom Pasculli, Alex Rodriguez
In Collaboration with Fides Krucker
March 15 –30, 2018 at Links Hall
Tickets are on sale now at walkabouttheater.org.
Photo by Evan Barr
For more information and reviews on Chicago theatre, visit Theater in Chicago.