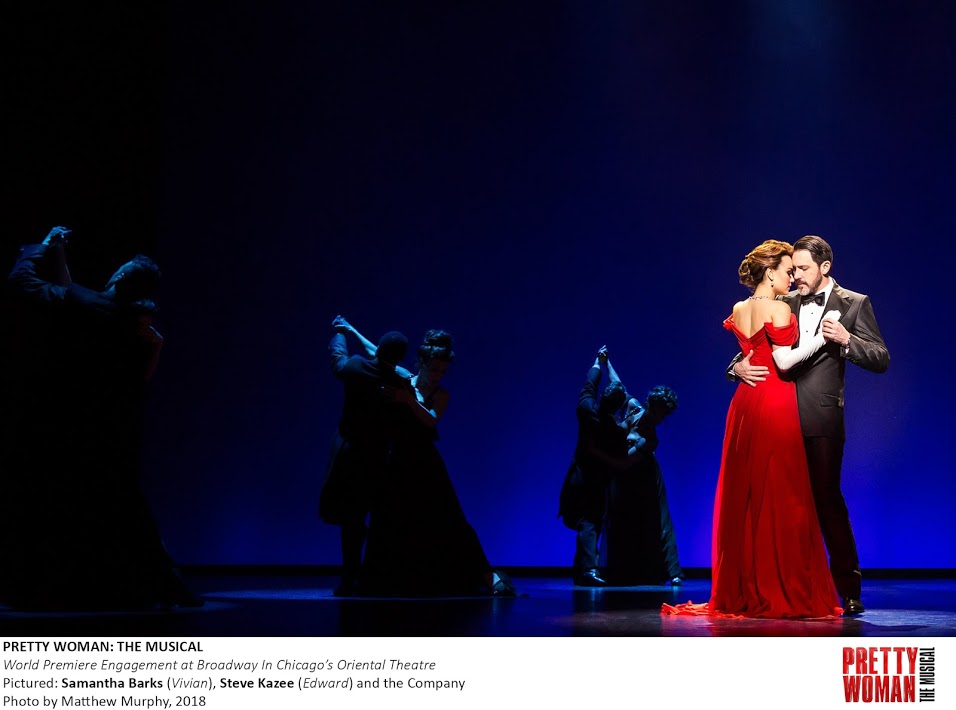 Broadway in Chicago presents the world premiere of PRETTY WOMAN THE MUSICAL.
The iconic movie starring Julia Roberts is reimagined as a staged musical. A hooker and a businessman enter into a contractual arrangement. The pact leads to transformation. She undergoes a makeover, shedding her street clothes for an upscale wardrobe. He addresses his emotional baggage which radically changes his business practices. This is and was a romantic comedic twist on the Cinderella fairytale.
Original screenwriter J.F. Lawton and Garry Marshall team up on creating the book. Fans of the film will enjoy the preservation of key comedic moments like the bathtub singing, snapping the jewelry box and the classic retort 'Cinder-f*cking-rella'. New updates have Kit (played by powerhouse singer Orfeh) wanting to become a cop instead of going to beauty school. The hotel manager aka fairy godfather (played by a versatile Eric Anderson) amusingly plays multiple parts. And the musical adds an ever-present bellhop (played by a delightful Tommy Bracco) to help carry boxes or hide hooker clothes. Primarily, the script follows the original script. Having seen the movie several times, the musical progressed with few moments of surprises for me.
The musical IS the movie with intermittent songs. Unfortunately, the songs written by Bryan Adams and Jim Vallance are mostly forgettable. Instead of big bold musical tunes, they sound like songs best sung on a couch with just a guitar accompaniment. Although that style works for Steve Kazee (Edward), the amazing Samantha Barks (Vivian) has the diva capabilities for a big blockbuster musical. We hear only snippets of Barks' vocal talents because of the lackluster score. The one emotionally engaging song is actually from La Traviatta and is sung with perfection by Allison Blackwell.
Director and choreographer Jerry Mitchell keeps it simple. He uses Scenic Designer David Rockwell's sparse set to quickly get from Hollywood Boulevard to the Beverley Wilshire Hotel. One of my favorite scenic elements was Bracco arriving in an elevator or swimmers coming out of the pool. Super slick aesthetic! Rockwell's very tall palm trees and ornate metal hotel entrance are cool too. Although his scene to scene transition is smooth, Mitchell misses the mark in using the fairly vacant stage to orchestrate big dance numbers. Despite an elegant ballroom scene and a playful hotel staff shtick, the dancing mirrors the so-so score. It lacks the lively vibrance of a musical. This was particularly evident in the finale. Instead of a colorful, high-spirited number to celebrate love and happy endings, the ensemble stroll and sway on Hollywood Boulevard.
PRETTY WOMAN THE MUSICAL is s'cute! It's a comfortable rom-com. A fine date night out. Yet, if you are looking to experience a musical with memorable songs and dancing, I'd recommend the competing ON YOUR FEET a couple blocks west.   
Running Time: Two hours and thirty minutes includes an intermission
At Ford Oriental Theatre, 24 W. Randolph
Based on the film "Pretty Woman" written by J.F. Lawton
Book by Garry Marshall and J.F. Lawton
Music by Bryan Adams and Jim Vallance
Directed and choreographed by Jerry Mitchell
Music supervision, arrangements and orchestrations by Will Van Dyke
Tuesdays, Wednesdays, Thursdays, Fridays, Sundays at 7:30pm
Saturdays at 8pm
Saturdays and Sundays at 2pm
Please note there will be added 2pm matinees on April 4 and April 11, and no evening performances on April 8 and April 15
Buy Tickets at Broadway in Chicago
For more information and reviews on Chicago theatre, visit Theater in Chicago.