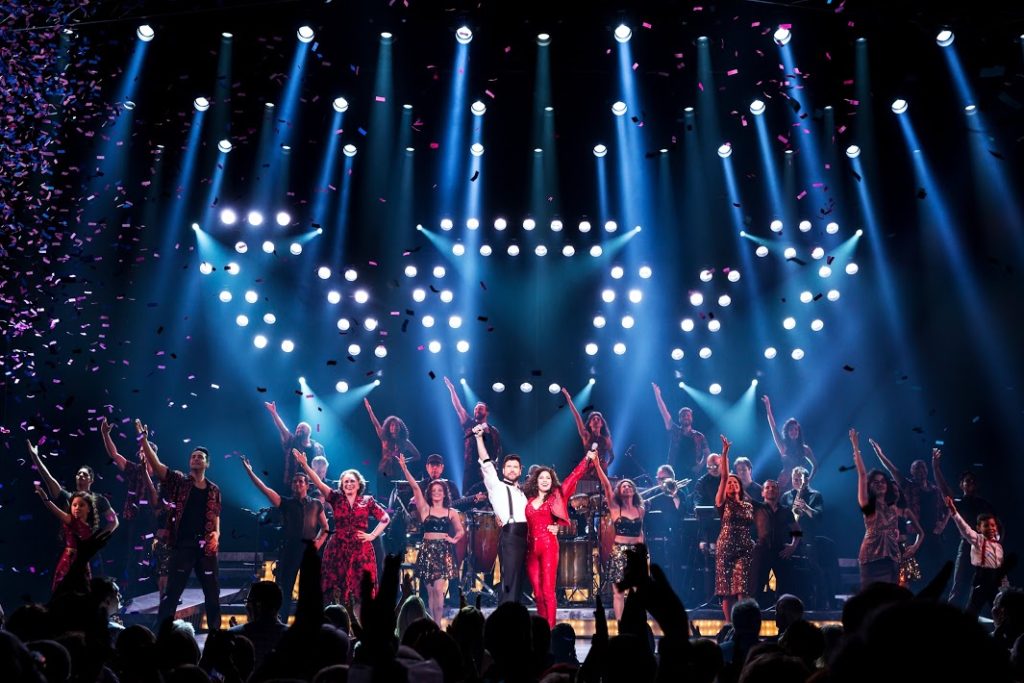 Broadway In Chicago presents ON YOUR FEET! The Emilio and Gloria Estefan Broadway Musical.
A Cuban heatwave is melting Chicago winter woes. ON YOUR FEET! is back in Chicago for Spring break. The high energy musical is the true story of Gloria and Emilio Estefan. Gloria (played by a stunning Christie Prades) auditions for Emilio's (played by the sexy Mauricio Martinez) band. It's love at first sight… or at least first sound. 17 year old Gloria starts singing with the Miami Sound Machine. Alexander Dinelaris (book) chronicles the songstress' rise from obscurity to super stardom led by her loving entrepreneur husband. The duo are a team that breaks through ethnic barriers to become pop sensations. Along the climb to fame, Gloria also confronts multiple personal obstacles, including; an ailing father, an envious mother and a tragic bus accident.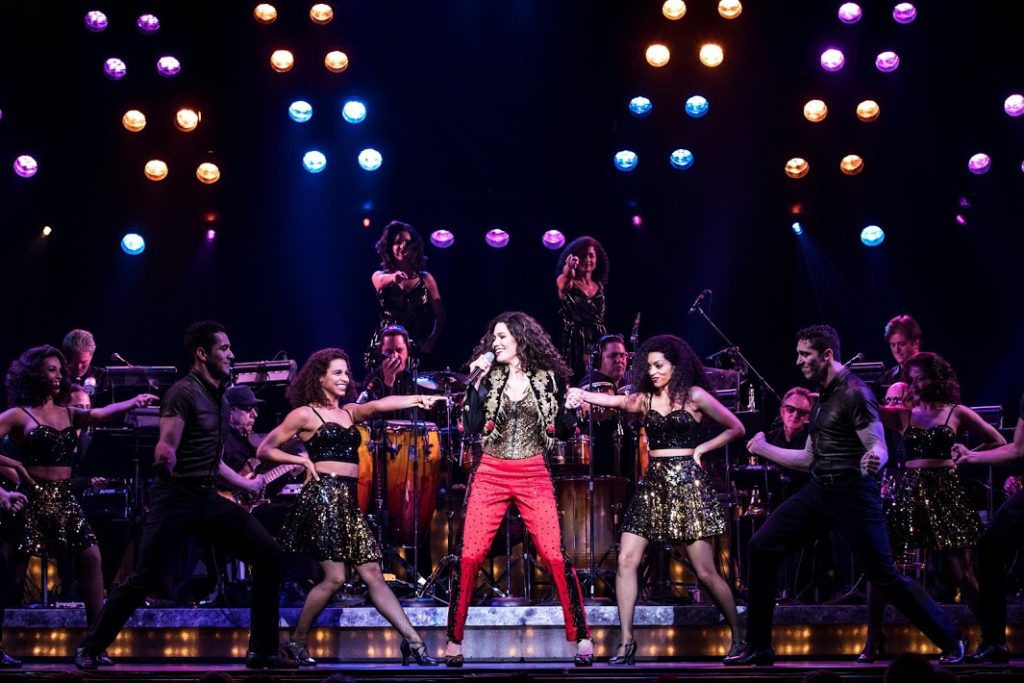 This show is a blast to the past. Besides the title song, other Gloria favorites are featured like "1-2-3", "Conga," "Rhythm Is Gonna Get You," and "Turn the Beat Around." It was like being at an 80s/90s themed party. I got more and more excited as nostalgia took me back in time.  The music was/is dynamic. And the Miami Sound Machine, led by music director Clay Ostwald, is in the house to ensure its an authentic experience. The upbeat tunes had my head bopping, shoulders swaying and face smiling – broadly. For people growing up in the Gloria era, this is a return to the carefree disco days where people sang while they danced. No techno club music, this music is big bold orchestrations. For the younger crowd, the show is fun. The music truly emboldens a desire to get on your feet… and dance!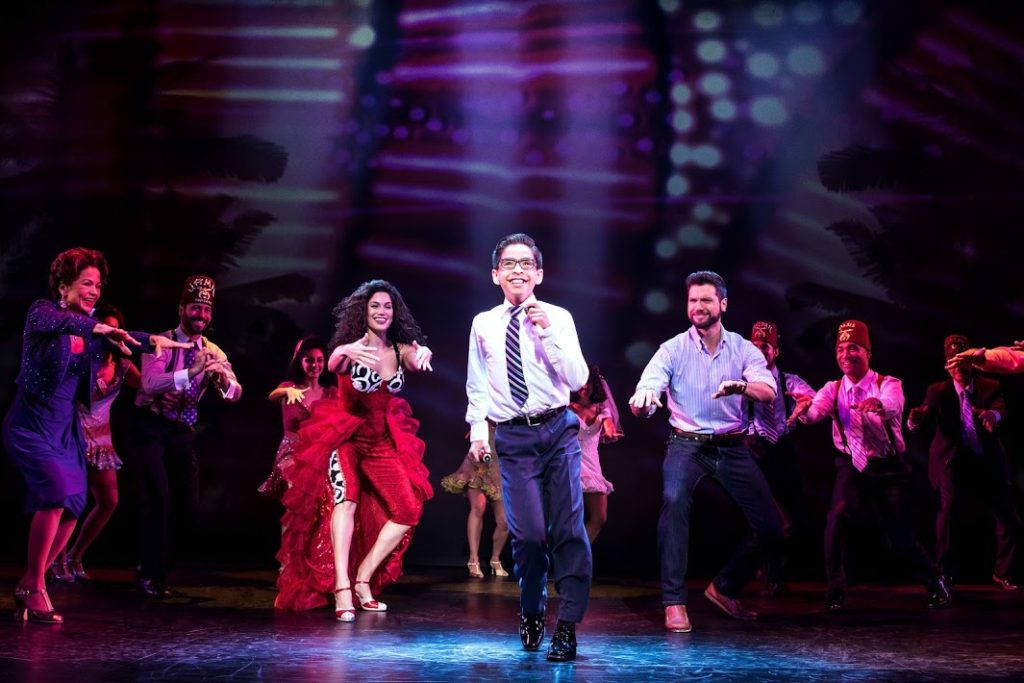 Choreographer Sergio Trujillo matches moves to the music. The show starts out with sultry Latin dancing. The Cuban community in Miami comes together in spirited samba, rumba and other Latin dance moves. The terrific ensemble tirelessly kick up their heels and shimmy their torsos to fully captivate. Especially noteworthy is the young Kevin Tellez who regularly received applause for his unbelievable dance stamina. Costume Designer Emilio Sosa adds to the dancing spectacle. Sosa provides a vibrant and mesmerizing fashion show from Cuba to Miami. In a flashback scene, a singing and dancing Nancy Ticotin (mama) dominates in  a Cuban nightclub. This blockbuster scene empathetically illustrates the complexity of Gloria's mama's. There is a messy but loving familial between Prades, Ticotin, and grandma (played by the spunky Debra Cardona).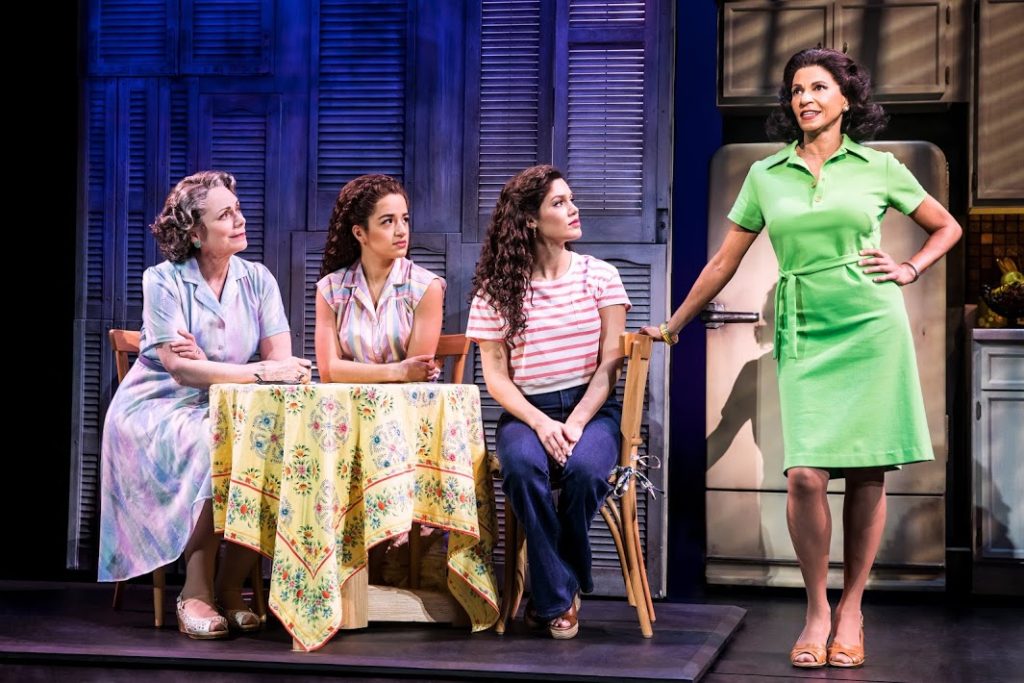 The overwhelming charm of this show is it's a real love story. Most musicals are about fictitious love. And even if the musical is about real people like "Beautiful" or the upcoming "Cher", the story isn't anchored in one true love. It's a series of marriages influencing the singer songwriter. ON YOUR FEET! is a simplistic girl-meets-boy-love-at-first-sight-happily-ever-after phenomena. Emilio and Gloria Estefan fell in love and produced a string of Grammy Award-winning tunes. And fifty years later, they are still in love and produced a musical about their successful rise from Cuban roots to American fame.  Get on your feet, get in your seat… at Cadillac Palace Theatre. 
Running Time: Two hours and thirty minutes includes an intermission
At Cadillac Palace Theatre, 151 W. Randolph
Book by Alexander Dinelaris
Featuring Music Produced and Recorded by Emilio and Gloria Estefan and Miami Sound Machine
Directed by Jerry Mitchell
Choreography by Sergio Trujillo
Music Direction by Clay Ostwald (Miami Sound Machine)
Tuesdays, Wednesdays, Thursdays, Fridays at 7:30pm
Wednesdays, Saturdays, Sundays at 2pm
Saturdays at 8pm
Thru April 8th
Tickets are available at all Broadway In Chicago Box Offices (24 W. Randolph St., 151 W. Randolph St., 18 W. Monroe St. and 175 E. Chestnut), the Broadway In Chicago Ticket Line at (800) 775-2000 and online at BroadwayInChicago.com.
For more information and reviews on Chicago theatre, visit Theater in Chicago.