Broadway in Chicago, along with Producers Scott Rudin and Barry Diller, present THE HUMANS, Best Play – 2016 Tony Award.
I was fortunate to see the world premiere of THE HUMANS at American Theatre Company in 2015. I absolutely loved Stephen Karam's family portrait of love and angst at a Thanksgiving Dinner. The conversations were relatable. Judgmental yet loving snark was served up in big heaps. I was excited to see Karam's play go to Broadway and win well-deserved mega awards!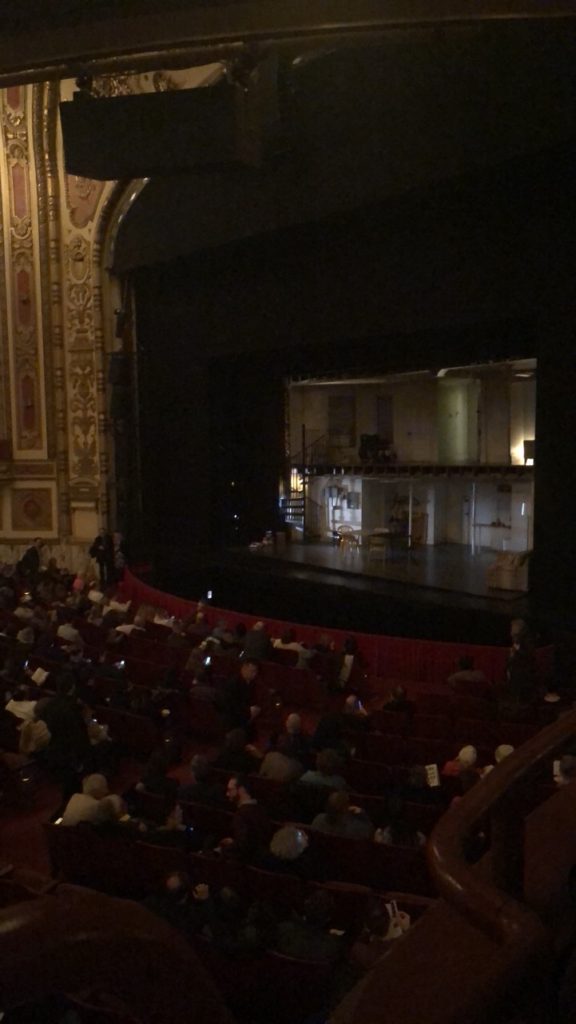 Last night, I saw the National tour at the Cadillac Palace Theater. I sat in dress circle right. The mammoth Cadillac Palace verses the intimacy of the American Theatre Company space is a challenging problem. I had trouble seeing, hearing and feeling. From my vantage point, action on the right (kitchen, couch, upstairs cubby) and the exterior hall beyond the front door wasn't visible. The family conversation isn't clearly heard. In my area, 'what did they say?' followed by repeated lines was ongoing. The engagement level is minimal from this distance. Instead of being a fly-on-the-wall during a holiday dinner, I felt more like the noisy neighbor watching from a building across the street.
Karam's play is excellent. I can't recommend viewing it from dress circle right in the Cadillac Palace…maybe main floor center but choose a row closer to the stage. This isn't a big flashy musical that overcomes the distance. It's a powerful story with subtle nuisances and underlying humor best experienced up close and personal at the Cadillac or in a smaller theatre.
Running Time: One hundred and ten minutes with no intermission
At  Cadillac Palace Theatre, 151 W. Randolph
Written by Stephen Karam
Directed by Joe Mantello
Thru Feb. 11th
Buy tickets at Broadway in Chicago.
For more information and reviews on Chicago theatre, visit Theater in Chicago.