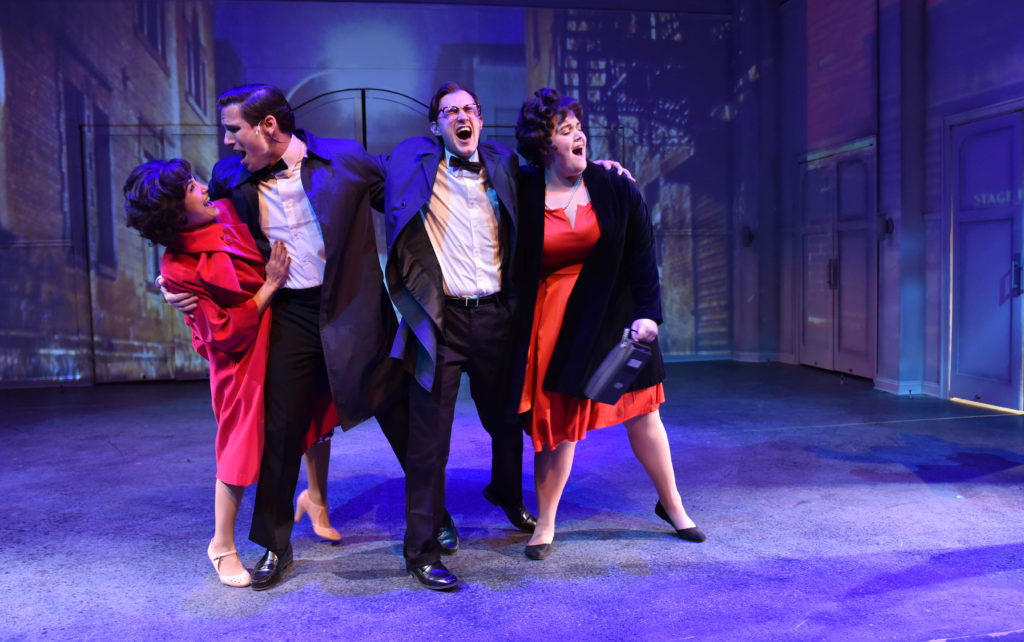 Porchlight Music Theatre presents MERRILY WE ROLL ALONG.
The creative team of Stephen Sondheim (music and lyrics) and George Furth (book) cleverly start at the end and work backwards in this musical. We meet Franklin Shephard (played by Jim DeSelm) in present day. Although the perky ensemble is singing the title song Merrily we roll along, DeSelm is morose, detached and debilitated. People are celebrating his long career. He is not! The musical then works backwards to show us how Franklin reached this moment. The series of flashbacks show who he stepped on as his climbed the ladder to success. It's the deconstruction of a man who chose fame over all else.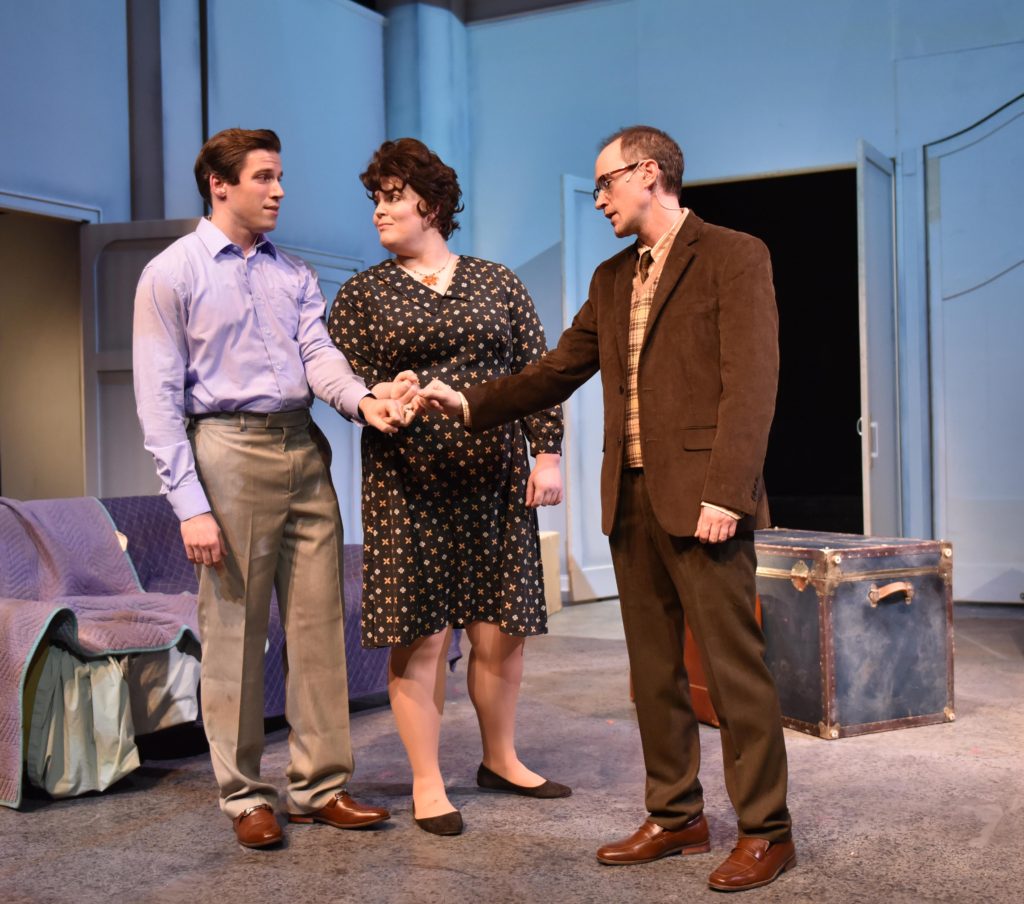 Aided by Projection Designer Anthony Churchill and Costume Designer Bill Morey, we watch the years click past but in reverse. Churchill projects political, celebrity and personal images for each decade. Morey rolls out a bountiful vintage fashion show. The visual collective is a fanciful trip back in time. The focal point of the stroll down memory lane is the threesome that became a solo. Neala Barron (Mary)and Matt Crowle (Charley) are DeSelm's sidekicks. We first meet a drunk and surly Barron at a Hollywood party in the 80s. Her relationship with DeSelm has turned caustic. In the next flashback, a softer Barron is running interference between DeSelm and Crowle.  Crowle is mad at DeSelm for missing-in-action on their latest collaboration. As a television reporter interviews the duo, Crowle goes off on DeSelm in his hilarious rendition of Franklin Shephard Inc. The song is rapid-fire snark delivered deliciously by Crowle.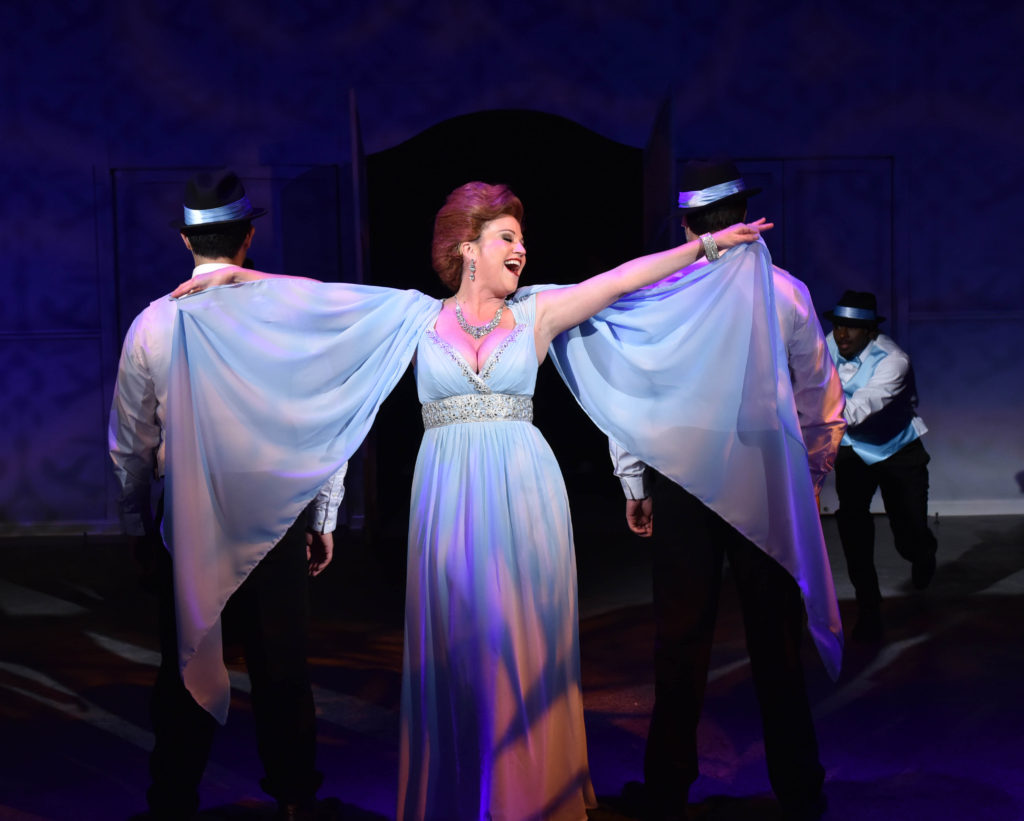 Fast-backwards to another pinnacle moment, DeSelm chooses canoodling with Keely Vasquez (Gussie) over his friends. In every scene, the audience observes DeSelm confronted with repairing a relationship or choosing his own gratification. Each time, the malleable DeSelm brushes off the friendship erosion for personal gain. Sondheim and Furth rolling the story out backwards is powerfully thought-provoking. When we get to the end, it's actually the beginning of the relationship. Although the finale is playfully hopeful, we know how this story ends. This musical is thoroughly engaging as we watch the fame over love deterioration.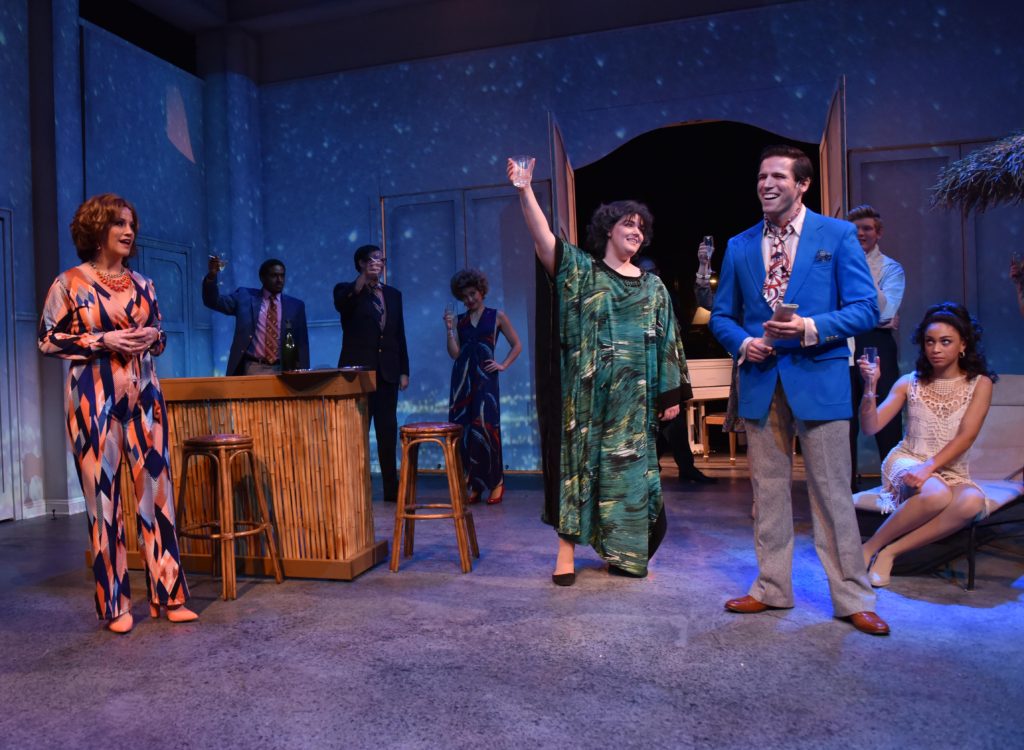 Porchlight masterfully merrily rolls this one out. Director Michael Weber has cast solid principals in DeSelm, Barron, and Crowle. Through song and banter, the trio deliver honest and poignant portrayals of their characters' transformations. The vivacious Vasquez, perky Aja Wiltshire (Beth) and huge cracker-jack ensemble keep us tethered to the ever-moving story. This was my first experience with MERRILY WE ROLL ALONG. Knowing the end, makes me want to see it from the beginning again. So many lives. So many  stories intertwined. Decades of storytelling. Porchlight is the perfect company to stage this mega theatrical spectacle of drama meets musical. While we watch the years fly by in fashion, we entertainingly learn from Franklin Shephard's mistakes. MERRILY WE ROLL ALONG is a musical cautionary tale of living your truth.
Running Time: Two Hours and thirty minutes includes an intermission
At Ruth Page Center for the Arts, 1016 N. Dearborn
Music and lyrics by Stephen Sondheim
Book by George Furth
Directed by Michael Weber
Associate direction and musical staging by Christopher Pazdernik
Music direction by Aaron Benham
Thursdays at 7:30pm
Fridays at 8pm
Saturdays at 4pm and 8pm
Sundays at 2pm (March 4th and 11th), 6pm (Feb 18th, 25th)
The final week's performance schedule is Thursday, March 15 at 7:30 p.m., Friday, March 16 at 8 p.m. and Saturday, March 17 at 4 and 8 p.m.
EXTENDED Thru March 17th
Tickets are $33 – $60 and are available at PorchlightMusicTheatre.org or by calling the Porchlight Music Theatre box office, 773.777.9884.
All photos by Michael Courier
For more information and reviews on Chicago theatre, visit Theater in Chicago.