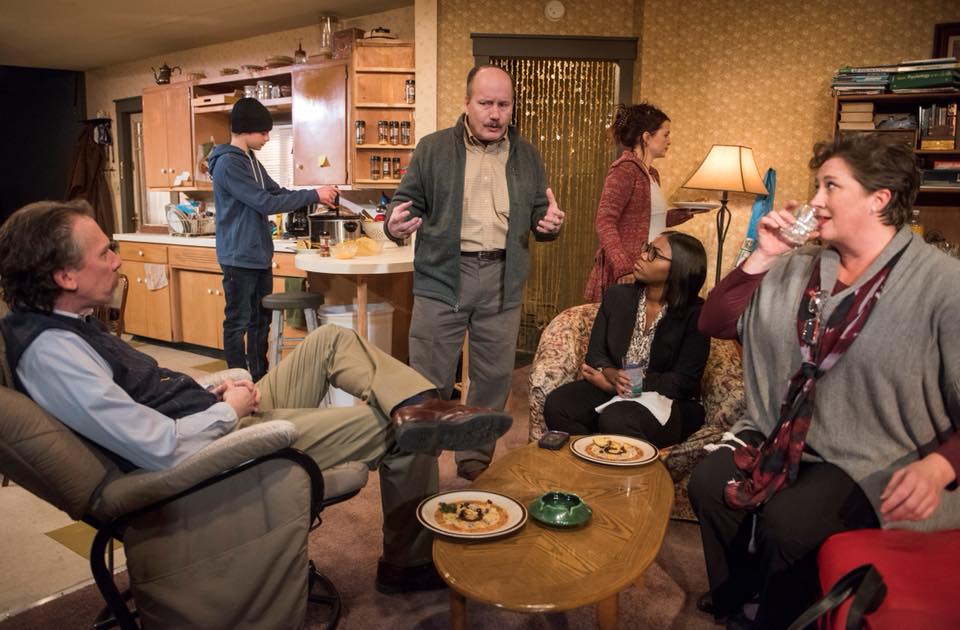 A Red Orchid Theatre presents the world premiere adaptation of Heinrich's Ibsen's An Enemy of the People, TRAITOR.
The intimacy of their space. Their choices in scripts. The look and feel of their performances. A Red Orchid has a long history of putting the theatre goer 'in the room.' And their current offering of TRAITOR not only embraces this tradition, it puts a unique spin on it.
Playwright Brett Nevue penned a tale of the grade school science teacher who cried lead. Based on Heinrich Ibsen's An Enemy of the People, Nevue cleverly showcases a small town showdown. After a series of career setbacks, Dr. Stock (played by Guy Van Swearingen) has moved his family back to his childhood hometown. He gets high with the editor (played by Larry Grimm) of the local newspaper. His freelance editing wife (played by Dado) makes Taco Tuesday an event. And his sister (played by understudy Mandy Walsh- no relation) is the mayor. Everything is going fine until he runs tests on the soil at the school. Now, he's a traitor! TRAITOR is all about relationships and politics. It's real messy. And it's real life!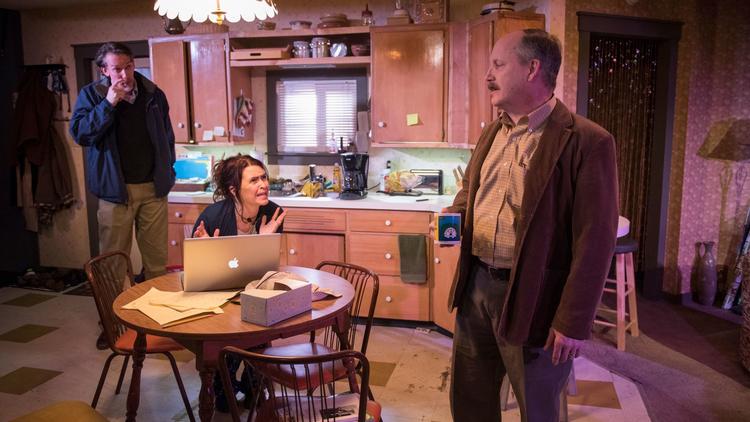 Scenic Designer John Musial gives us the gritty reality of the Stocks' lives. Their dingy home has  mismatched, worn furniture, a linoleum floor with scuff marks and cluttered kitchen cabinets. We are immediately at home in someone else's home. When the play starts, a frustrated Dado is trying to work at the kitchen table. Meanwhile, a string of local misfits interrupt her progress. They are all looking to meet with her husband. An agitated Walsh, a zealous Grimm and an amicable Kristin Ellis (Madison) await Van Swearingen's arrival. His arrival, along with a mysterious envelop, give him a platform to be the focus of a lot of attention. His uncovered soil contamination could bring down the school and the mayor while boosting up the newspaper and local businesses. Or it could do exactly just the opposite.
Neveu keeps his script zig-zagging. We have to figure out where our allegiances should lie. He layers in side stories to add to the web of intrigue. A commanding Frank Nall (Howard) pushes his own agenda on his daughter (Dado) and son-in-law (Van Swearingen). Dado runs interference as Nall threatens the hapless Van Swearingen. At one point, Walsh is sharing a cricket and Twinkie memory with Van Swearingen. And the next, she is bullying him to stand down. In a small exchange but huge reveal, Dado accuses Van Swearingen of sabotaging their life because he's bored. And then she cites past examples.
Director Michael Shannon keeps it real. Conversations overlap. Tensions mount. Fists pound. Shannon skillfully keeps emotions pulsating in the tedium. In a unique twist, Shannon moves the audience physically from the theatre venue to a council meeting a few doors from Red O. The relocation completely crushes the fourth wall. Mary Jo Bolduc (President Fran Wysocki) shakes my hand and welcomes me to the council meeting.  Bolduc presides over the room. As the meeting comes to order, one of the councilman continues to second everything. The amusing shtick adds to the spiraling chaos caused by Van Swearingen's discovery. His speech at the meeting incites a riot and riotous results.
Throughout TRAITOR, Neveu gives us plenty to laugh at. The delightfully quirky Natalie West (Jenn Sheffer) continuously pops up with her hilarious two cents. West has a crazy white wig, oversized glasses and outfits befitting the owner of Needles. At a cafe, she is seen conspicuously eavesdropping. She then inserts herself in to situations to coerce an outcome favorable to her.
Nevue wrote it. Shannon directed it. The talented ensemble facilitated it. TRAITOR keeps swerving in all directions but at full speed. The back and forth rhetoric never stops. Alliances change. And at the very end, it's just Van Swearingen, Dado, Ellis, Missi Davis (daughter) and Nation Henrikson (son) in the house. But the dispute over what they are really fighting for is unsettled. And the very last moments are terribly unsettling.
Running Time: Two hours and fifteen minutes includes an intermission
At A Red Orchid Theatre, 1531 N. Wells Street
Based on Heinrich's Ibsen's An Enemy of the People
Adapted by Brett Neveu
Directed by Michael Shannon
Thursdays, Fridays, Saturdays at 8pm
Saturdays and Sundays at 3pm
Thur February 25th
Buy Tickets at aredorchidtheatre.org
Production photos by Michael Brosilow
For more information and reviews on Chicago theatre, visit Theater in Chicago.