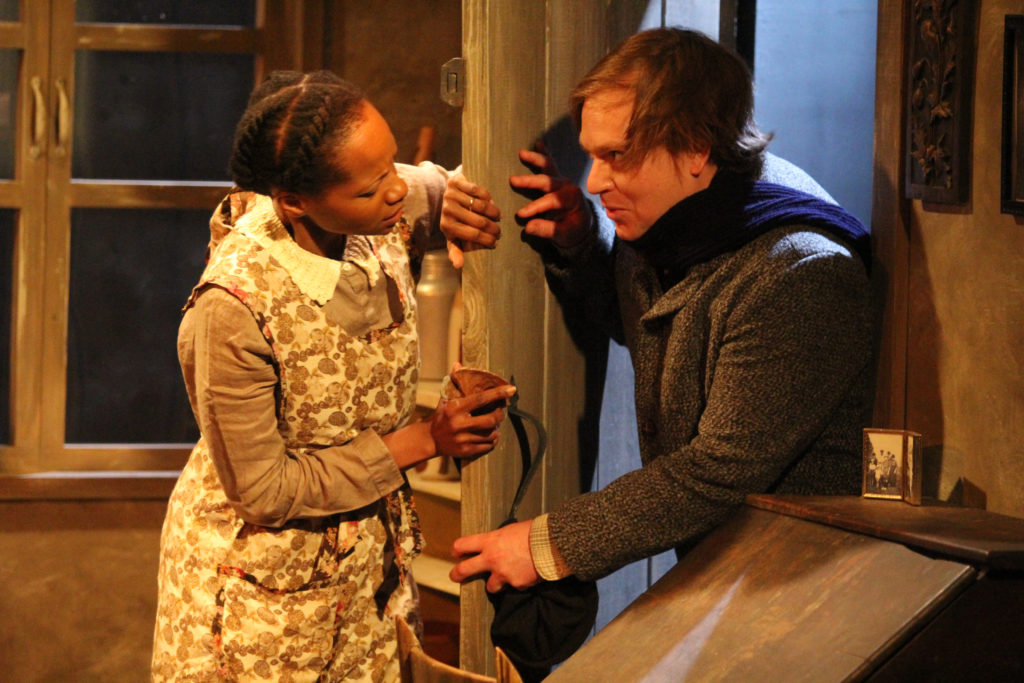 Steep Theatre presents the world premiere of HINTER.
Playwright Calamity West pulls us into a real-life unsolved mystery from the 1920s. From the first scene of shadows and whispers, the storytelling is engaging. West drops us on a farm in post WWI Germany. The war has caused a shortage of food, money and men. Widows are the hired hands and the heads of households. They are struggling to survive on a morsel of bread with jam. Within this devastated community, a family is brutally murdered. West starts with the shocking crime and works backwards. The first act has neighbors and an investigator trying to figure out what happened… not just to the dead but also to the living.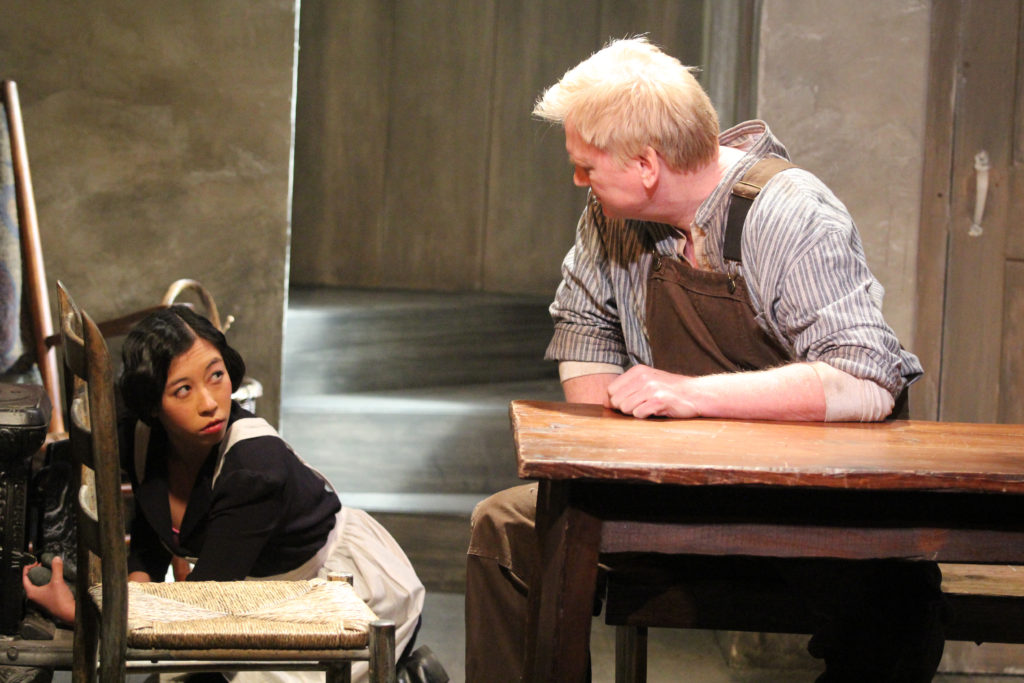 Although the focal point is the murders, West's well-developed characters gives the story several layers. In act 1, West imagines how the community might have responded to the
Hinterkaifeck Murders
. In act 2, she flashes back to the day leading up to the murders. West gives us plenty of puzzle pieces to put together. This is a house haunted by secrets.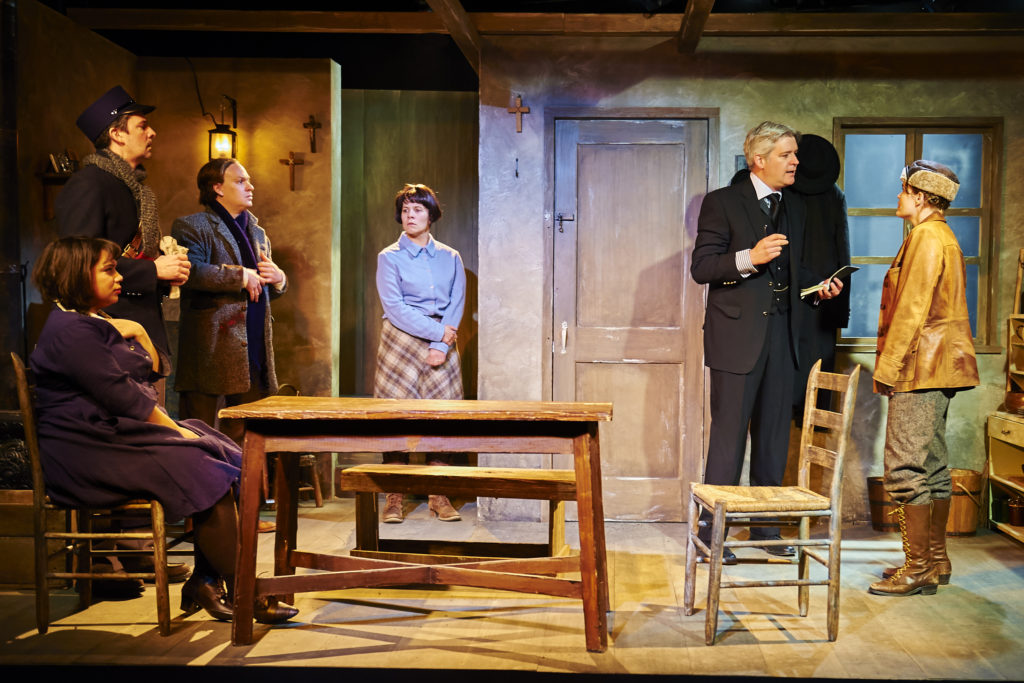 Director Brad DeFabo Akin keeps the mystery riveting. Peter Moore is an unorthodox investigator from Munich. Moore's techniques are unhinging. He humorously rattles the locals with his peculiar line of questioning. Later, he disturbingly plunges his hands into the dead corpses. The reactions of an earnest Lauren Sivak (Frieda), a wary Sigrid Sutter (Klara), and a detached Sasha Smith (Elizabeth) to each other and the deceased adds to the intrigue. Sutter, in particularly, seems up-to-no-good as she snoops around the house. The confrontation between her and Moore is unsettling. In act 2, Sutter's revealed motivation is surprising. Despite all the dark horrors surrounding them, Sivak's ongoing devotion to Smith has this charming simplicity. It gives us a subtle glimpse into the loneliness of this isolated area.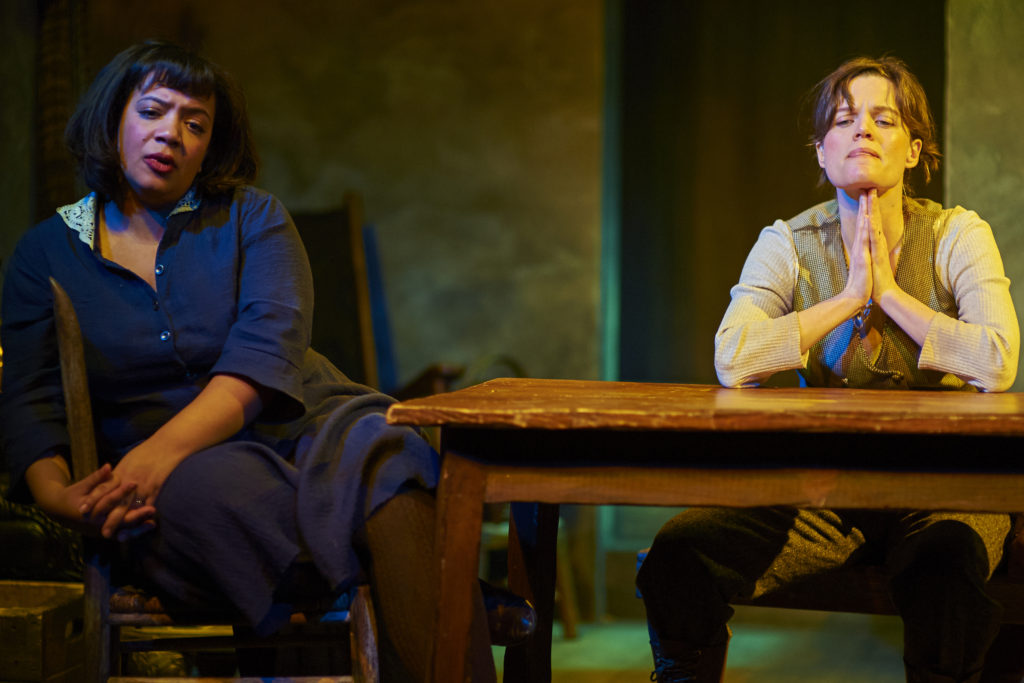 West sends up down a few different trails of breadcrumbs. One legitimate theory revolves around Nate Whelden (Lorenzo). Wheldon is a living casualty of the war. He furiously loses his shit when someone is standing behind him. He also has a thing for the fierce Eunice Woods (Victoria). This sweet adoration is intertwined with a sinister obsession. His actions following finding the bodies in the barn is beyond creepy. Aurora Adachi-Winter's (Maria) first appearance is hair-raising. Her initial cowering fear in act 1 is dramatically different from her hell-raising facade in act 2. Adachi-Winter fearlessly continues to bait the cruel Jim Poole (Andres). The unlikable Poole attacks anyone within earshot. West balances dark and light. She neatly laces in funny moments usually delivered by the daft Melissa Reimer (Cazilla). Whether she's naming a goat or craving more jam, Reimer finds preservation in the little things.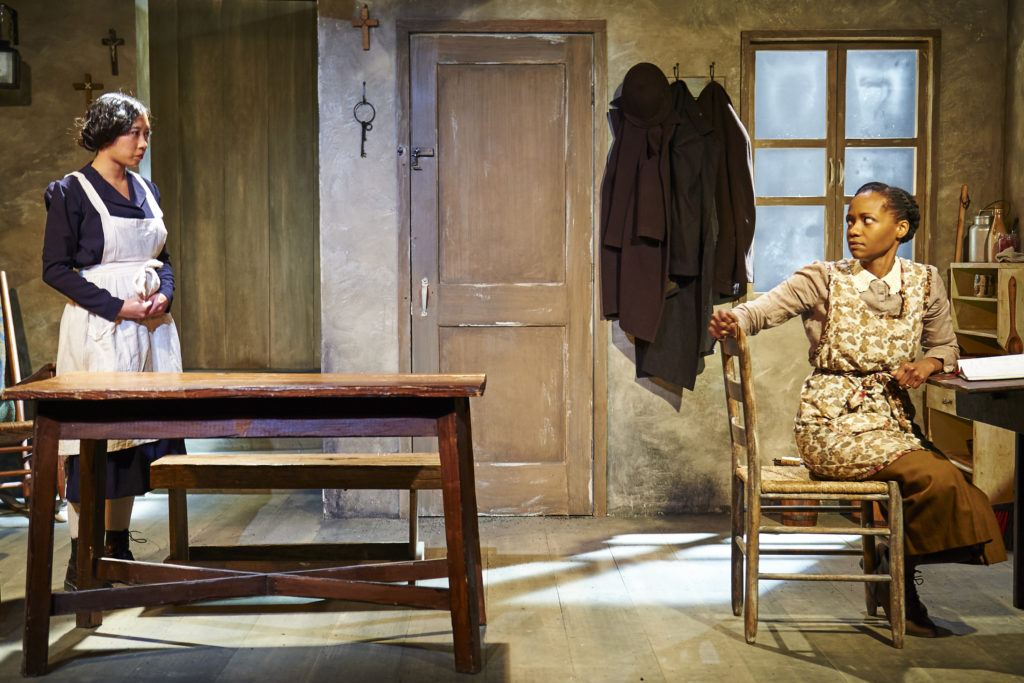 HINTER is historical fiction. West weaves a story around an unsolved serial murder from the 1920s. Although I became distracted by some of the facts – like 'why have a maid if you can't afford food?' and 'where did you get that money?' and 'what are you doing with the corpses?', I was fully tethered to cracking this cold case. On and offstage, nervous energy was palpable. HINTER kept me twitching through the curtain call and all the way home.
Running Time: Two hours with one intermission
At Steep Theatre, 1115 W. Berwyn
Written by Calamity West
Directed by Brad DeFabo Akin
Thursdays, Fridays and Saturdays at 8pm
Sundays at 3pm
Thru March 3rd
Hinter1: Eunice Woods and Nate Whelden (l to r) in Hinter at Steep Theatre. Photo by Gregg Gilman.
Hinter2: Aurora Adachi-Winter and Jim Poole (l to r) in Hinter at Steep Theatre. Photo by Gregg Gilman.
Hinter3: Sasha Smith, Alex Gillmor, Nate Whelden, Lauren Sivak, Peter Moore, and Sigrid Sutter in Hinter at Steep Theatre. Photo by Lee Miller.
Hinter4: Sasha Smith and Sigrid Sutter in Hinter at Steep Theatre. Photo by Lee Miller.
Hinter5: Aurora Adachi-Winter and Eunice Woods in Hinter at Steep Theatre. Photo by Lee Miller.