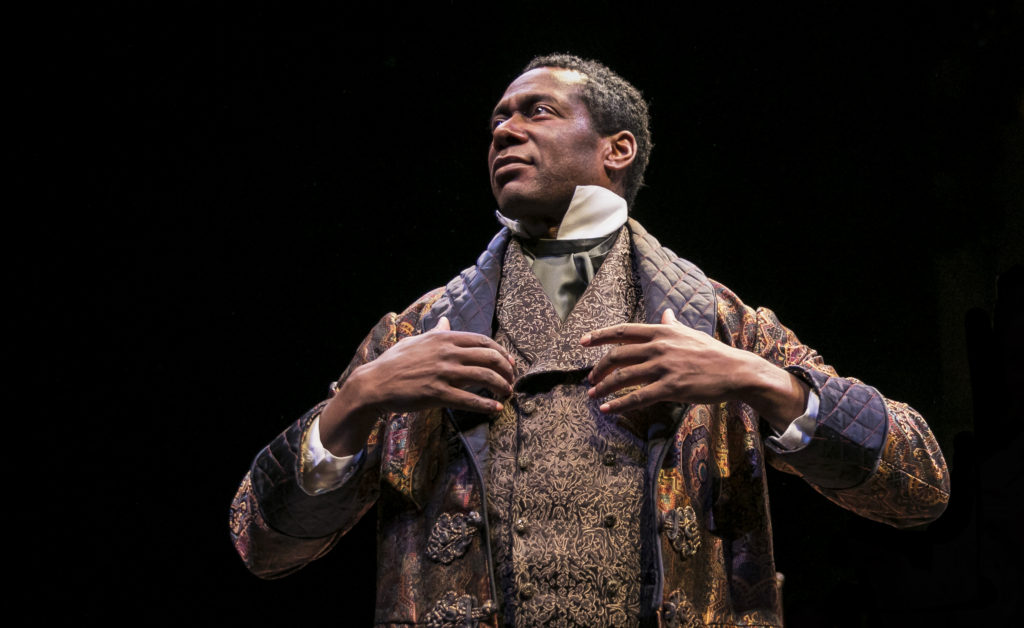 Chicago Shakespeare Theater presents Red Velvet, staged by Broadway and Chicago director Gary Griffin and starring celebrated Shakespearean actor Dion Johnstone.
After legendary English actor Edmund Kean collapses onstage as Othello, Ira Aldridge is brought in to replace him. In 1833 London, the decision is considered controversial. Aldridge is a black actor playing opposite a white woman. Playwright Lolita Chakrabarti tells the real life story of Ira Aldridge. She imagines the moments onstage and backstage as a gifted actor tries to overcome racial barriers in a city fighting over the abolition of slavery. Chakrabarti gives us an intimate glimpse into the internal and external forces driving an actor to fame or obscurity.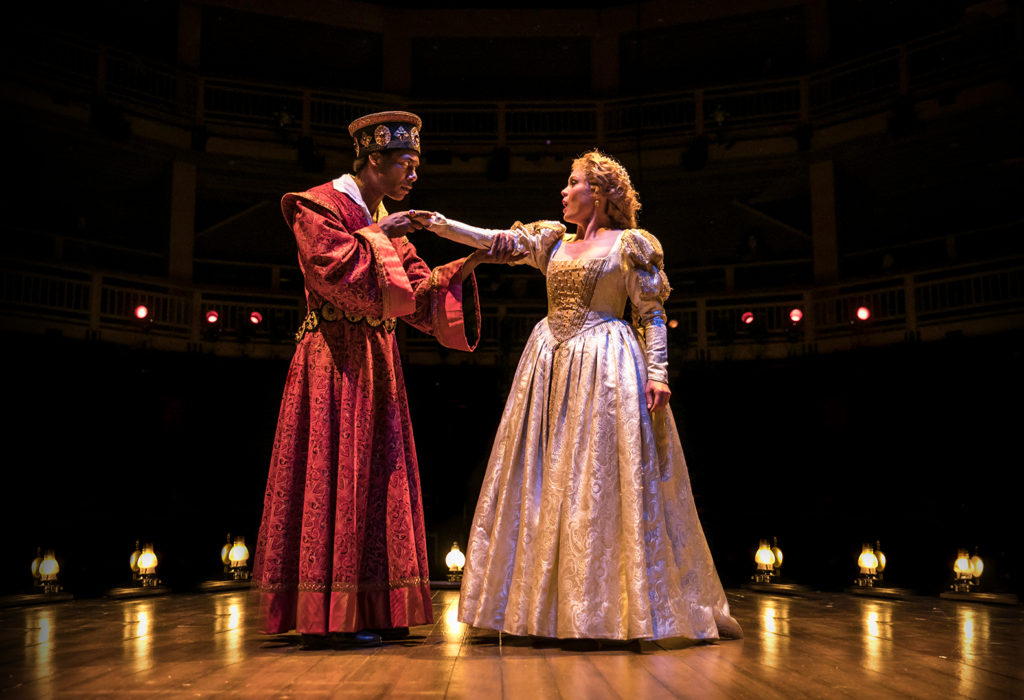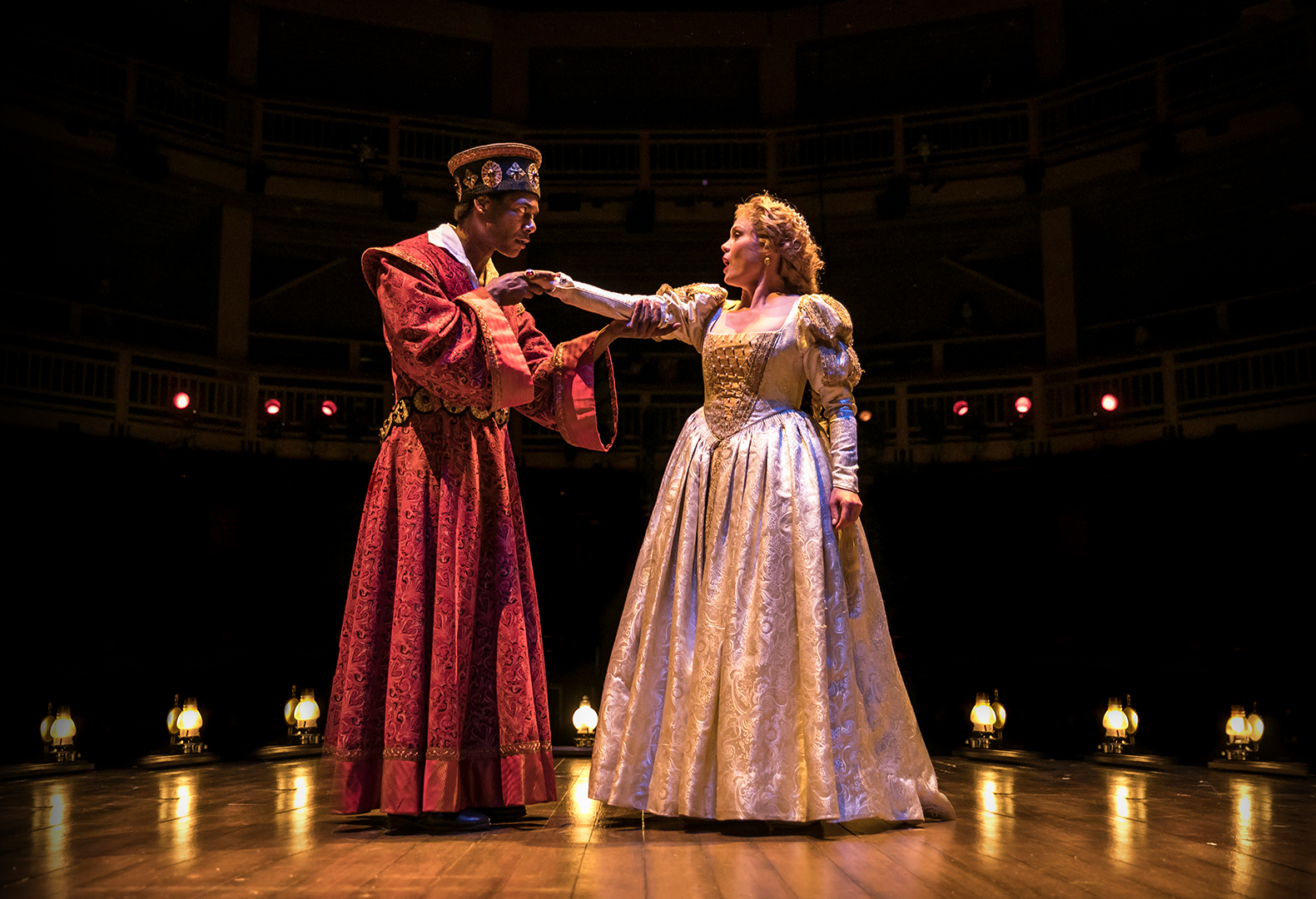 The outstanding Dion Johnstone takes on the demanding emotional role. Aldridge is introduced as an older, bitter actor sparring with a young reporter (played by Annie Purcell).  Johnstone then impressively drops thirty years becoming the energetic, confident Aldridge. Besides portraying Aldridge at different ages, Johnstone transforms back and forth between actor and the character of Othello. And in the play within the play, a fierce Johnstone delivers mere, yet marring, snippets of the Shakespearean drama.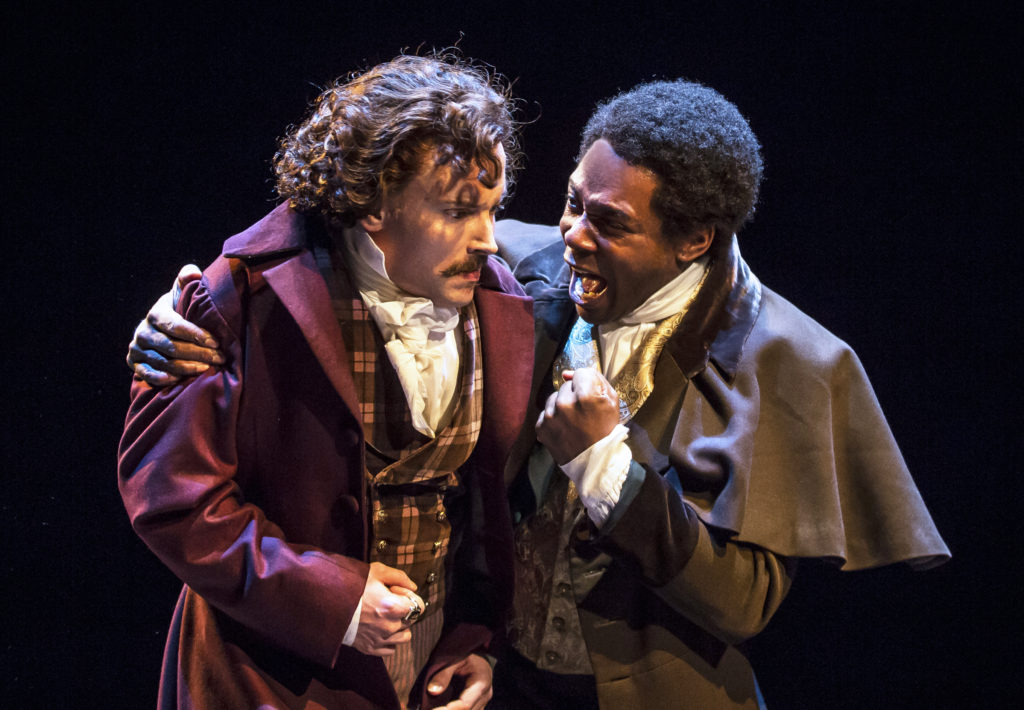 Director Gary Griffin masterfully balances Johnstone's unbridled passion with British wit and sensibility.  The talented ensemble pull us into their life in the theatre. The camaraderie, the gossip, the deemed impropriety is all delivered with controlled reserve adding to the humor. An initial banter between the theatre company is riddled with droll quips. As the group is discussing Aldridge as a replacement, Jürgen Hooper (Casimir/Henry) hilariously sidesteps any reveal of Aldridge's skin color. The frosty British repartee contrasts with Johnstone's very passionate persona.  Initially, Chaon Cross (Ellen Tree), presents a sophisticated facade. Through her interactions with Johnstone, the noteworthy Cross flirts with the taboos associated with being white and a woman in the 19th century. In one particular exchange, she encourages Johnstone to blur the lines between steamy/violence and acting/hurting. Another standout is the perfectly Parisian Greg Matthew Anderson (Pierre LaPorte). A smug Anderson delights in challenging the companies' biases. Anderson's biting satire is delivered with ruffled elegance and precise comedic timing. In Act 2, we see him in a completely different light as he vulnerably shrinks under the weight of his decision.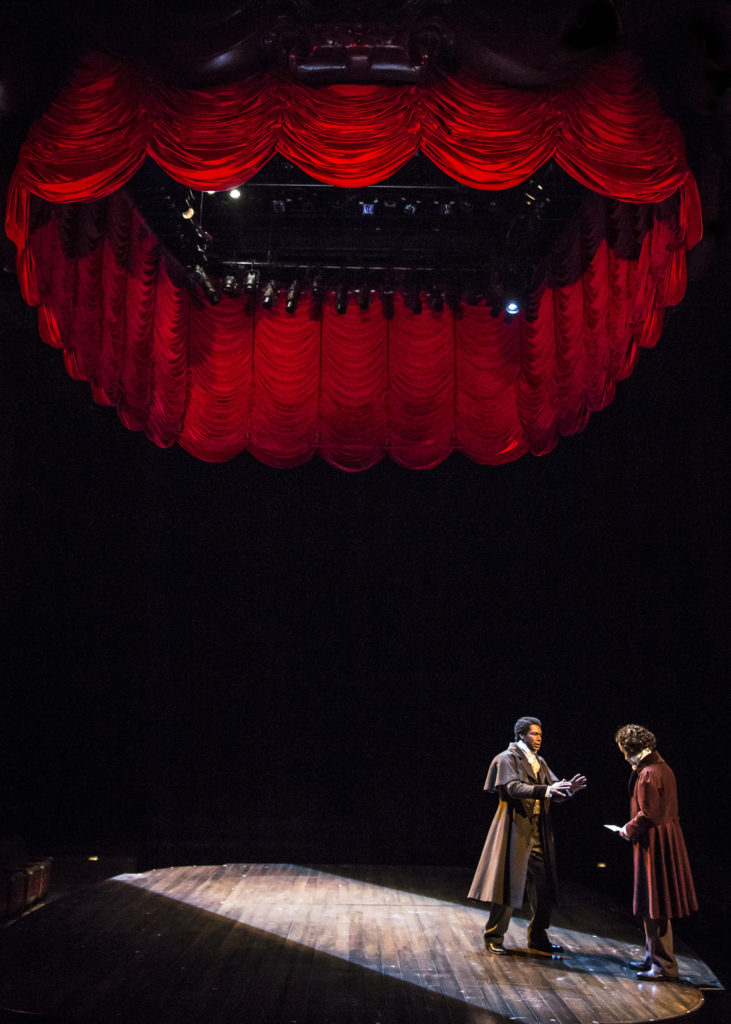 For RED VELVET, Chicago Shakespeare has reconfigured their mainstage for a theater-in-the-round experience. Scenic Designer Scott Davis sets the tone with an over-sized lush red curtain that captivates on the stark wooden stage. Davis' curtain helps transition from offstage to onstage. It's ongoing flourishing release from the rafters is breathtaking. The scenic element reinforces Aldridge's musing of an actor's palpable connection to red velvet.
Although I really enjoyed RED VELVET for its rich behind-the-scenes-history-lesson about Ira Aldridge, some of Chakraberti's storytelling is too storytelling.  At various points, Chakrabarti chooses to describe or elude to conversations that happen in the past or offstage. She tells us bits of the stories instead of showing us, like when Aldridge describes events to a reporter instead of us experiencing them. Or when Pierre asks Ellen and Charles to join him in his office -offstage- to discuss the future of the theatre company. Or Pierre telling Aldridge about the board meeting. These life evolving teasers could have been scenes of real engagement but they become talking points in the dialogue. Still, RED VELVET was a powerful look behind the curtain at the life of an actor.
Running Time: Two hours and ten minutes includes an intermission
At Chicago Shakespeare Theater on Navy Pier, 800 E. Grand
Written by Lolita Chakrabarti
Directed by Gary Griffin
Thru January 21st
For more information, visit www.chicagoshakes.com/velvet
Photos courtesy of Liz Lauren
For more information and reviews on Chicago theatre, visit Theater in Chicago.