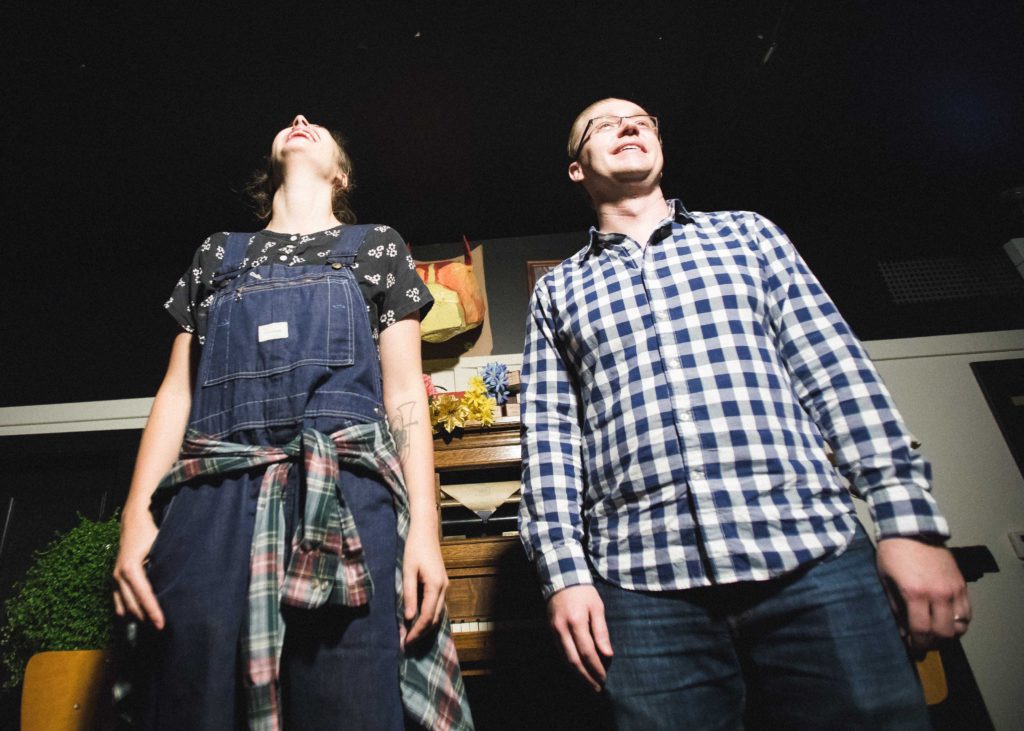 The Neo-Futurists present TANGLES & PLAQUES.
Neo-Futurists often take something hard to swallow and wrap it in candy coating. They give serious messages a whimsical makeover. Creator and performer Kirsten Riiber does just that in her new show. Artist by night and activity director at a nursing home by day, Riiber combines her passions in a playful tribute to dementia. The show has plenty of antics, including; a "Princess Bride" challenge, a naked chase and a first kiss reenactment. It also has stunning nuggets about memory loss, suggestions to improve recall and Riiber's own personal story thoughtfully weaved throughout the entertainment.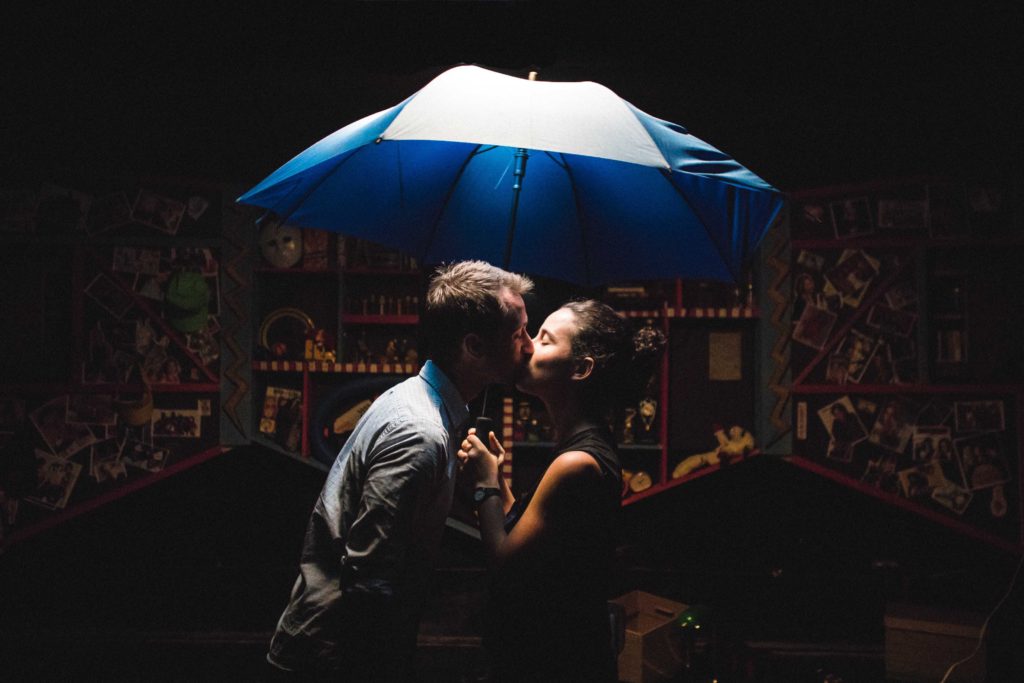 Riiber introduces her performance art with real life memory care therapist Alex Schwaninger. Through a repetitive shtick, they give us a sense of who they are, what they do and the importance of memory. When Schwaninger exits for the real life demands of his newborn, the ensemble (Kaitlyn Andrews, Ida Cuttler, Justin Deming, Michael Hamilton, Nick Hart, Dan Kerr-Hobert) subs in to partner with Riiber in telling her story.  At first Schwaninger's quick appearance seemed clunky to me but the more I thought about it, I realized how clever it was as a transition. That introduction takes place outside the actual theatre in the Neo-Futurists' welcoming space. After Schwaninger leaves, Riiber, the ensemble and the audience go into the theatre. The action has a symmetry that is satisfying. Riiber leaves the reality of her job and enters into the fantasy of her theatrical craft.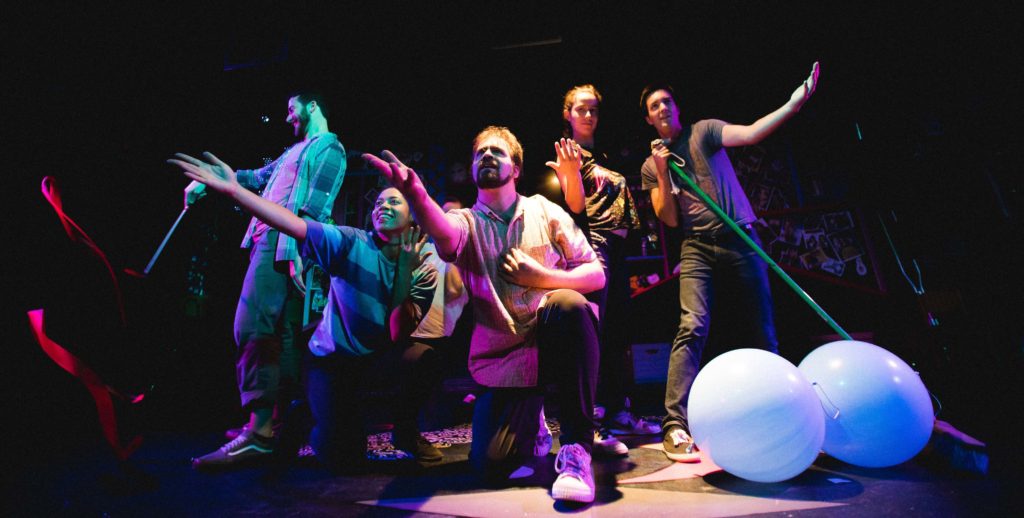 Riiber facilitates various memory activities with the ensemble. They initially compete in this numerical memorization game. Someone adds a 0 or 1 to the sequence of numbers on a chalkboard. They all look at it and repeat it. Then, they turn around and recite 1-0-0-1-1-… It gets increasingly difficult as each person takes a seat when they forget the order. The highly energized and personable ensemble make it funny but the reality looms over the audience. Short-term memory is fleeting and that is scary. Throughout the show, ensemble members share memories of significance and some not-so significant. The memories are retold. Elements are missing. The past decaying away is emphasized in the limited recall.     
Although the overarching message in TANGLES AND PLAQUES is powerful, the production itself oozes merriment. Director Jen Ellison orchestrates this with plenty of uplifting pizzazz. Ribbon dancing, parachute billowing and a gaudy set (designer John Ross Wilson) glittered in nostalgia. The crew continually makes fun memories until Riiber gently brings the focus back to dementia. It's the aching sobriety after a whirlwind bender. But it's important to remember about dementia until we forget. My memory of this show may not last forever but for now, I remember I loved this show.        
Running Time: Ninety minutes with a late start and no intermission
At Neo-Futurists, 5153 N. Ashland
Created by Neo-Futurist Ensemble Member Kirsten Riiber
Directed by Neo-Futurist Artistic Associate Jen Ellison
Thursdays through Saturdays at 7:30 p.m.
Thru November 18
Tickets and information are available at neofuturists.org or 773.275.5255
Production photos by Joe Mazza Brave Lux
For more information and reviews on Chicago theatre, visit Theater in Chicago.