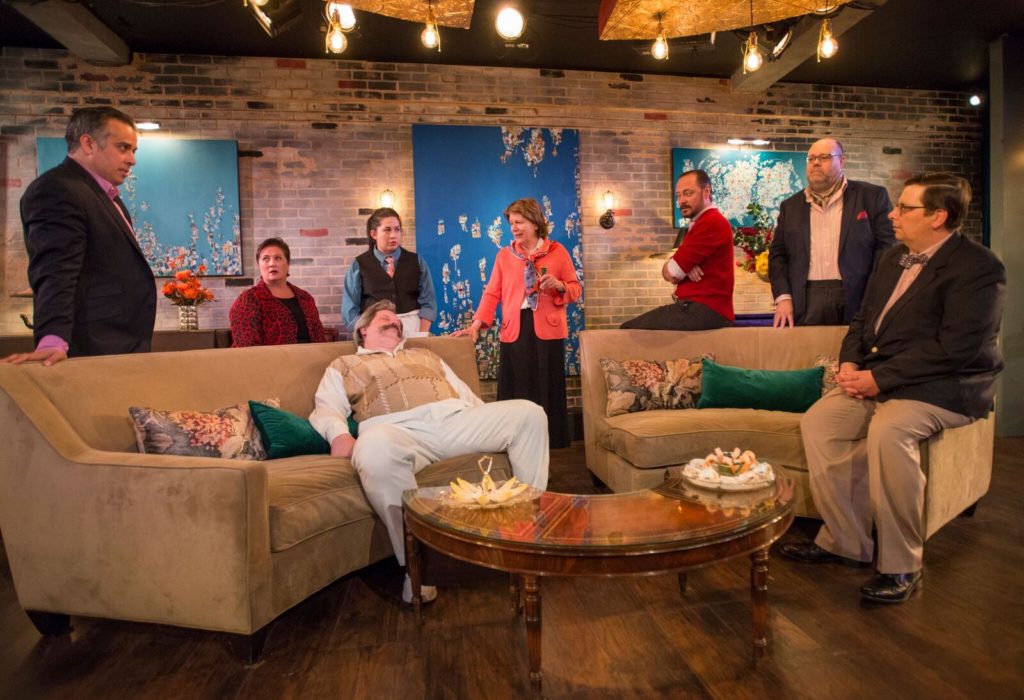 A Red Orchid presents the Chicago premiere of EVENING AT THE TALK HOUSE.
In typical A Red Orchid fashion, their current offering is thought-provoking, wacky entertainment. Playwright Wallace Shawn has penned an apocalyptic tale. The twist is his future could be a mere ten years away. Wallace carves out a reality where theatre is no longer a thing. It's gone out of fashion. In its place are a myriad of television shows, massively churned out with commercial success. Within his world, Wallace has the cast and crew of a play reunite in their favorite post-curtain haunt a decade after the show's debut.
Lance Baker (Robert) opens the show delivering a droll monologue. Baker masterfully and matter-of-factly reflects on the demise of theatre. He has become a television show writer following the box office flop of his last play. He muses about the reunion and how one of the crew described the play's run as the best time of his life. It's not a sentiment Baker shares since his life has progressively gotten better since that time. Through Baker's oration, we get a glimpse of the aftermath of theatre-going-dark-forever. Actors and writers that transitioned to TV prospered. Designers, secondary actors and businesses reliant on theatre struggle to survive.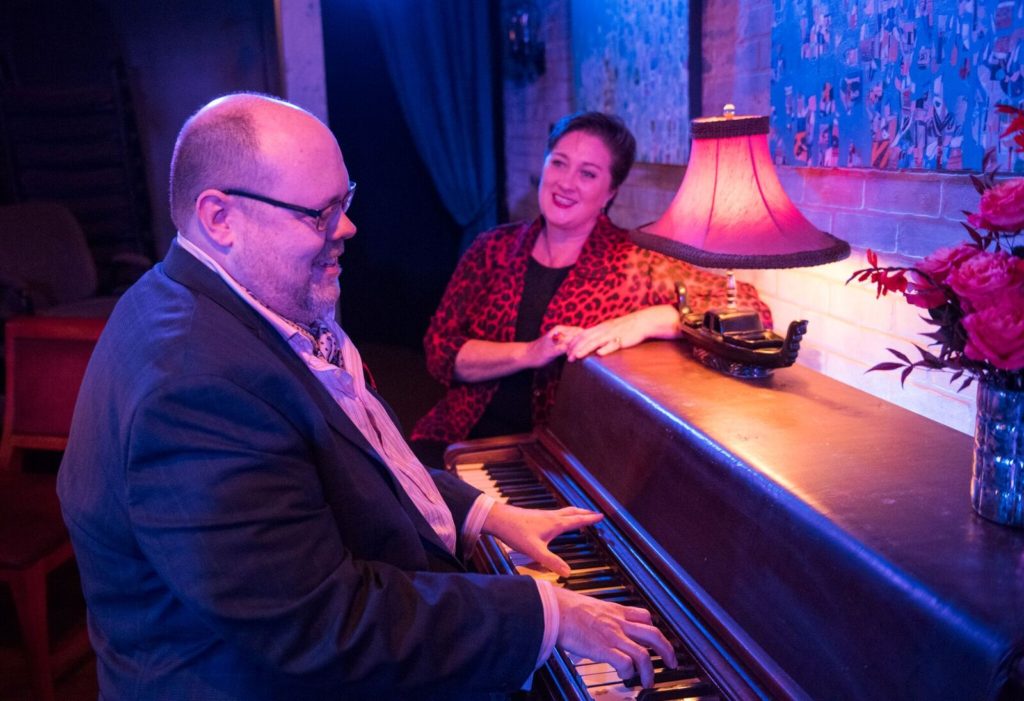 Although Wallace uses the destruction of theatre as his focus, his doomsday scenario is globally broader. Wallace showcases the harsh realities of economic disparity and human life value clarification. As dark as the content gets (and I won't reveal any spoilers to taint the experience), Director Shade Murray skillfully orchestrates this as a high-brow comedy. The talented ensemble deliver the wit and the evil with sitting-in-the-parlor sophistication. The chit-chat has a casual flare but the content is gut-punching perverse. HB Ward (Dick) describes his bruises with an intensity that is simultaneously hilarious and so so so sad. Murray immpressively balances all the exchanges as small-talk gone awry. Although Natalie West (Nellie) tries to keep it light and nostalgic as she serves refreshments, her coaxing for the group to not be strangers takes on a desperate tone. Similarly, Kirsten Fitzgerald (Annette) and Doug Vickers (Ted) convey an elite smugness anchored in days gone by. Fitzgerald and Vickers quip and gossip with the nonchalance of being in the in-crowd. Yet, it becomes obvious the past has passed and there are more outsiders than insiders in this room.
EVENING AT THE TALK HOUSE is definitely a talkie. Wallace has crammed mega stories into his dark comedy. Under Murray's adept direction, the dialogue is delivered so authentically natural that landmine nuggets may be lost. Without dramatic inflections, my ears don't catch all the subtle references to the many layers of Wallace's surreal world. I leave disturbed and wondering what 2027 (or sooner) has in store for us. The end of theatre sounds bad enough but the way Wallace sees it is…inconceivable!
Running Time: Ninety minutes with no intermission
At A Red Orchid, 1531 N. Wells
Written by Wallace Shawn
Directed by Shade Murray
Thursdays, Fridays, Saturdays at 8pm
Saturdays and Sundays at 3pm
Thru November 19th
Buy Tickets at www.aredorchidtheatre.org 
Production photos by Michael Brosilow
For more information and reviews on Chicago theatre, visit Theater in Chicago.