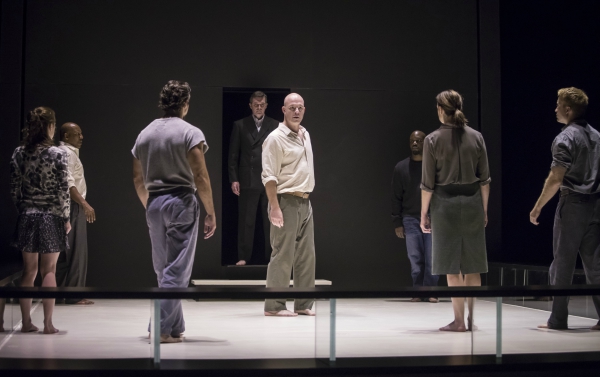 Goodman Theatre presents A VIEW FROM THE BRIDGE.
Playwright Arthur Miller sets his love triangles on the 1950s Brooklyn docks. Eddie (played by the outstanding Ian Bedford) is overly-protective of his niece Catherine (played by Catherine Combs). When she starts dating Rodolpho (played by Daniel Abeles), Eddie is livid. His wife Beatrice (played by Andrus Nichols) attempts to coax him out of his possessive infatuation. His desire for Catherine's happiness is tainted by his own underlying yearning. Miller puts relationships as the play's focal point and then piles on societal issues of illegal immigration, unfair labor practices, poverty and homophobia.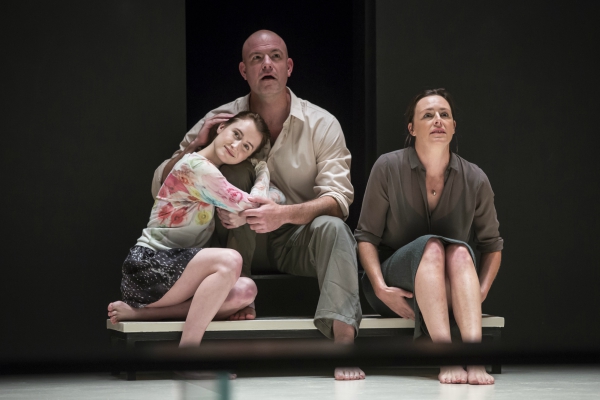 Director Ivo Van Hove orchestrates the drama on a boxing-ring-style stage. Ezra Knight (Alfieri) serves as the narrator often sitting on the far edges of the stage. Knight tells the story with hints of regret. Knight, playing a lawyer, reluctantly admits he wishes this story had a different conclusion.  He almost hides in the shadows of the stage.  Bedford, in contrast, owns it. His masculinity pulsates from every corner. Aided by his large physical demeanor, Bedford commands his lair. This is his territory. Combs and Nichols find safety in his sanctuary. These are his women. As Abeles and Combs grow closer, an agitated Bedford becomes a ticking time bomb.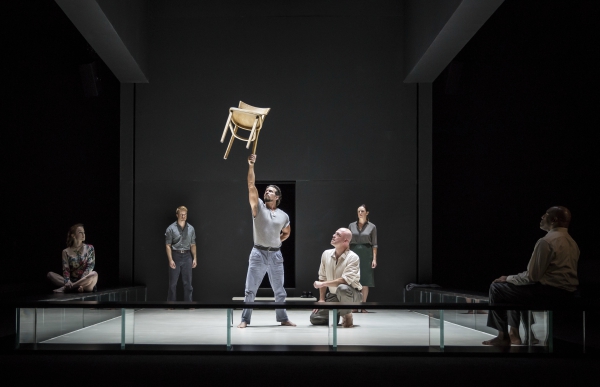 Van Hove impressively facilitates the tension by slowing down the dialogue and adding the primal beat of a drum.  A subdued Marco (played by Brandon Espinoza) responds to Bedford's playful and edgy threats by raising up a chair. Van Hove uses ongoing physicality to illustrate the danger. A youthful Combs jumps into Bedfords' arms wrapping her legs around his waist. A seductive Combs then later repeats the same gesture with Abeles. The realization of Combs' similar expressions of affection to both men is uncomfortable. These disquieting moments heighten the audience's awareness of passions simmering below the surface.
Van Hove directs this play with a deliberate cadence. He takes his time. Some conversations have long pauses to emphasize the awkwardness. Although the direction adds to the authenticity of the exchange, Miller's dialogue often gets in the way. Whereas Van Hove's ensemble delivers a more subtle message with a gesture or look, Miller's words  repeat and repeat. Characters' statements initially sting but uttered a second and third time lose their impact. The redundant discussions lengthen the play and water down the drama. Despite some of the tedium going into the second half, Van Hove's end scene is a powerful and unforgettable visual.
THE VIEW FROM THE BRIDGE is a thought-provoking examination of man driven to the edge by his own obsession.
Running Time: Two hours with no intermission
At Goodman Theatre, 170 N. Dearborn
Written by Arthur Miller
Directed by Ivo Van Hove
Wednesdays, Thursdays at 7:30
Fridays, Saturdays at 8pm
Saturdays and Sundays at 2pm
Thru October 22nd
Tickets ($35-$95, subject to change) are available by phone at 312.443.4800, online at GoodmanTheatre.org/View 
For more information and reviews on Chicago theatre, visit Theater in Chicago.