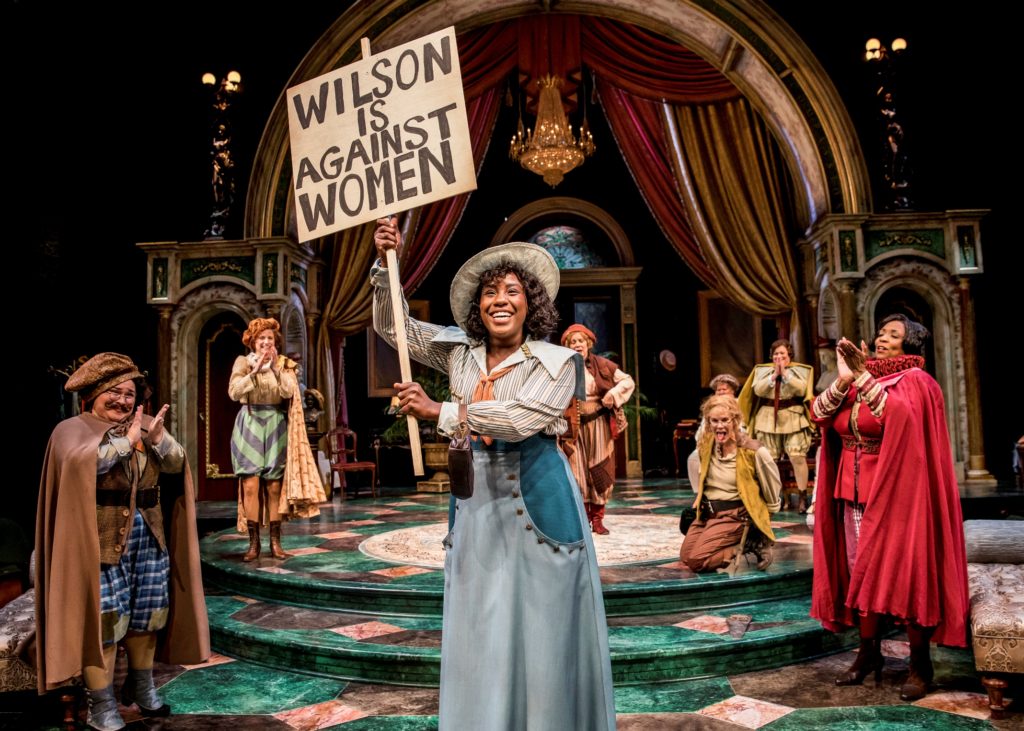 Chicago Shakespeare Theater presents THE TAMING OF THE SHREW.
Finally, a SHREW that is shrewd! Director Barbara Gaines has ingeniously placed Shakespeare's chauvinistic comedy into a female-defining moment in American history. Gaines creates a play within a play. It's 1919. A Chicago women's club is in final rehearsal for The Taming of the Shrew.  Inside and outside the ladies' sanctuary, suffragettes are protesting for the right to vote. The ensemble spar the merits of a woman's voice in the play and in their own lives. Their dissection of a shrew is hilarious and poignant. Gaines' production is absolutely the best way to experience THE TAMING OF THE SHREW. The comedy is infectious. The ensemble is superb. The overall message is uplifting!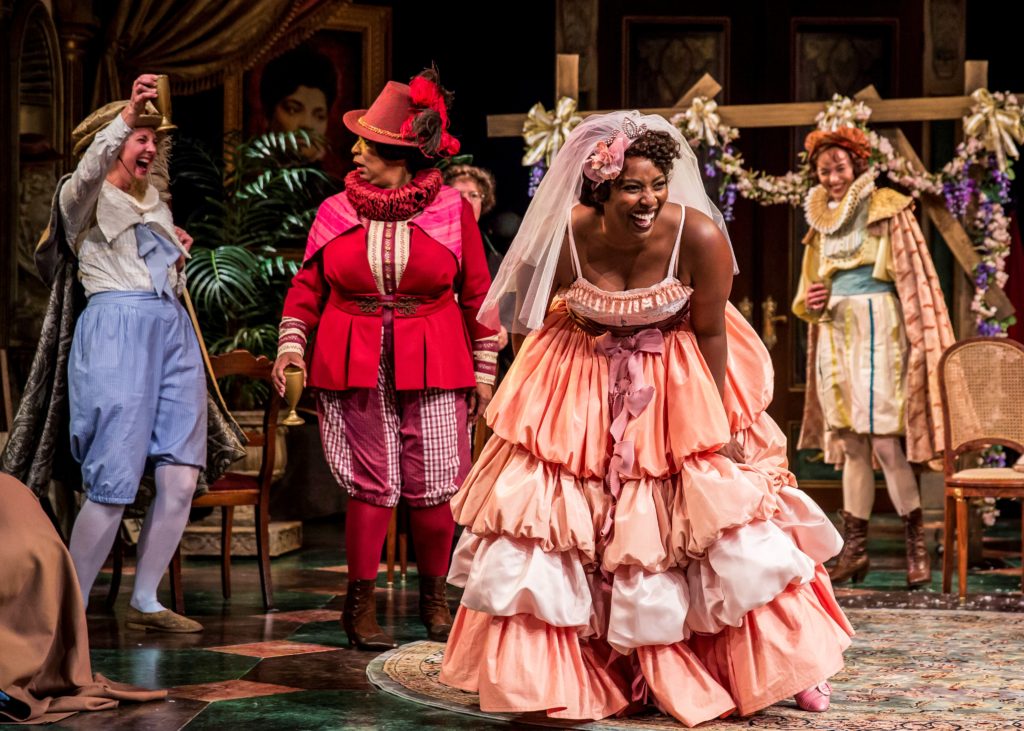 Ron West wrote the additional dialogue to Shakespeare's play. His witty discourse is timely with zingers about police brutality, the popular vote and delightful Chicago references. Gaines' Wonder Women actualize every nuisance in West's and Shakespeare's words to keep the audience howling. All thirteen of the actors embody dual roles as a club member and a SHREW character. Watching them navigate back and forth is highly entertaining. The amazing Crystal Lucas-Perry plays a swaggering, domineering Petruchio. Her entrance includes dropping to the ground for military-style push-ups. The masculine illusion is so real, it's startling to hear her soft-spoken response as Mrs. Van Dyne.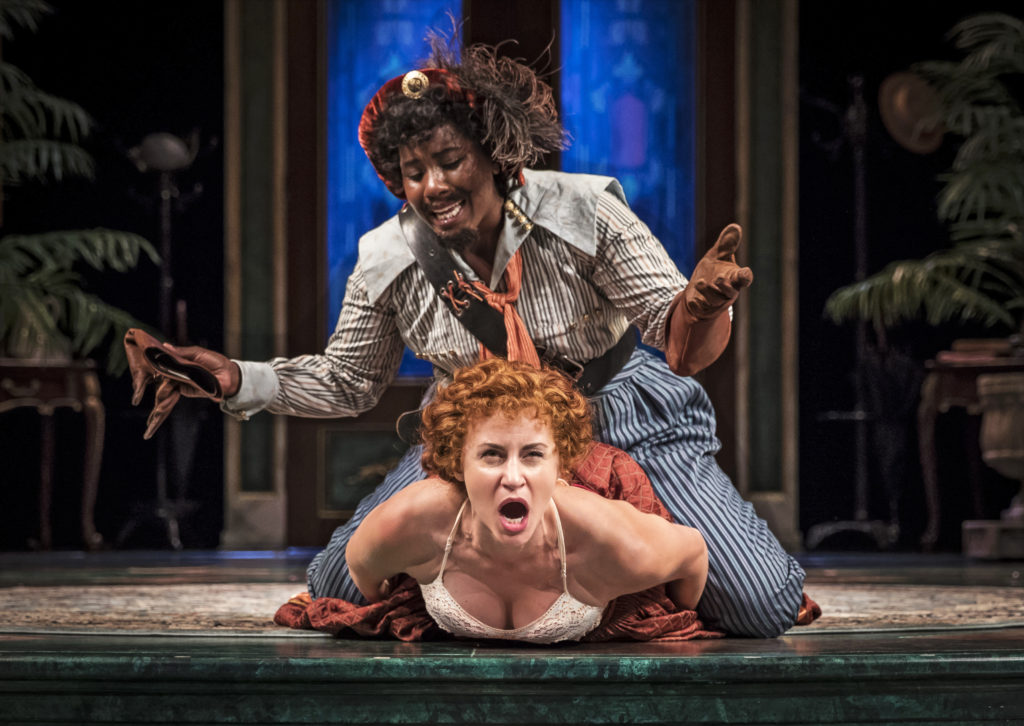 Lucas-Perry and Alexandra Henrikson (Kate/Mrs. Harrison) tackle the tumultuous relationship with gusto. Their antics include plenty of amusing slapstick. As Mrs. Harrison, Henrikson deliciously preens as a self-satisfied rich wife. Her smug portrayal lends itself to a huge poignant moment. Hendrickson as Mrs. Harrison interrupts her scene of Kate's spirit being crushed with 'I can't do this.' The ladies respond in unified support. It's a beautiful ode to sisterhood.
Gaines masterfully keeps the transitions from rehearsal to 'real life' flowing seamlessly. Often as the rehearsal breaks, the elegantly-aggressive Rita Rehn (Mrs. Sherman) provides notes to her thespians. Her droll monologues are priceless. To take us back into rehearsal, the dynamic Heidi Kettenring (Mrs. Mercer/Tranio) narrates a quick synopsis while simultaneously cueing up the play and getting into her own character. Kettenring effectively helps the audience follow the action. Gaines' SHREW works on so many levels.
Gaines' large ensemble is captivating. Whether she is looming in the scenery nailing the one liner or tongue panting over Bianca (played by Olivia Washington),Hollis Resnik (Mrs. Smith/Gremio) is uproarious. The spritely Lillian Castillo (Mrs. James/Biondello) continually pops-up with a solid quip. E. Faye Butler (Dr. Emmanuel/Nathaniel) delivers ongoing hysterical sidebars. The whole ensemble is ready to strip down to their bloomers for the fun of it.
THE TAMING OF THE SHREW has been tamed by Gaines. This production neatly ensures that as one voice is crushed into submission, other voices unite in a perfect symphony. The votes are in. This SHREW is a must see winner!
Running Time: Two hours and forty-five minutes includes an intermission
At Chicago Shakespeare Theater at Navy Pier
Written by William Shakespeare
Additional dialogue by Ron West
Directed by Barbara Gaines
Wednesdays at 1pm and 7:30pm
Thursdays, Fridays at 7:30pm
Saturdays at 3pm and 8pm
Sundays at 2pm and 6:30pm
Thru November 12th
Photos by Liz Lauren
For more information and reviews on Chicago theatre, visit Theater in Chicago.