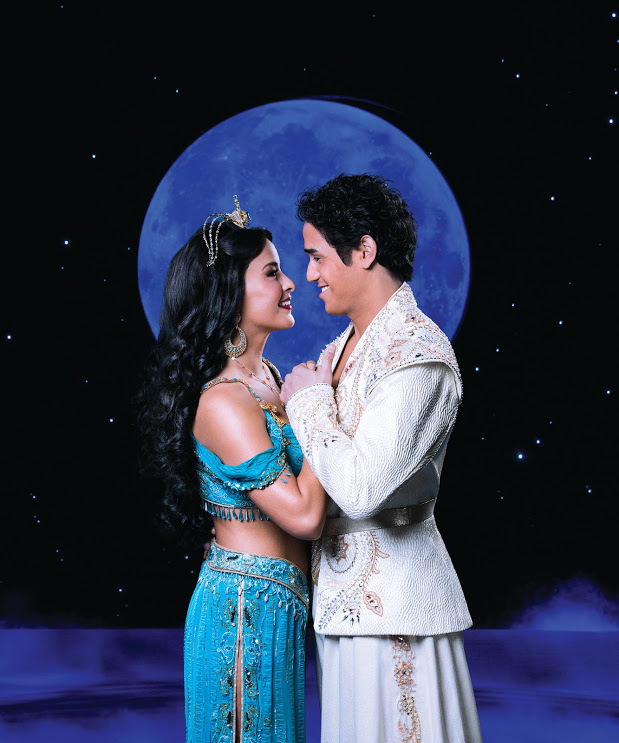 Disney Theatrical Productions and Broadway In Chicago present the North American tour of DISNEY'S ALADDIN.
Who did it better? Disney animators or Disney's creative team of Alan Menken (music), Howard Ashman (lyrics), Tim Rice (lyrics), Chad Beguelin (lyrics and book).  No contest!  This live production of the beloved cartoon has more of everything! More story, more music, more action, more pizzazz!  The cast is huge. Each member has several stunning costume changes. Designer Gregg Barnes creates a dynamic Arabian fashion show with colorful fabrics.  The Prince Ali introduction song is an actual parade of sequence, beads and feathers pageantry.  Barnes' textures and styles pop against Bob Crowley's (Scenic Designer) star-lit night or desert-toned market or bright-shiny cave. The show is multiple spectacular showcases. A magic carpet even amazingly floats across the stage.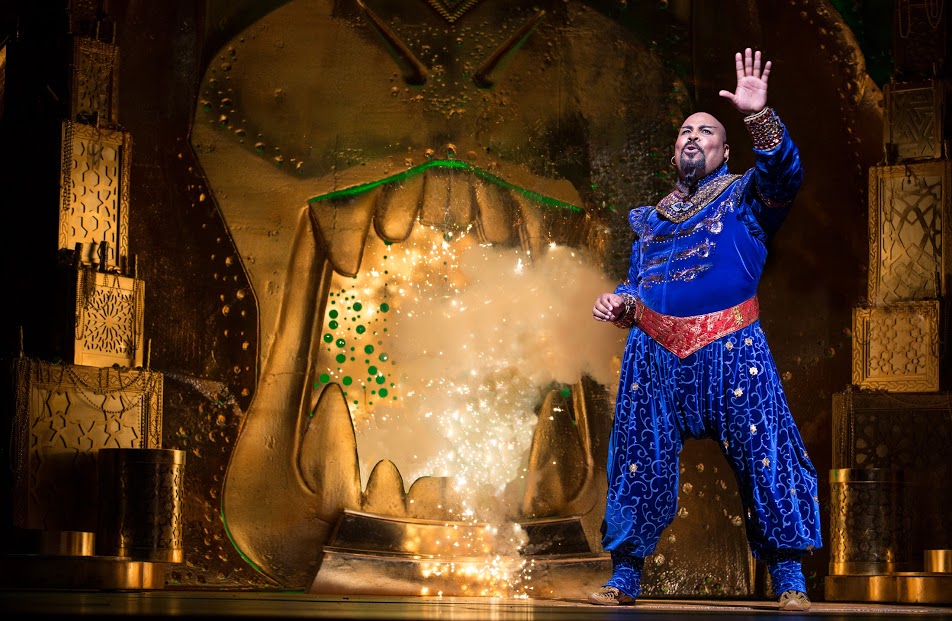 Director and Choreographer Casey Nicholaw must have used up all of his wishes on this production. He rolls out the adventure with razzle-dazzle-coated-comedy.  On opening night, the musical number Friend like me received a standing ovation before it was over. The hilarious and talented Anthony Murphy (Genie) deserves it. The non-stop Murphy talks, sings, dances and cracks jokes. Within Friend like me , he delightfully mimics other Disney shows. He's an over-the-top showman. He contrasts beautifully with the ever-smiling Adam Jacobs (Aladdin, who also originated the title role on Broadway).  The charming Jacobs balances out the Murphy frenzy. At one point, he calmly asks the spunky Isabelle McCalla (Jasmine) 'do you trust me?' She does.  We all do! He is the perfect diamond-in-the-rough.  He commands the stage with amicable confidence and quick wit. Their romantic duet, A Whole New World, is swoon-worthy. McCalla partners nicely with Jacobs. She also brings real depth to the Disney princess.  She doesn't just want to travel. She wants to repeal capital punishment and champions economic equality. THIS Jasmine is the Disney princess that we want for our daughters.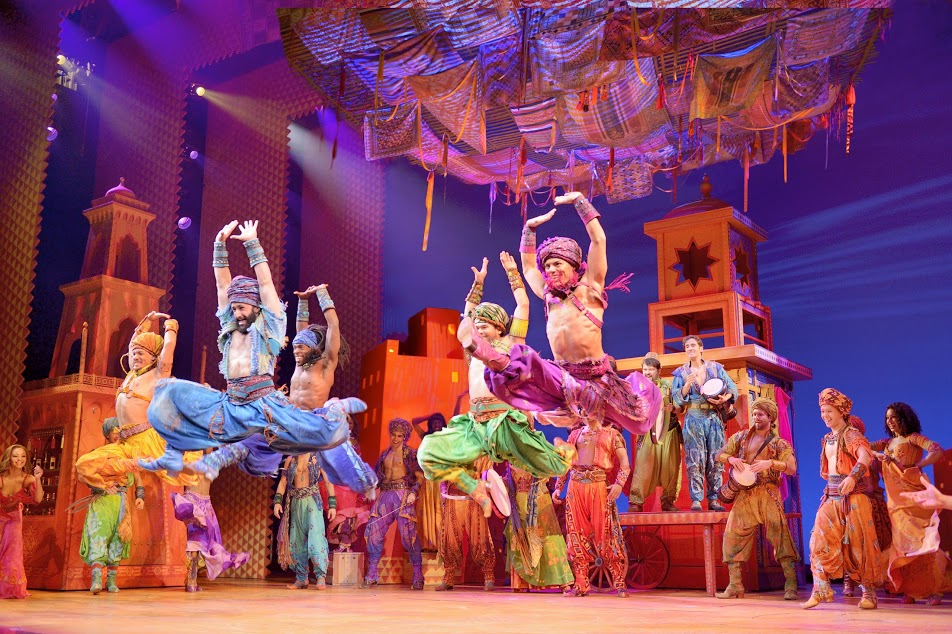 Besides a well-rounded Jasmine, this live version of the fairy tale has other surprising improvements to make for a fuller experience. Instead of a monkey, Murphy's sidekicks are three guys:  Zach Bencal (Babcak), Philippe Arroyo (Omar), Mike Longo (Kassim).  They help Murphy out of scrapes with their swashbuckling and slapstick. One of my favorite numbers is "High Adventure" for both the harmonies and the humor.  Bencal, Arroyo, Longo start the song by running in slow motion and get hilariously lapped by an ensemble member.  Instead of a parrot , Jafar (played by the wickedly great Jonathan Weir) has the animated Reggie DeLeon (Iago) nailing the punchline.  Weir plays it straight deadpan as DeLeon lampoons to zany degrees.
Find a lamp. Rub it hard. Ask the Genie for tickets to DISNEY'S ALADDIN. It's here all summer.  Make it your stay-cation destination!
Running Time: Two hours and thirty minutes includes an intermission
At the Cadillac Palace Theatre, 151 W. Randolph Street
Music by Alan Menken
Lyrics by Howard Ashman, Tim Rice, Chad Beguelin
Book by Chad Beguelin
Directed and choreographed by  Casey Nicholaw
EXTENDED thru September 10, 2017
Tickets visit www.BroadwayInChicago.com.
For more information and reviews on Chicago theatre, visit Theater in Chicago.