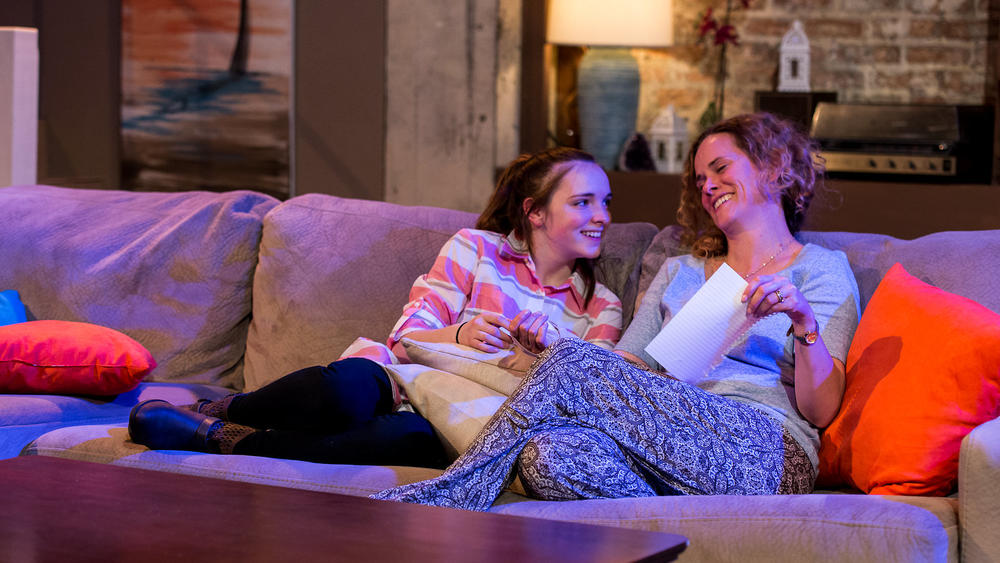 Jackalope Theatre presents the world premiere of THE SNARE.
Indisputably, the acting in this show is divine.  Under the skillful direction of Elana Boulos, the terrific ensemble pulls us in from the very first scene.  Cyd Blakewell (Abigail), Caroline Heffernan (Ruth), Sam Blin (Caleb) and Joel Ewing (David) are praying before dinner. We are gawkers of this intimate ritual of both praise and vulnerability. Even though Blin is exhibiting typical teenage annoyance at forced participation, the rest of the family gives thanks to God with an enthusiastic and intense religious fervor. Heffernan, especially, interrupts the prayer flow with a zeal and anxiousness that feels unrehearsed. They go from prayer to a rousing game of 'rose and thorn.' Each must disclose their best and worst moment of the day.  And that's where Playwright Samantha Beach gives us the play's thorn.  Heffernan announces Satan talked to her.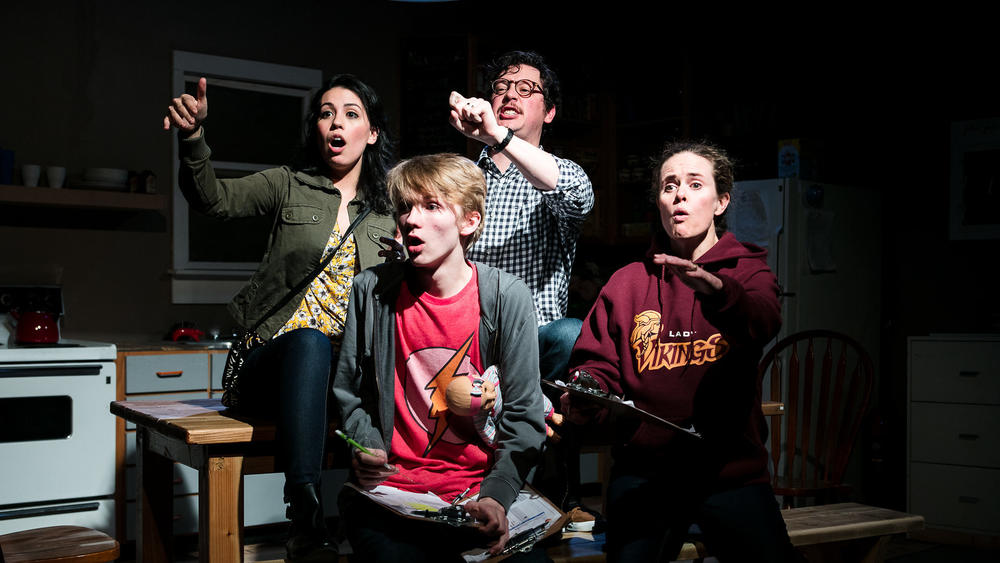 The set-up is subtle and riveting at the same time. Blakewell and Ewing react and don't react like concerned parents of a dramatic daughter. Their conversations of uncertainty ring true with the-parenting-handbooks-never-covered-this.  They both go through believable emotional stages of frustration. We feel connected to their struggle. An additional character, Sloane (played by Paloma Nozicka) appears as a nanny/big sister.  The conversation between her and Heffernan during a work-out has a particular genuineness. Their revealing banter arises casually  in between one minute sprints of exercise. I also really enjoy the basketball view from the bleachers. The family watches Heffernan's game. Their arguing over court calls and statistics collection feels spontaneous and real. An outstanding Blakewell, especially, implodes in actual time. We see the game clearly through her reactions. There is so much believable family dynamics at play here. I can even buy into Blin's endearing yet relatively quick transformation from sullen to sweet.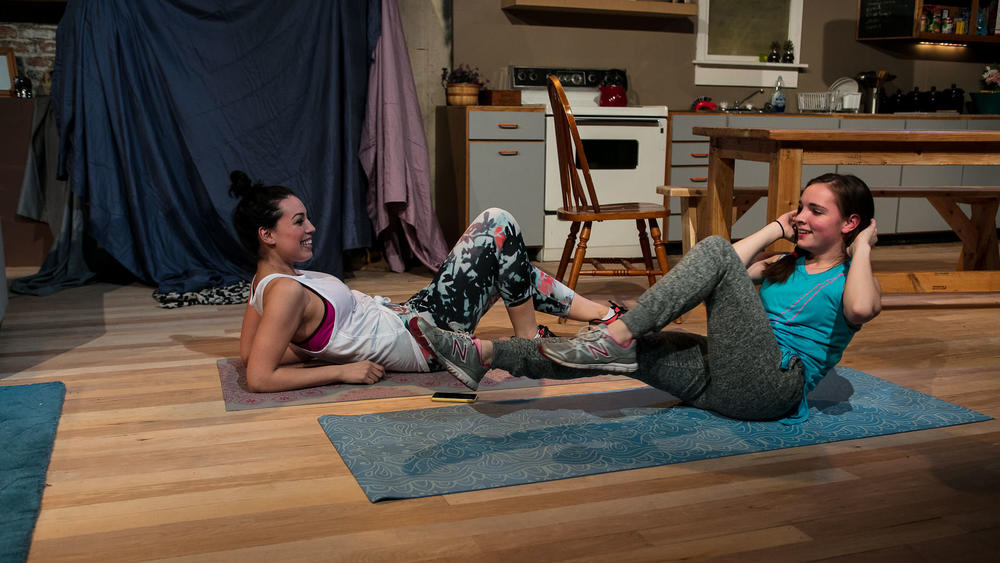 It's Beach's layering on of seemingly superfluous scenes and odd details that delegitimizes this honest portrayal of a family.  She rolls her tale out with multiple car scenes that add length without substance. She also inserts both a Bobcat and a fort which deceptively lead my imagination down a much more demonic storyline. Beach even ends the play without one of the main characters present to the conflict resolution.  Although I enjoyed the stellar ensemble's portrayal of this wholesome family under Satanic attack, Beach's storytelling decisions left me puzzled and distracted.     
Running Time: Two hours and fifteen minutes includes an intermission
At  Broadway Armory Park: 5917 N Broadway St., Chicago
Written by Samantha Beach
Directed by Elana Boulos
Thursdays, Fridays, Saturdays at 8pm
Sundays at 3pm
Additional performances: Monday, March 20 at 8:00pm and Sunday, March 26 at 8:00pm.
Thru April 1st
Buy Tickets:  $5 – $25, on sale via jackalopetheatre.org
For more information and reviews on Chicago theatre, visit Theater in Chicago.