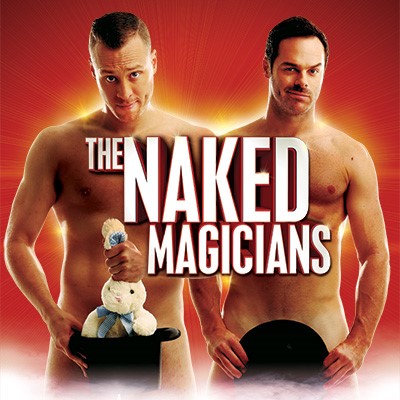 Reviewed by Abby Simon
Broadway in Chicago presents THE NAKED MAGICIANS.
The Naked Magicians, consisting of two exceptionally good looking Australians, Christopher Wayne and Mike Tyler, is a hilariously entertaining show full of fun magic tricks, plenty of R-Rated jokes, and a 90-minute strip tease. This show left me speechless, giggling, and red in the face for the entire duration. It was particularly entertaining watching the audience members react to the suggestive humor and alluring undressing occurring throughout the show ending in the final trick – a race to escape from a strait jacket with the loser left to bare it all. And I mean ALL.
To say the least, I was absorbed for the duration of this performance. Wayne and Tyler have perfected the unique art of comedy, magic, and nudity. If you're looking for a one of a kind experience that will leave you blushing, I highly recommend checking this show out while it is in town this weekend.
Running time: 90 minutes with no intermission
At Broadway Playhouse
Runs until: March 19
PERFORMANCE SCHEDULE
Thursday at 7:30 PM
Friday at 7:30 PM
Saturday at 7:30 PM and 10:30 PM
Sunday at 5:00 PM and 8:00 PM
Tickets can be purchased www.BroadwayInChicago.com. or by calling 800-775-2000
For more information and reviews on Chicago theatre, visit Theater in Chicago.