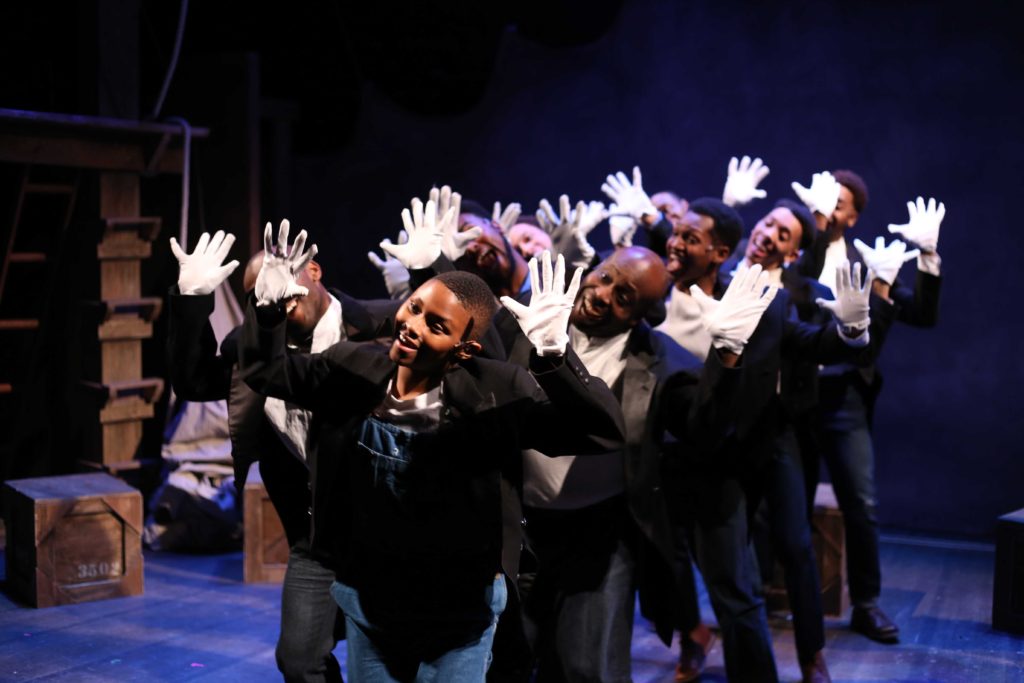 Porchlight Music Theatre announces the Chicago premiere of the Broadway musical The Scottsboro Boys.
Nine African American teenagers falsely accused of gang raping two white ladies is not your typical basis for a musical. The creative team behind other unconventional musicals like Chicago, Kiss of the Spider Woman and Cabaret tackle civil rights in this mockery of injustice. John Kander, Fred Ebb (music and lyrics) and David Thompson (book) set the true story within a traveling minstrel show.  This ironic lampoon plays up the racial discrimination with the politically incorrect genre.  The twisted farce uses both white gloves and black face in different musical numbers to drive home the offensive acts.  Although Thompson works in plenty of vaudeville shtick, nailed by the dynamic duo of Denzel Tsopnang (Mr. Bones)  and Mark Hood (Mr. Tambo), it's hard for me to laugh. The burden of white guilt taints the humor for me. I'm ashamed for our country's past abuse of the law and cultural insensitivity in entertainment.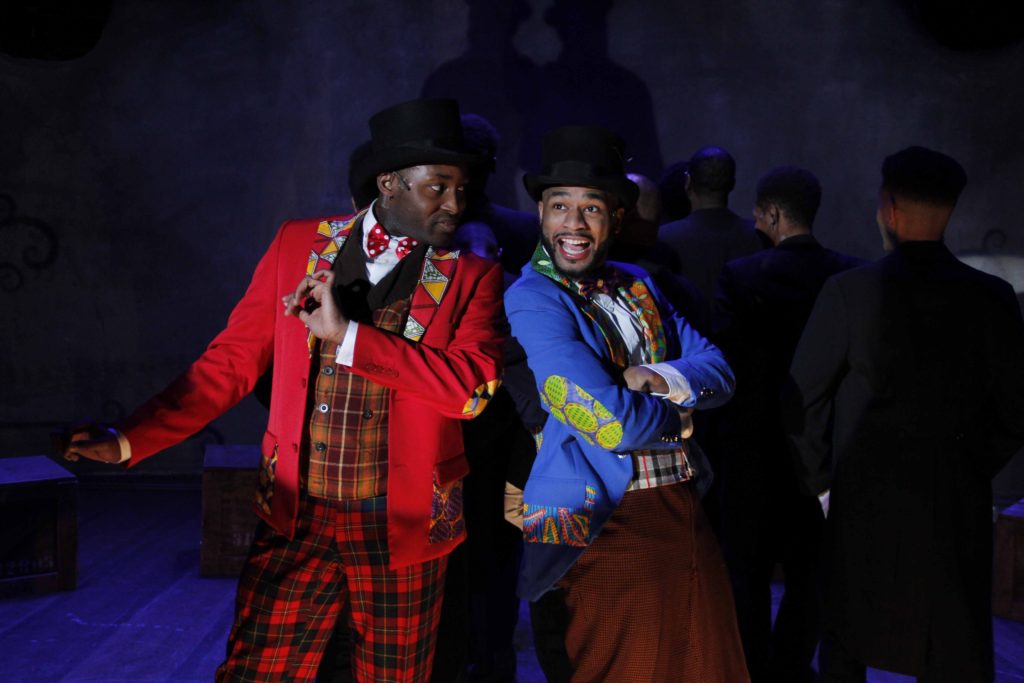 Even though I wasn't laughing, I was enthralled with Director Samuel G. Roberson, Jr.'s vision. He rolled the train onto the stage and his talented ensemble climbed out. Besides Tsopnang and Hood, the ensemble cast includes: Stephen Allen (Clarence Norris), Jos N. Banks (Charles Weems), Cynthia Clarey (The Lady), Cameron Goode (Eugene Williams), Izaiah Harris (Willie Roberson), , James Earl Jones II (Haywood Patterson), Maurice Randle (Andy Wright), Jerome Riley, Jr. (Roy Wright), Trequon Tate (Ozie Powell), Travis Austin Wright (Olen Montgomery) and Larry Yando (The Interlocutor).  The huge cast goes from startled to scared to resigned over the years and decades.  It's hard to watch and harder to imagine what the real Scottsboro boys endured because of two women lying. The sad tale finds uplifting moments especially in the musical numbers, choreographed by Florence Walker-Harris and musical direction by Doug Peck.  This harmonious crew sounds more like a choir than inmates.  Special nod out to Goode for adding a youthful Michael Jackson-stylings to songs. Always a musical powerhouse, Jones leads the soulful unrest. His solo "Nothin'" has an echoing ache not easily forgotten.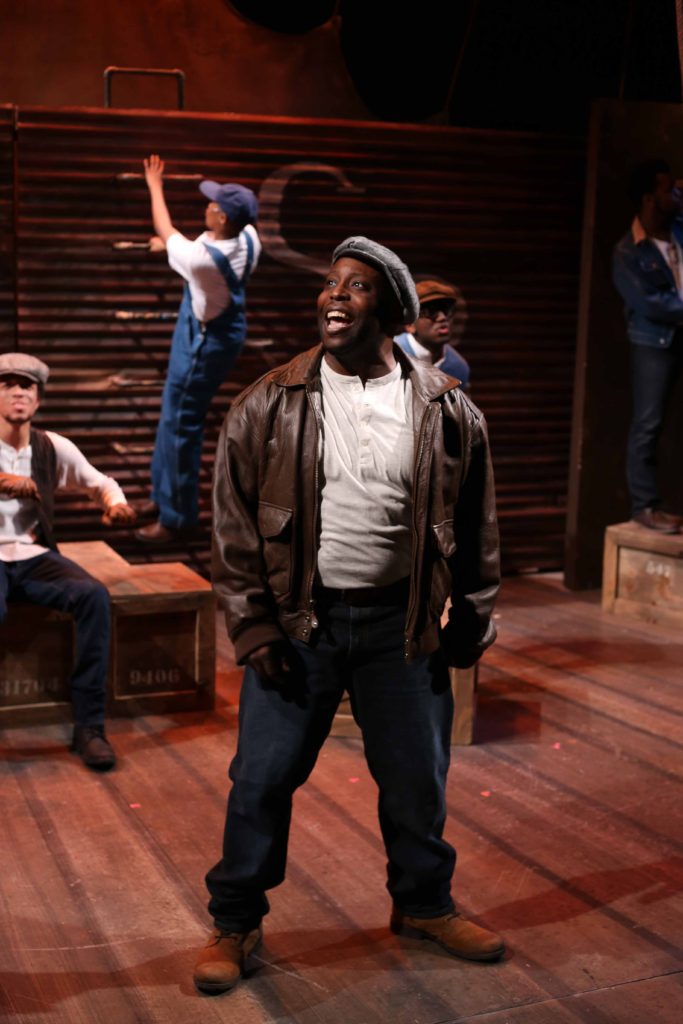 SIDENOTE: I had the chance to see the Jeff Award-winning Direct from Death Row The Scottsboro Boys by Raven Theatre last summer. Although it had music, it wasn't a musical.  These shows are very different. Whereas Raven's production focused on the individual stories, Porchlight's musical is much more about the collective event that was a spark in the Civil Rights Movement. Even if you saw Raven's show, I recommend seeing this Porchlight's musical for a different, more sardonic, perspective.  And I highly recommend for everyone to see and understand THE SCOTTSBORO BOYS.  It's a blemish on our American history and we must be diligent to ensure all minorities are protected from this type of persecution in our present and future. Must see!
Running Time: one hour and fifty-five minutes with no intermission
At Stage 773, 1225 W. Belmont
Music and lyrics by John Kander and Fred Ebb
Book by David Thompson
Directed by Samuel G. Roberson, Jr.
Music direction by Doug Peck
Choreography by Florence Walker-Harris with Breon Arzell
Thursdays at 7:30pm
Fridays at 8pm
Saturdays at 4pm and 8pm
Sundays at 2pm
Thru March 12th
Tickets may be purchased at 773.327.5252 or at PorchlightMusicTheatre.org.
All photos by Kelsey Jorissen
For more information and reviews on Chicago theatre, visit Theater in Chicago.