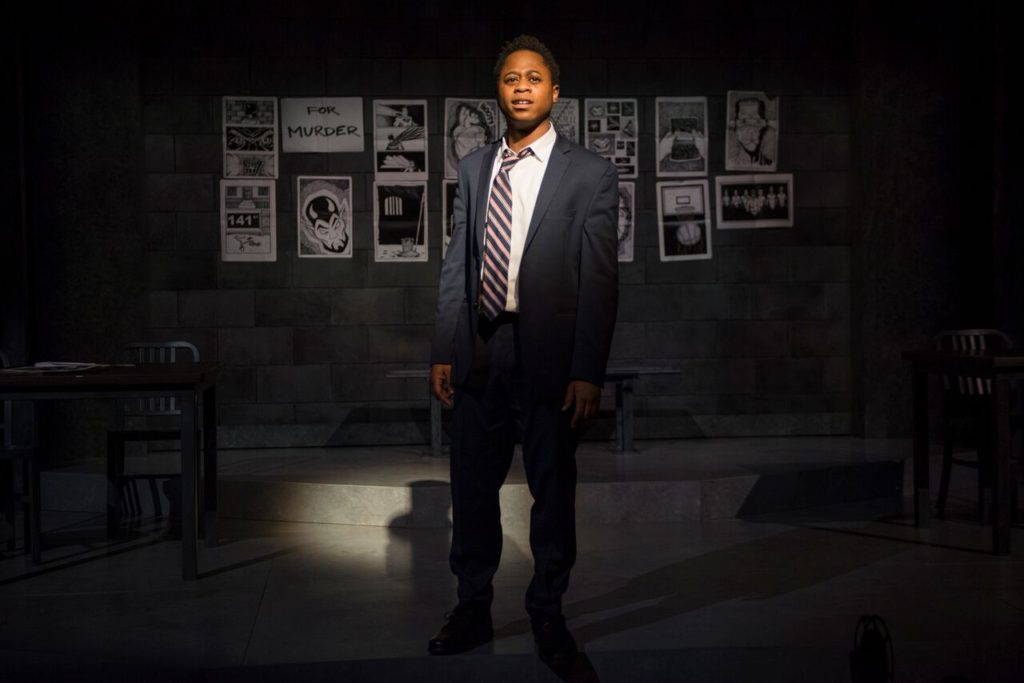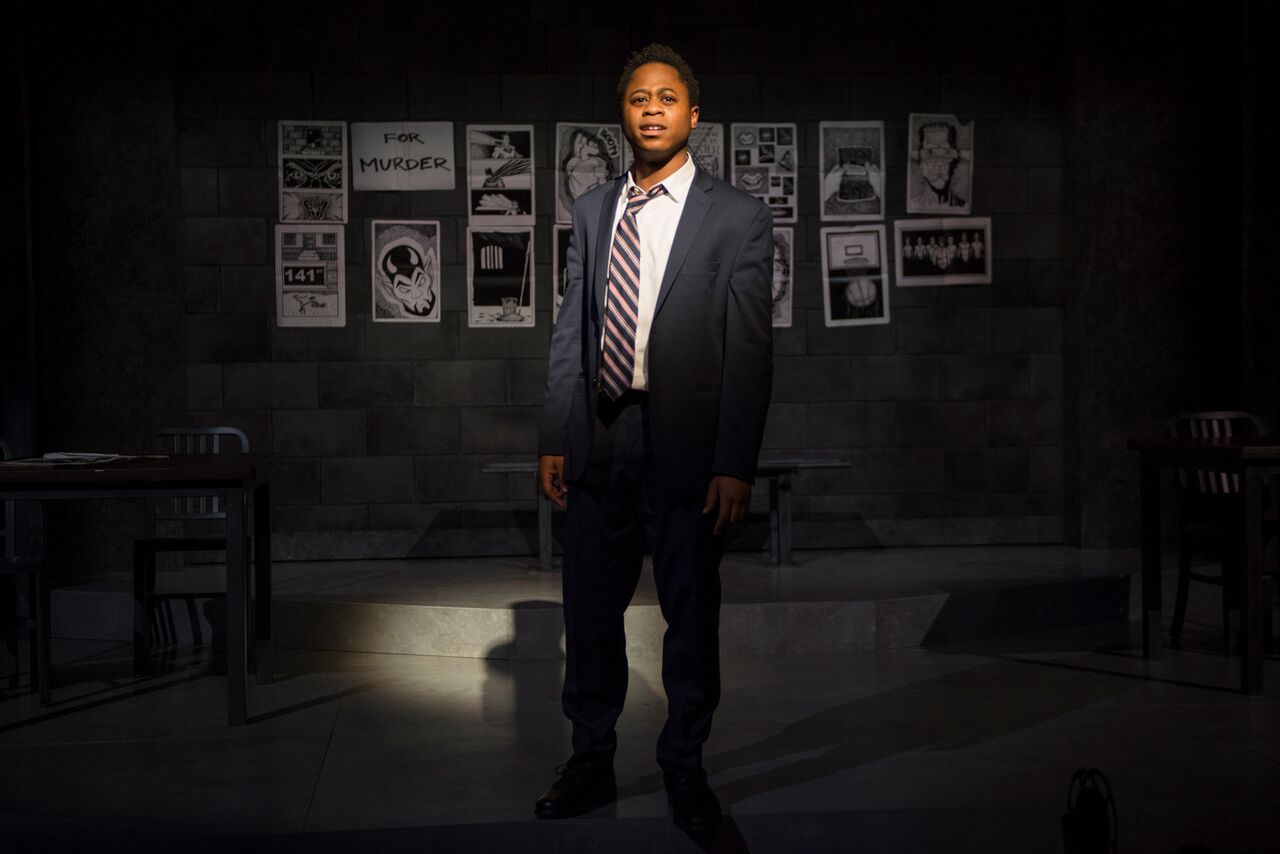 Steppenwolf for Young Adults presents the world premiere adaptation of MONSTER.
A teenager wrestles with his conscience about his participation in a crime. Daniel Kyri (Steve) is engaging as the young man.  Kyri narrates the tale as if he's writing a screenplay. He describes the incidents with mechanical logistics using words like 'exterior,' 'close-up,' and 'camera pans.'  The clever technique gives Kyri a broader perspective.  He is telling his own story through the lens of a director.  We watch him connect the moments for audience impact. His third party perspective makes it surreal.  Since we see the impressive Kyri primarily control the narrative as a filmmaker, the infrequent glimpses of him as the overwhelmed, vulnerable boy are gut-punching.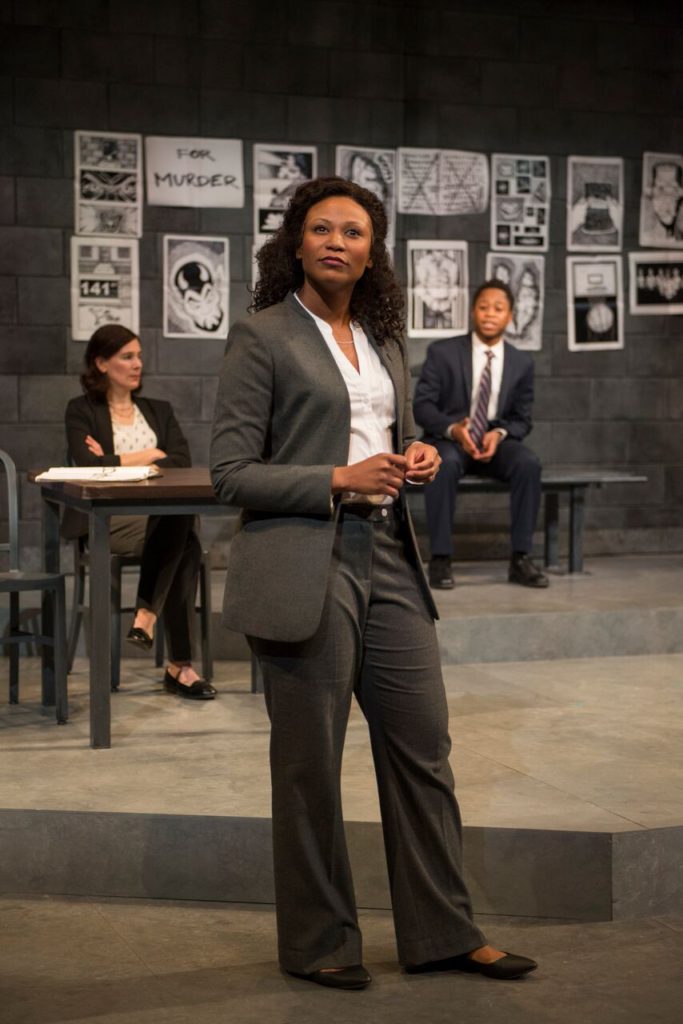 Author Walter Dean Myers entitled his book "Monster." The underlying notion is Steve must grapple with society considering him a monster.  Although the idea makes for an evocative premise, the chosen crime doesn't allow Steve to fall in that category.  Since I don't want to ruin how Director Hallie Gordon and Adapter Aaron Carter roll out the story, I won't give specifics.  No one would realistically call Steve a 'monster.' The crime needed to be more horrid. And Steve needed to be more of an active participant.  His internal conflict needed to be driven by his decision to be cruel.  That's what makes a 'monster.'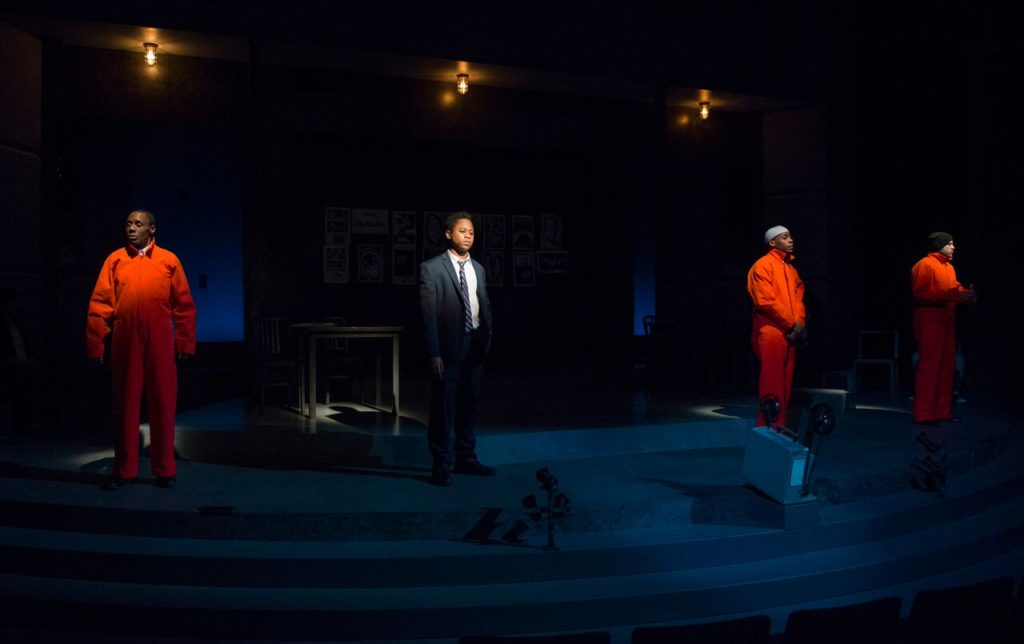 Even though the story had some plausible issues, the show itself was terrific. Gordon has a top-notch ensemble that seamlessly morph in and out of characters.  In one scene,  Alana Arenas plays the distraught mom and in the next, she's the hard-ass prosecutor. Kenn E. Head, Chris Rickett , and Namir Smallwood play a wide-range of roles like dad, teacher, attorney but it's their incarcerated interactions that are so poignant.  They provide Kyri with salty guidance in his hour of desperation.  The scared-straight vibe is palpable.
MONSTER, a Steppenwolf for Young Adult production, has limited availability for the general public.  If you can work it in, you should.  The acting is stellar.  The storytelling technique is riveting. The story itself has some issues. The crime just doesn't seem to fit the punishment, legally or emotionally.
Running Time: Ninety minutes with no intermission
At Steppenwolf Theatre, 1650 N. Halsted
Written by Walter Dean Myers
Adapted by Aaron Carter
Directed by Hallie Gordon
Public performances: Feb 24 at 7:30pm, Feb 25th att 3pm, Mar 3 at 7:30pm, Mar 4 at 3pm
Tickets to public performances ($20; $15 with student I.D.) are available through Audience Services at 312-335-1650 and steppenwolf.org.
Production photos by Michael Brosilow
For more information and reviews on Chicago theatre, visit Theater in Chicago.