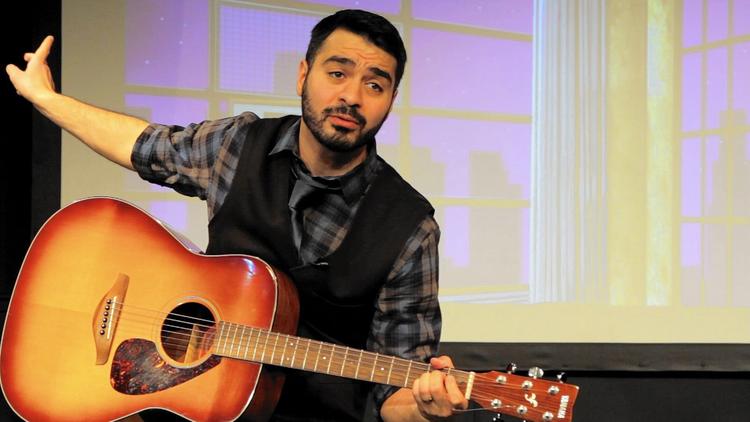 Reviewed by Abby Simon
Broadway in Chicago presents "Men are from Mars, Women are from Venus." A hilarious one man show adapted from the 1992 hit book written by John Gray.
Just one day after Valentines Day, a day in which most relationships put aside their differences and indulge in all things love. On the flip side, there are those of us who consider this to be a Hallmark holiday and boycott the whole thing. Either way love is being noticed. What pairs better with love and relationships? Insight on the interworking's of the opposite sex.
Amadeo Fusca puts on a hilarious show discussing the difference between men and women – because (as it turns out) we're from two completely different planets. He brings insight into the phenomenon that is women, as well as the more single focused, logical male brain. Throughout the show, Fusca pops off stage to hydrate, while the audience is left with videos featuring John Gray going into explanation of several complex emotional responses the different sexes experience. In one video, men and women tally up points differently. A man may buy 24 long stem roses for his lady. He sees this as 24 separate points. To the woman, she only views this as 1 point.
Fusca brings together a laughable understating into what men and women find valuable and important. A man, for example, requires T&A or trust and acceptance to feel love. A woman, on the other hand, needs AU – the periodic symbol for gold – which is attention and understanding. Hilariously accurate on both accounts.
Thought out the show Amandeo Fusca brings in personal experiences, factual research, and a hearty laugh or two for the audience. Rather than seeking an expensive therapy session, my boyfriend and I left having a little bit more understanding and acceptance into the interworking's of each other's brains. Great show for a hilarious date night.
Running time: 2 hours with a 15minute intermission
At Broadway Playhouse
Based on the book Men are from Mars, Women are from Venus written by John Gray
Directed by: Mindy Cooper
Runs until: March 5
Tuesday-Friday: 8PM
Saturday: 4PM & 8PM
Sunday: 2PM & 6PM
Tickets at broadwayinchicago.com or 312-977-1710
For more information and reviews on Chicago theatre, visit Theater in Chicago.