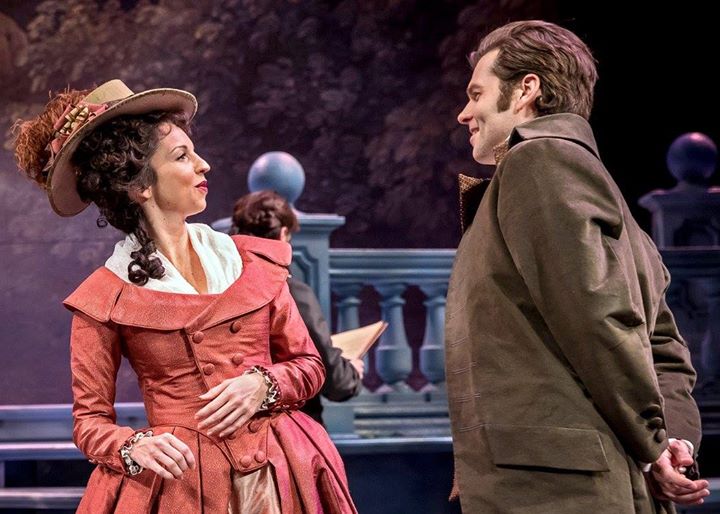 Chicago Shakespeare Theater presents LOVE'S LABOR'S LOST.
Four guys. Four gals. Four couples!?  It's not quite as simple as 1, 2, 3, 4.  This Shakespearean romantic comedy will test affections using secret love letters, clandestine meet-ups and lovers in disguise.  The Bard puts his would-be lovers through a dating game of word play.  The king and his three lords have sworn off women for three years.  They believe abstinence of love will provide personal development and growth.  No sooner have the gents started their fast when a princess and her three ladies arrive to the kingdom.  Let the games begin!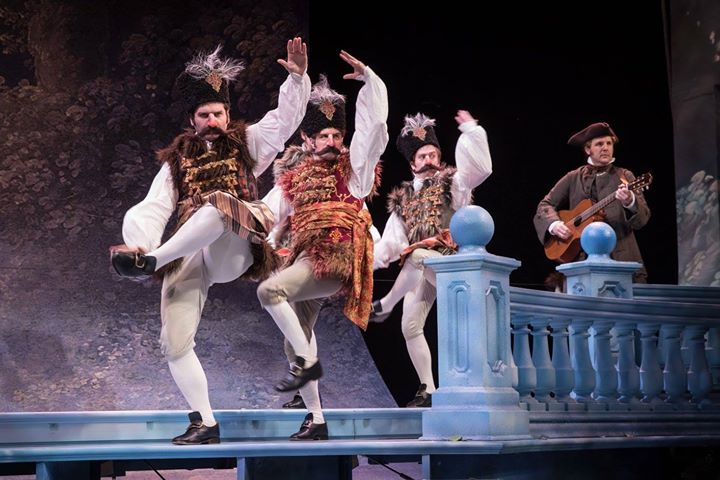 Although it seems a bit of a madcap set-up for Shakespeare, the show is anchored in poetic prose.  The light-hearted romp is an elegant he said/she said.  At the heart of the witty flirtations times four, a dashing Nate Burger (Berowne) falls quickly for the beguiling Laura Rook (Rosaline). Burger engages with a tongue-in-cheek delivery.  Even in his soliloquy reflections, he's less obsessed and more delighted in being led by his heart and not his head.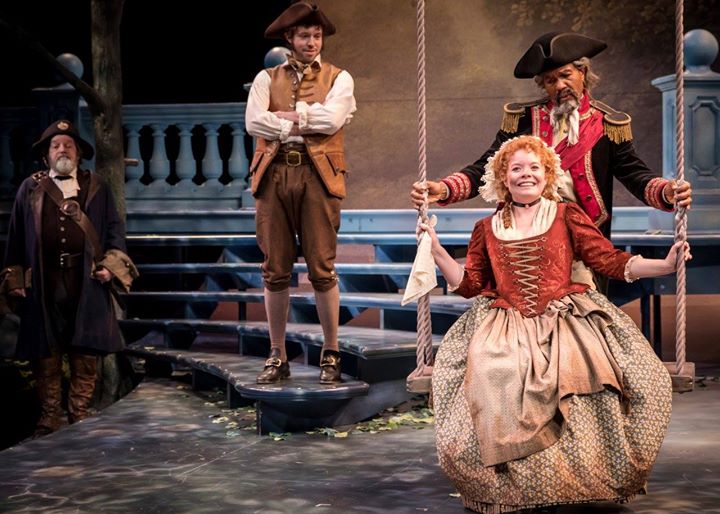 Director Marti Maraden orchestrates this mega love fest with cotton candy whimsy. Her talented ensemble play up the simplicity of love-at-first-sight. They don't get bogged down in calculated romantic pursuits.  In the secondary storyline, a love triangle escalates the lampoon. An over-the-top Allen Gilmore (Don Adriano de Armado) denies the always irresistible Alex Goodrich (Costard) his chance to be with the radiant Maggie Portman (Jaquenetta).  Yet, the amicable Gilmore even plots to win Portman with less sinister mustache-twirling and more sweet school-boy-passing-a-note-during-recess.  Maraden rolls these love stories out as a sophisticated, carefree comedy.  She navigates the bumpy road to happily ever-after as a spirited frolic.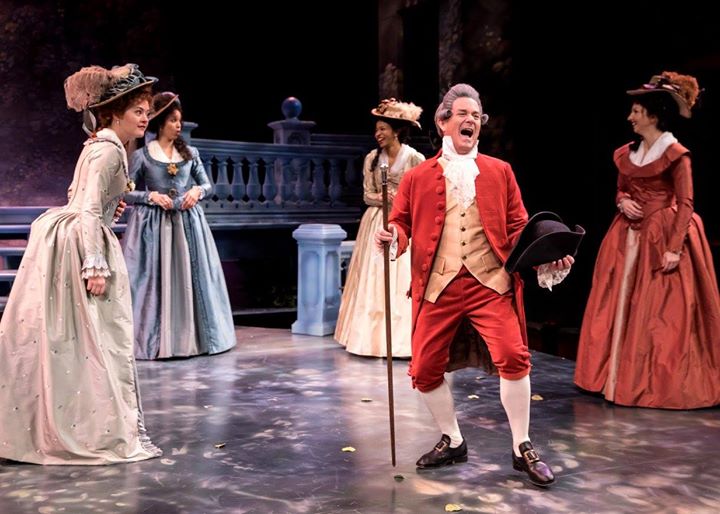 LOVE'S LABOR'S LOST is a fun guys verses gals evening.  Although the Shakespearean prose makes it a wordy rom-com, Maraden keeps the show buoyant. She effectively loses the labor of love by keeping it merry. Instead of the emotional angst of searching for your soulmate,  Maraden reinforces the ease of loving the one you're with.   LOVE'S LABOR'S LOST gets back to the basics:  boys meet girls = love.
The ensemble:  Taylor Blim (Katherine), Manny Buckley (Marcáde), Burger, Gilmore, Goodrich,  Jennie Greenberry (Princess of France), Mario Guzman (Le Beau), Julian Hester (Dumaine), Drew Johnson (Forester), Aaron Lamm (Moth), Jennifer Latimore (Maria), David Lively (Holofernes), James Newcomb (Boyet), Madison Niederhauser (Longaville), Portman, Steve Pringle (Dull), Rook, John Tufts (King of Navarre), Greg Vinkler (Sir Nathaniel)
Running Time:  Two hours and thirty minutes includes an intermission
At Chicago Shakespeare Theater, on Navy Pier, 600 E. Grand
Written by William Shakespeare
Directed by Marti Maraden
Tuesdays, Wednesdays, Thursdays, Fridays at 7:30pm
Wednesdays at 1pm
Saturdays at 3pm and 8pm
Sundays at 2pm
Thru March 26th
Buy Tickets at www.chicagoshakes.com 
Photos by Liz Lauren
For more information and reviews on Chicago theatre, visit Theater in Chicago.