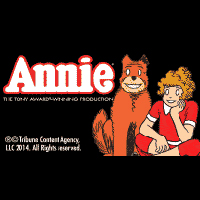 Broadway in Chicago presents the limited engagement of ANNIE.    
Chicago is spinning in the aftermath of the 2016 presidential election. People are sad. The city is somber.  Parents are asking 'how do I explain this to my kids?' I, myself, was feeling helpless, useless and hopeless on Wednesday evening when I stumbled into ANNIE.  Never before has this musical been so relevant and uplifting.  Based in the depression era, people are blaming President Herbert Hoover who promised to fix America with 'a chicken in every pot.' Hoover's presidency is over and it's up to FDR to unite the country. At the focal point of this story is Annie, a scrappy and optimistic orphan. 
The creative team of Thomas Meehan (book), Charles Strouse (music) and Martin Charnin (lyrics) produced an uplifting rags-to-riches story.  The songs are memorable and catchy. The rhythmic A Hard Knock Life, Easy Street and Little Girls dare you not to shimmy your shoulders as the cheeky lyrics envelop you in merriment.  In contrast, Maybe and The Sun will Come Out Tomorrow are the soul-stirring, eye-misting, heart-swelling anthems of hope.  The musical adventure of the spunky orphan is the perfect family-friendly show for this tumultuous time in our history.
In the title role, Tori Bates (Annie) is lovable and talented.  From her first song of consoling Molly (played by the adorable Bunny Baldwin), Bates has our hearts and support.  We are rooting for her to get the dog, get the dad, get the life.  Gilgamesh Taggett (Warbucks) beautifully transforms from booming businessman to big old softie in front of our eyes.  The chemistry between him, Bates and Casey Prins (Grace) feels genuine.  It's like we are seeing the birth of a family onstage.  The entire ensemble from orphans to servants is tight.  Erin Fish (Miss Hannigan) is particularly hysterical as the drunken anti-orphan caretaker.  And nod out to Jeffrey B. Duncan (FDR) who inspired me with his presidentially commanding 'we have nothing to fear but fear itself.'                  
So, parents, in the aftermath of this election, I'd recommend taking your kids to see ANNIE.  It's a peppy historical remembrance of dark times in our country.  It showcases how one girl's positivity and resilience influenced a billionaire, a president and a country.  Kids and adults need to hear and believe "the sun will come out tomorrow."
Running time: 2 hours and 30 minutes includes an intermission.
At Cadillac Palace, 151 W. Randolph
Based on "Little Orphan Annie"
Book by Thomas Meehan
Music by Charles Strouse
Lyrics by Martin Charnin
Directed by Martin Charring
Music direction by Keith Levenson
Friday at 7 PM
Saturday at 2 PM and 7 PM
Sunday at 2 PM and 7 PM
Buy Tickets at www.BroadwayInChicago.com.
For more information and reviews on Chicago theatre, visit Theater in Chicago.