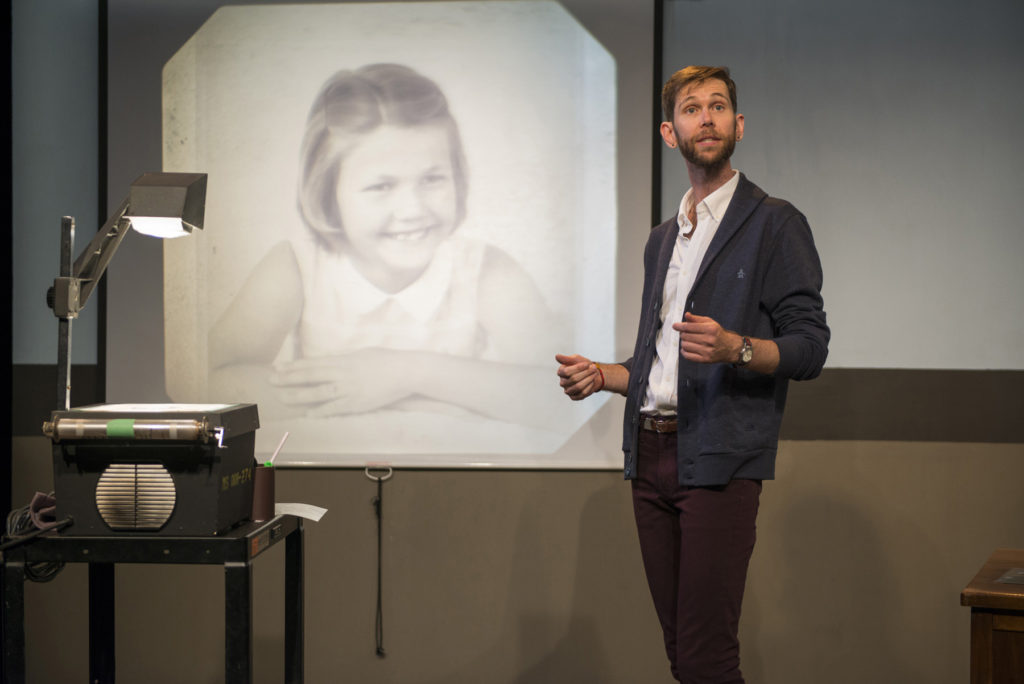 The Greenhouse Theatre Center, in conjunction with Sideshow Theatre,presents the World Premiere of THE HAPPIEST PLACE ON EARTH.
I am a longtime fan of Playwright Philip Dawkins.  Until Friday night, I had never seen Dawkins perform.  In his one man show, Dawkins cleverly weaves together his family's and Disney's origin stories. In a classroom-like setting, he uses an overhead projector with pictures and diagrams to illustrate the parallels between Disney's vision and his own family's quest for happiness. Dawkins focuses on his mom, aunts and grandma. After the unexpected death of her husband, Betty Lou, Dawkins' grandma, had to raise four daughters on her own. Their first Christmas without husband/father was spent at Disneyland. The amusement park became a family destination for decades.     
Dawkins lovingly and distinctly gives voices to these maternal influences in his life. He transitions effortlessly from his blustery aunt Lynn to his own mother's more pensive tone. Not only does Dawkins voice change, his mannerisms do too. As his mom, Dawkins dreamily rubs a necklace like she is caught between the present and a childhood fantasy. And he plays his grandma like a tough old broad who doesn't know she's tough. When he describes conversations with his grandma about hard times, Betty Lou's responses hint of dismissiveness. She drawls, 'oh honey, we just did it.' The matriarch guides her family in a charming, no nonsense fashion.
Dawkins' knowledge of Disney is impressive. Director Jonathan L. Green keeps the pace nimble. The fast-talking Dawkins quickly gets through the pile of transparencies. He lays out the facts and figures in a familial and entertaining way. And despite building the case of Disney being 'the happiest place on earth,'  Dawkins takes a dark turn on the Matterhorn ride of life. He shares his family's relationship woes and health issues. He describes his own unhappiness. The playful analogy between his kin and Disneyland becomes a poignant reflection on happiness or more accurately the lack of happiness.  Dawkins makes it personal.  His honesty leaves me unexpectedly sad. It has me continually contemplating is our happiness rooted in our past? How wrapped up are we in the last generation's tragedies and successes? And what does Tomorrowland offer me today?
Dawkins is an extraordinary storyteller.  THE HAPPIEST PLACE ON EARTH is a tribute to his craft and his family. 
Running:  Ninety minutes with no intermission
At Greenhouse Theatre Center, 2257 N. Lincoln
Written and performed by Philip Dawkins
Directed by Jonathan L. Green
Thursdays, Fridays and Saturdays at 8pm
Sundays at 2:30pm
EXTENDED Thru October 30th 
Buy Tickets at http://www.greenhousetheater.org/
For more information and reviews on Chicago theatre, visit Theater in Chicago.