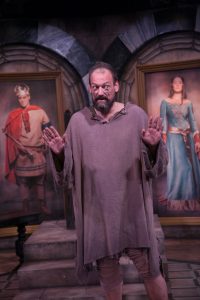 Remy Bumppo presents the Midwest Premiere of PIRANDELLO'S HENRY IV.
Mark L. Montgomery (Henry IV) is the reason to see this show.  His madness is palpable. Montgomery plays a man who fell off a horse and woke up believing he is the 11th Century German Emperor Henry IV.  For twenty years, his family has perpetuated the delusion.  Hired actors are both caretakers and the King's guards.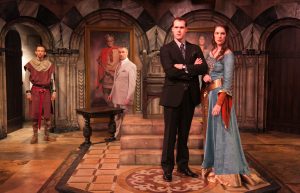 The play begins with the family deciding to have a psychiatrist assess the situation. After two decades, they have a scheme to challenge the delusion. This long-time-coming decision is the effective catalyst to turn this bizarre world upside down. Tom Stoppard translates Luigi Pirandello's tale of absurdity. Although the premise is fascinating, the story itself isn't completely satisfying. The biggest wrinkle is how could this charade go on for twenty years?  And at what cost? The emotional cost is touched on but I'm talking about the financial cost of upkeep.  How much would this king-size fantasy cost over twenty years?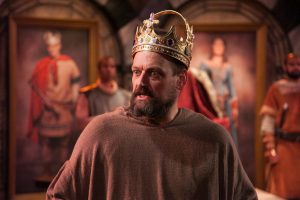 Sensibilities aside, Montgomery is riveting. He effectively blurs the lines between acting crazy and being crazy. Montgomery rants like a lunatic and then stops abruptly and shifts into congenial host. He brings high levels of intensity. We are mesmerized by his suspicious looks and sudden movements. It's funny and disconcerting simultaneously.    
Montgomery continuously spiraling out of control is show-stealing. It's a one man show with an ensemble.  Montgomery's tortured humanity contrasts perfectly with 'normal' folks.  The intellectuals fade into the background as his emotional chaos fills the stage.   The scenes he's not in are deafeningly quiet and dull.
Under Nick Sandys' skillful direction, the loss of sanity, love and years gets a thought-provoking contemplation. Sandys impressively opens the door to this asylum and forces us to watch someone 'losing it.' He challenges us to question after twenty years, who is responsible for the loss of time? PIRANDELLO'S HENRY IV is crazy.  Or is it profound?  
Running Time:  Ninety-five minutes includes an intermission
At Greenhouse Theatre, 2257 N. Lincoln
By Luigi Pirandello
Translated by Tom Stoppard
Directed by Nick Sandys
Wednesdays, Thursdays, Fridays, Saturdays at 7:30pm
Sundays at 2:30pm
Thru November 13th
Buy Tickets at www.remybumppo.org
For more information and reviews on Chicago theatre, visit Theater in Chicago.