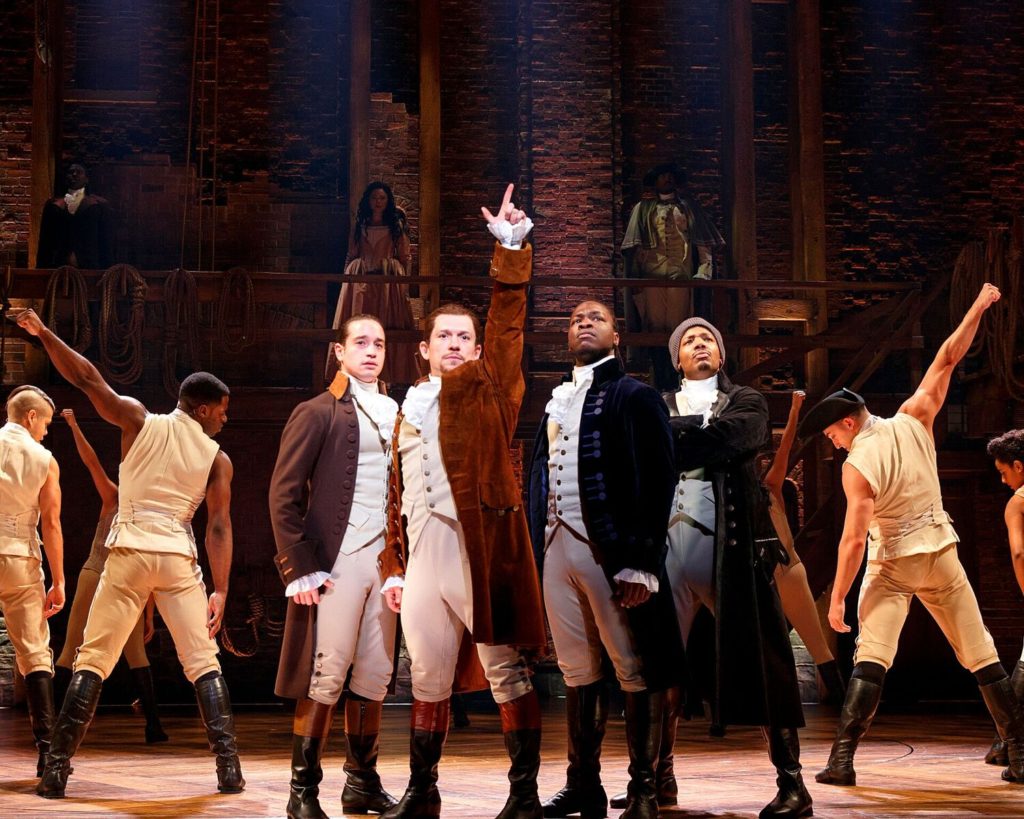 Broadway in Chicago presents the Tony Award-winning HAMILTON.
I saw this blockbuster sensation on Wednesday night.  It's a life-changer!  Since experiencing the biographical musical, I've been pondering the revolutionist, now and then.  I've been musing about how future generations will interpret this tumultuous moment in U.S. history.  I've been wondering how my life looks from a couple centuries out. Have I fought for what is right? Am I speaking up against tyranny? What seeds have I planted for a garden I will never see? Am I not throwing away my shot?   
Certainly, Lin-Manual Miranda (book, music, lyrics and originator of the Hamilton role) is not throwing away his shot. He has created a musical with core-shattering relevance. Miranda demonstrates parallels between political posturing past and present. He immortalizes a lesser known historical figure and makes legends like Washington and Jefferson supporting roles. He composes a contemporary score with searing arias and lively hip hop. Miranda then throws out the traditional white-men-in-powered-wigs revolution. Instead, he utilizes an ethnically diverse ensemble to establish this new country. He illustrates the difference between ambition (Hamilton) and greed (Burr).  And Miranda makes this innovative history and life lesson fun and inspirational. I begin to understand the honor behind handling a dispute in "Ten Duel Commandments." Miranda is an exceptional storyteller.         
The passionate Miguel Cervantes (Hamilton) and the reserved Joshua Henry (Burr) contrast perfectly. Cervantes attacks this dynamic role. He tirelessly fights for the right to shape history. His dynamic delivery of "My Shot" sets the tone and expectation for this powerhouse show.  It's easy to see how the personable Cervantes would capture the affections of the Schuyler sisters, Washington, de Lafayette, Mulligan, and Laurens and also the jealously of a repressed Burr. Henry looms on the fringe as Burr. He impressively comes out of the shadows to deliver a solid "Wait for It."
Under the superb direction of Thomas Kail and the kick ass choreography of Andy Blankenbuehler, this ensemble is tight!  The gentle Ari Afsar (Eliza) and fierce Karen Olivo (Angelica) love Hamilton with depth and dignity.  Afsar sings a beautiful "That would be enough" where as Olivo covertly lets Cervantes know that it's not enough. In multiple roles, Chris De'Sean Lee (de Lafayette/Jefferson), Wallace Smith (Mulligan/Madison) and Jose Ramos (Laurens/Phillip) bring game. Their personalities vibrantly canvass the stage.  In particular, De'Sean Lee plays a memorably flashy Jefferson. His inflections and walk have an extra ump. And a hilarious Alex Gemignani (King George) continually pops up with snarky musical diddies.
I could go on and on about HAMILTON.  I loved it hard!  I want to see it again and probably again and again and .… ! Miranda has weaved these real people's lives together in a brilliant musical tribute. To experience it once is to glean the mere surface of these stories. HAMILTON has usurped "Les Miserables" as my favorite musical. The tickets are hard to get but worth the effort. I highly highly recommend HAMILTON.         
Running Time:  Two hours and forty-five minutes includes an intermission
At The PrivateBank Theatre, 18 W. Monroe
Inspired by the book "Hamilton" by Ron Chernow
Book, Music, and Lyrics by Lin-Manual Miranda
Music Supervision and Orchestrations by Alex Lacamoire
Choreography by Andy Blankenbuehler
Directed by Thomas Kail
Tuesdays, Wednesdays, Thursdays, Fridays at 7:30pm
Wednesdays at 1:30pm
Saturdays at 2pm and 8pm
Sundays at 2pm
Open Run
Buy Tickets at Broadway in Chicago
There is a digital lottery for forty-four day-of-show tickets which will be sold for every performance for $10 each. For further details on the day-of-show digital lottery, click here.    
For more information and reviews on Chicago theatre, visit Theater in Chicago.