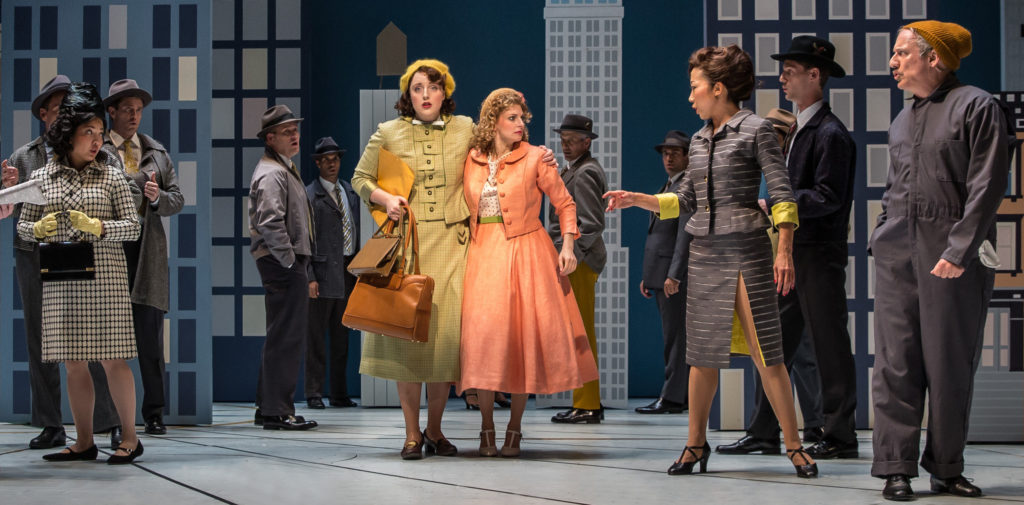 Goodman Theatre presents WONDERFUL TOWN.
This IS your grandma's musical. It has old-fashion charm, zany life hurdles and a guaranteed happy ending. The wholesome adventure brings two sisters from a small town in Ohio to big, flashy New York City. Ruth (played by Bri Sudia) wants to be a writer.  Eileen (played by Lauren Molina) wants to be an actress. The sisters and the set-up have a sweet innocence of yesteryear. The show is a pleasurable respite from reality.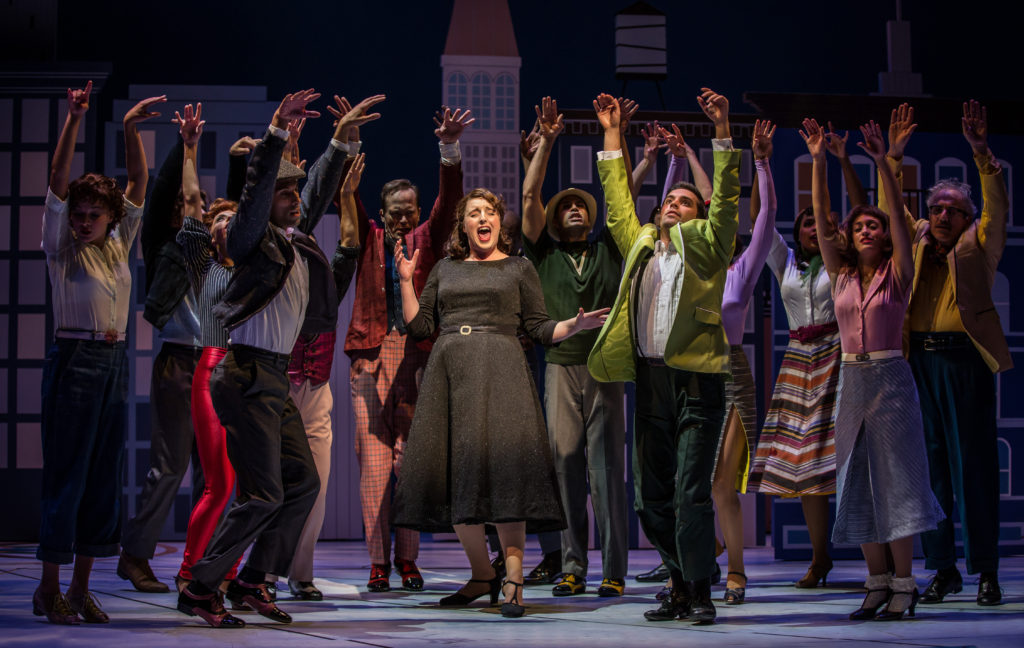 Director Mary Zimmerman unapologetically celebrates the schmaltz in her production. Zimmerman doesn't try to ground this frolic.  She keeps it frothy. She has Todd Rosenthal construct the NYC skyline to be simplistic, almost cartoonish, cut-out buildings. Throughout the show, each cast member spends time behind individual building cut-outs.  They move the buildings for a musical number or to show a different part of the town. The look adds to the uncomplicated tone of the show. Within this surreal cityscape, Rosenthal has the sisters' basement apartment rise from below the stage. It comes up for them to go down.  The first appearance of this slick scenery transition has the audience cracking up over a cockroach. The bug is scurrying  to vacate for the new residents. The visual and timing is cute.  The show has plenty of shticks like this that kept the audience continually cackling at my show.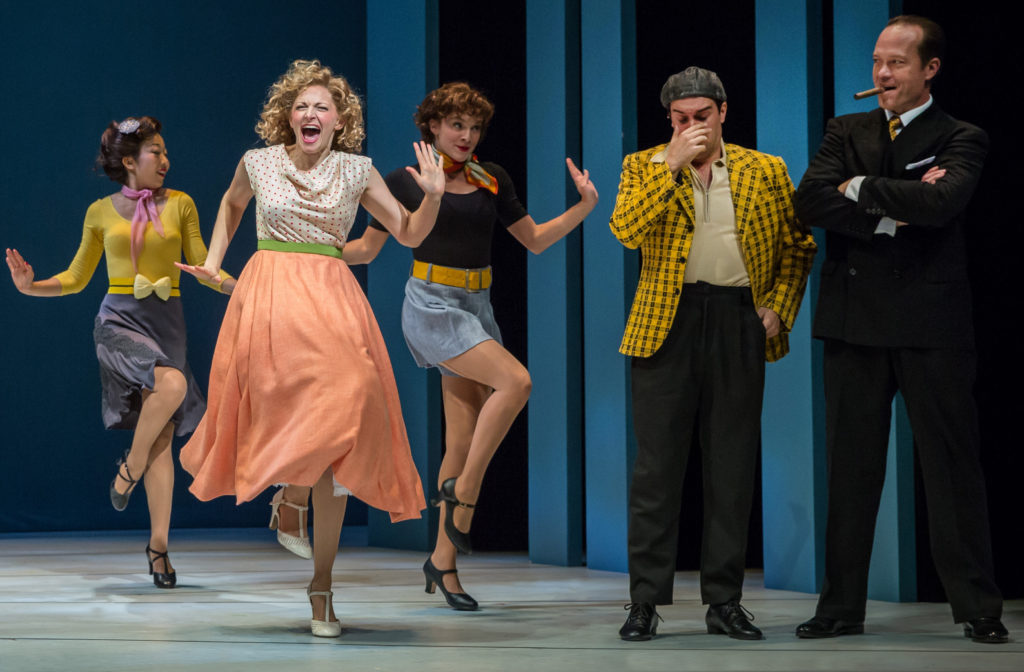 WONDERFUL TOWN has plenty of  heart and humor. The loving sisters heap it on.  Their "Ohio" duet is harmonious wishful singing.  The ladies describe the good and bad elements of life before NYC. The homespun goodness appeals.  Dreamers confront the unexpected on an adventure and pine for the familiar. These sisters are likable.  They are the girls next door.  Ruth is the tough, smart one. And Eileen is the magnetic, pretty one.  The part of Ruth was originated on Broadway by Rosalind Russell. An outstanding Sudia delivers a Russell-worthy performance.  As the irresistible Molina breezes through every situation,  a resigned Sudia side-bars with hysterical wise-cracks.  The protective Sudia races to jail only to find an imprisoned Molina enjoying the police attention.  
The costumes and choreography add to the merriment.  Designer Ana Kuzmanic dresses the cast in vibrant mid-century outfits. Even though the sisters' wardrobes aren't as hip as the NYC crowd, they still are bright with personality.  Watching all the individualistic styles swirling and kicking it up in Choreographer Alex Sanchez's big juicy numbers is half the fun in this storybook musical. WONDERFUL TOWN is definitely a crowd-pleaser. Goodman has already extended it from ticket demand. If you're in the mood for a light-hearted, big-dreamers' romp, this is the show for you!  Although I didn't laugh as hard and as often as my theatre section, I had an amusing time at WONDERFUL TOWN.                      
Running Time:  Two hours and forty minutes includes an intermission
At Goodman Theatre, 170 N. Dearborn
Book by Joseph A. Fields and Jerome Chodorov
Music by Leonard Bernstein
Lyrics by Betty Comden and Adolph Green
Directed by Mary Zimmerman
Music direction by Doug Peck
At 7:30pm Wednesdays, Thursdays and Tuesday Oct 4th
At 2pm Thursdays, Saturdays, Sundays (no matinee on Oct 13th)
At 8pm Fridays, Saturdays, Sundays (no evening performance on Oct 9th)
EXTENDED Thru October 23rd 
Buy Tickets at www.goodmantheatre.org
Production photos by Liz Lauren
For more information and reviews on Chicago theatre, visit Theater in Chicago.