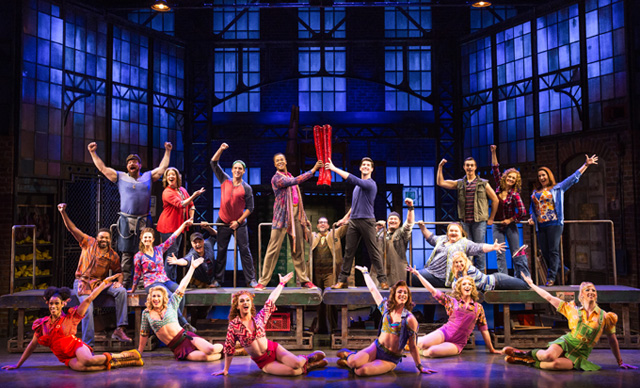 Reviewed by Jennifer Benoit-Bryan
This musical has all the essential elements: fabulous acting, songs that get stuck in your head, and choreography that looks effortless – all tied up together with a heartwarming story. I had high expectations given the many accolades that this musical has received including six Tony awards in 2013 and the Grammy Award for Best Musical Album, and I'm pleased as punch to say that this show exceeded those hopes.
Kinky Boots opens on a small shoe factory whose multigenerational workers have become like a family. But as the story progresses, we discover that the factory is in danger of closing unless they can find an untapped market. Lola, a stunningly talented drag queen, provides the spark of inspiration for, and then the actual design of, kinky boots that can stand up to the most stringent demands.
J. Harrison Ghee takes the audience's breath away with his portrayal of Lola in almost every scene. He imbues the role with sass and sex at times and then shifts smoothly to vulnerability in a way that makes the audience care about Lola and admire her tenacity and style. Tiffany Engen also provides a standout performance with self-deprecating humor delivered with perfect timing. I found myself watching Engen even when she was playing a minor role in a scene looking for more of her infectious humor. In a field of standout actors, Adam Kaplan's performance of Charlie Price fell just a bit flat; he struggled to build a strong sense of rapport with the audience.
In most productions I only notice the lighting design when it's done badly. But the lighting design in Kinky Boots played a major role in transporting the audience emotionally through a range of highs and lows. At one point, Kenneth Posner's lighting design shone in rays from behind Lola out into the audience during a vulnerable song which made her look almost as if she was floating toward the audience—stunning.
The costume design was essential to creating a sensational entrance for Lola and her drag queen Angels, and Gregg Barnes does not disappoint. The Angels' costumes have enough coordination to be clearly linked while blazoning with personality. One outfit in particular stands out, a mini-dress with a British flag, and a giant blue, red, and white bow on the bum, as well as a two-foot tall blue bearskin hat, and did I mention the boots? At the beginning of the play, the costume design clearly separates the factory workers and the drag queens, but look for a satisfying unification across the groups through the costuming at the end of the show.
This touring production of Kinky Boots has a well-deserved reputation, and those who have not yet seen it are lucky to have another chance here in Chicago over the next week.
Running Time:  Two hours and twenty minutes with one intermission
At the Oriental Theatre, 24 W. Randolph Street through September 4, 2016
Book by Harvey Fierstein
Score by Cyndi Lauper
Directed and choreographed by Jerry Mitchell 
Tickets: $25-$98 at 312-977-1710 or www.BroadwayinChicago.com