Today, we went to the extreme for Abby's birthday. First, we went to the Capilano Suspension Bridge.  It's this 460 foot bridge that is 230 feet above the Capilano River.  The bridge sways back and forth as people come and go.  I white knuckled it the entire way… both times.  On the other side of the bridge is a beautifully preserved rainforest.  The trails are multi-leveled boardwalks through the forest along the cliff.  And there is also a treetop trail (like the Ewok village).  It is so cool to experience nature on these different levels.
Jenny and I are standing by a sign that says 'Aging gracefully'.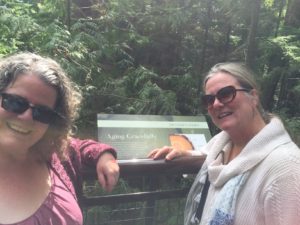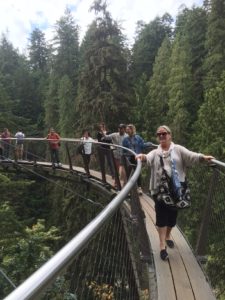 We hiked back to the other side of the suspension bridge to go on the cliff walk.  They built the foot trail off the cliff.  None of these pictures really capture the intensity of the height.  Scary cool.  We left the Capilano River and headed up Grouse Mountain.  We road the gondola up the mountain.  The view was breathtaking.  There are all kinds of activities on Grouse Mountain including paragliding.  The paragliders waved at us as we lunched at the mountaintop bistro.  There are two grizzly bear residents on the mountain that reside behind an electric fence.  We were able to see them pretty close up.
We celebrated Abby's birthday in our hood at Steveston Seafood Restaurant with Ame and Darrin joining our party.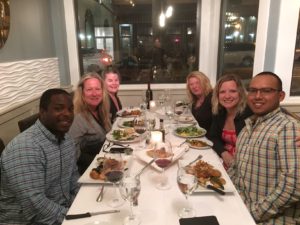 It was a fabulous day and evening.