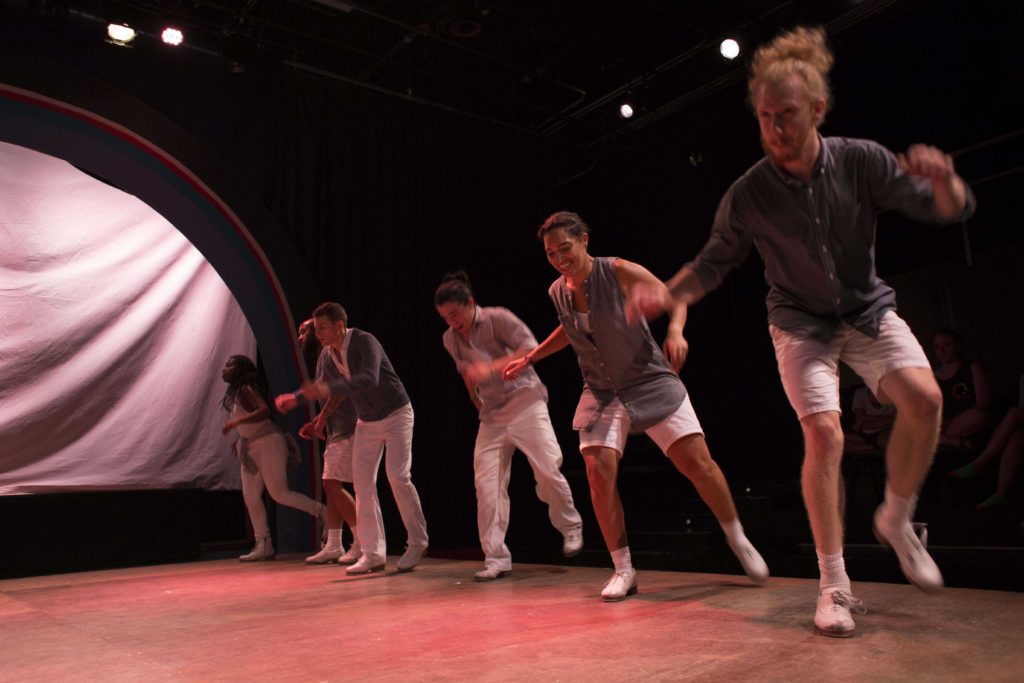 Tapman Productions presents the World Premiere of THRUST!
A thrust stage is one where the audience is seated on three sides. At the beginning of the show, Artistic Director Tristan Bruns introduces the concept and encourages theatre goers to sit on the non-traditional sides.  He promises the dancing will be performed to all sides of the theatre.  And he and his impressive crew do deliver a high-energy, dynamic performance from every angle.
The show is a two-parter. The first half incorporates tap and modern dance in a flurry of movements. The unsettling start has dancers clad in black with white masks and carrying knives. As the lights flicker on and off, the dancers slither into individual and multiple contortion poses. It kicks off the eclectic Act One. Throughout the first half, the modern dancers, often dressed in distinct costumes, and tap dancers, wearing more everyday attire, mingle on stage.  Each group, committed to their own genre, seem unfazed by the presence of the other art form. It almost looks freestyle as if these two groups are co-existing by happenstance in a shared space. And then a rhythm changes and the remarkable synchronicity between the two very different factions reinforces the artistic cohesion. We experience dance infused with dance.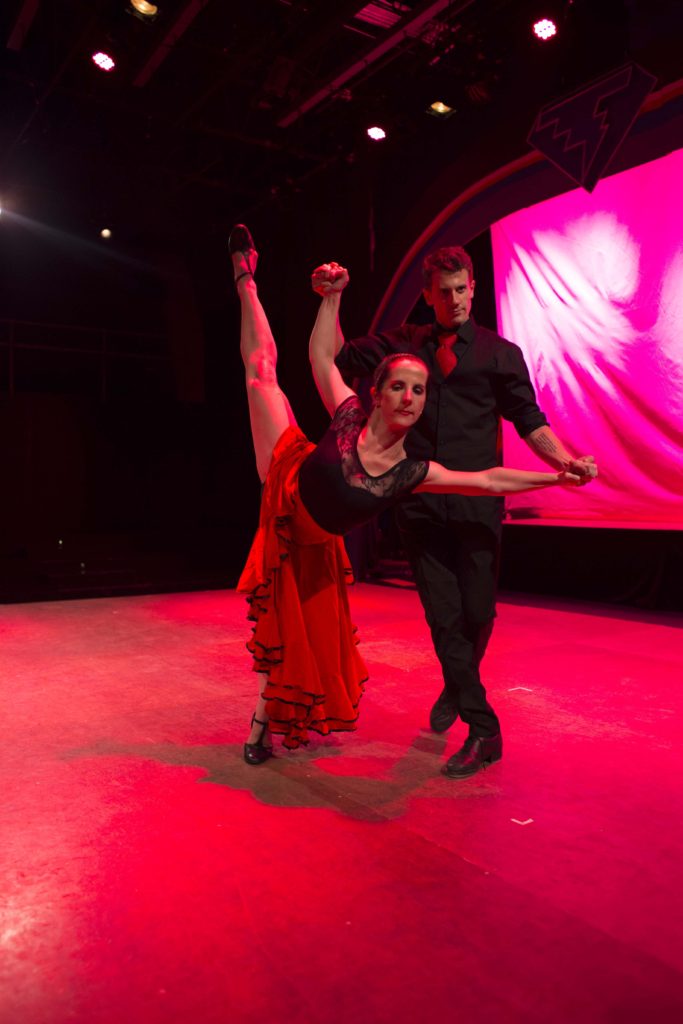 Act One is ambitious. It features five very diverse numbers. Several have multiple parts and mega dancers. I'm not sure where to look!  The activity is organized chaos. One of my favorites number is the simplistic and smoldering "Latin Flair" led by choreographer and dancer Kate O'Hanlon. In her solo, the petite O'Hanlon owns the stage. She effortlessly and beautifully inhabits the space previously occupied by over a dozen dancers.  When Tristan Bruns joins her in a steamy duet, the manifestation of modern-tap ignites the stage.
Also in Act One, "Close Every Door to Me" is a performance piece accompanied by a choir.  Composer Carolyn O'Brien arranges Andrew Lloyd Weber's song from "Joseph Amazing Technicolor Dreamcoat". As it's sung, performers are closing real doors and dancing around and through them.  The concept is cool.  The reality is a little dicey.  The slamming of doors causes pieces to fall off.  I am concerned for the dancers' safety in this frantic piece.  At one point, the door on my side is stuck and can't be opened. The actual mechanics of this number affected the fluidity of the piece.
Although I enjoyed the artistic vision of Act One, Act Two is my favorite. It's all about the dance. No costumes. No doors. Nothing elaborate. "From the Top", choreographed by Ian Berg, is back to the basics.  Six dancers tap to pop music.  Bern, Bruns, Ayan Imai-Hall, Star Dixon, April Nieves and Jumaane Taylor showcase extraordinary feats of physicality and endurance. The dancers move seamlessly through several songs.  The hoofing never stops as dancers 'tag out' or break-out into a solo spotlight moment. Their tireless efforts are continually met with spontaneous applause.
I recommend THRUST! as an incredible dancing performance. I don't recommend sitting on the right side of the theatre.  Although the dance experience was intimate and inclusive to every angle, the backstage was in my sight-line.  I could see the fire extinguisher, electric cords and an occasional dancer walking in that area.  It was distracting and broke the enchantment of the dancing.
Running Time:  Two hours includes an intermission
At Stage 773, 1225 W. Belmont
Choreographed by Tristan Bruns, Kate O'Hanlon and Ian Berg
Performed by Hannah Bailey, Ian Berg, Tristan Bruns, Martin Bronson, Zada Cheeks, Megan Davis, Star Dixon, Ayan Imai-Hall, Juan Irizarry, Teresa Leahey, Gloria Mwez, Kate O'Hanlon, April Nieves, Carmen Paquette, Aimee Russon, Von Smith, Jumaane Taylor and Jessica Williams.
August 26th and 27th at 7pm
August 28th at 3pm
Tickets are currently on sale at www.stage773.com
All Photos by Aleks Kawa
For more information and reviews on Chicago theatre, visit Theater in Chicago.