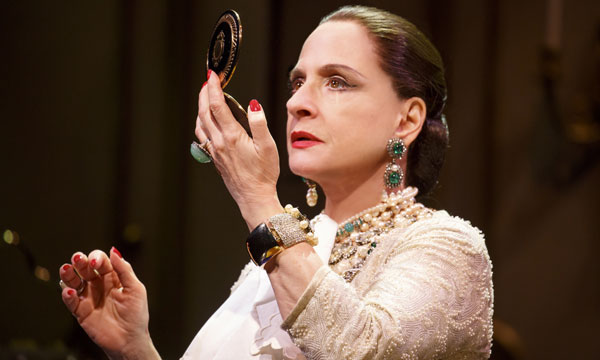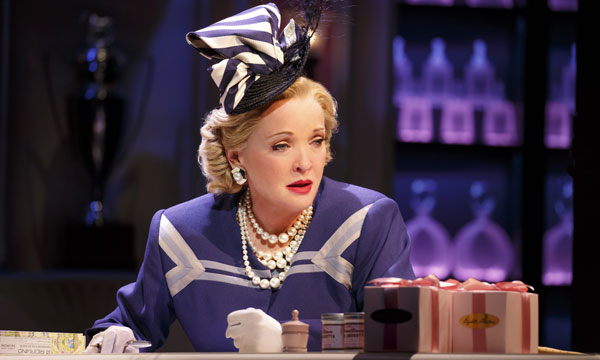 Goodman Theatre presents the World Premiere of WAR PAINT.
Two iconic women play two iconic women.  Patti LuPone (Helene Rubinstein) and Christine Ebersole (Elizabeth Arden) play the make-up mavericks who established the cosmetic industry. LuPone and Ebersole channel their inner diva to play the successful business rivals. It's impossible to imagine this show cast any more perfect.  The majestic LuPone commands her empire with unapologetic decisiveness. The effervescent Ebersole spins her company as pampered indulgence tied up in a pretty box.  The ladies embody the contrasting personas. They own this show.  And this show is selling out because these award-winning performers are powerhouse singers and actors with solid comedic timing.
To enhance the WAR PAINT experience, Costume Designer Catherine Zuber showcases a fashion show through the decades. Zuber goes all out with vintage eye candy.  She takes us through a history lesson from hats to go-go boots. The costumes were amazing and they popped on Scenic Designer David Korins' sleek set.  Korins represents the make-up brands with oversize, lit-up signs. He cleverly reinforces the different personalities.  Each sign and furniture match the diva's style. And then, Lighting Designer Kenneth Posner contributes varying shades of razzle dazzle to enhance the visual.
WAR PAINT is about the ultimate makeovers. Two women, from meager beginnings, growing into corporate moguls in a male-dominated world.  Although the story, itself, is engaging, the book by Doug Wright isn't. Despite focusing on the rivalry, the tension is minimal.  The women are often seated at their opposing desks for contemplative singing.  Although the singing is stellar, the lackluster positioning isn't engaging. And the occasional 'her' barb isn't enough to sustain the supposed contention between them. These women were dynamos. They fought their way to the top. Wright's script needs more pluck and less gloss. His foundation is a little light.
Still, I enjoyed seeing and hearing these divas sing. They are the show! WAR PAINT is a fabulous LuPone and Ebersole production
Running Time:  Two hour and thirty minutes includes an intermission
At Goodman Theatre, 170 N. Dearborn
Inspired by the book "War Paint" by Lindy Woodhead and the documentary film "The Powder & The Glory" by Ann Carol Grossman and Arnie Reisman
Book by Doug Wright
Music by Scott Frankel
Lyrics by Michael Korie
Directed by Michael Greif
Music direction by Lawrence Yurman
Tuesdays at 7:30pm on August 2nd, 9th, 16th
Wednesdays at 7:30pm
Thursdays at 2pm (no matinee on August 11th and 18th) and 7:30pm
Fridays at 8pm
Saturdays at 2pm (no matinee on July 23rd) and 8pm
Sundays at 2pm and 7:30pm (no evening performance on August 7th)
EXTENDED Thru August 21st
Tickets are currently on sale at www.goodmantheatre.org
For more information and reviews on Chicago theatre, visit Theater in Chicago.