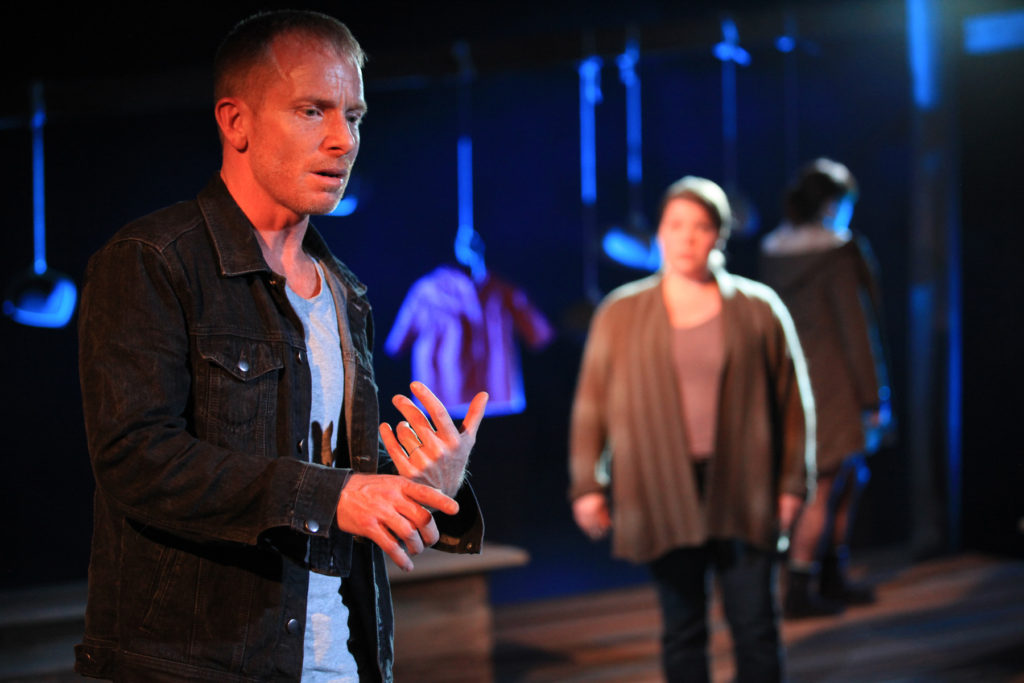 Irish Theatre of Chicago presents the U.S. Premiere of SPINNING.
'Spinning' is the perfect name for this play.  Playwright Deirdre Kinahan spins a tale of tragic redemption. Conor's (played by the adept Dan Waller) life has spun out of control. Kinahan starts her story at the messy end and zig-zags backwards.  When we meet Waller, he is a ghost of a man.  He has shown up uninvited and unwanted on Susan's (played by Jodi Kingsley) doorstep. We find out quickly that he is blamed for the death of her daughter.  We spend the next engaging eighty minutes trying to figure out why.
Waller is the story. Through his very different interactions with Kingsley, Carolyn Kruse (Jen) and Tyler Meredith (Annie), we begin to understand what happened. Director Joanie Schultz skillfully tethers us to Waller.  Even when he admits his guilt to a heartbroken Kingsley at the very beginning, we want to believe differently. His vulnerability is endearing.  Waller delivers an impressive range of emotion. One moment, he is this lost soul taking a verbal beating from Kingsley. The next he's lustfully pawing the sexy Kruse in a bar. His ability to quickly flip the emotional switch keeps the storytelling captivating.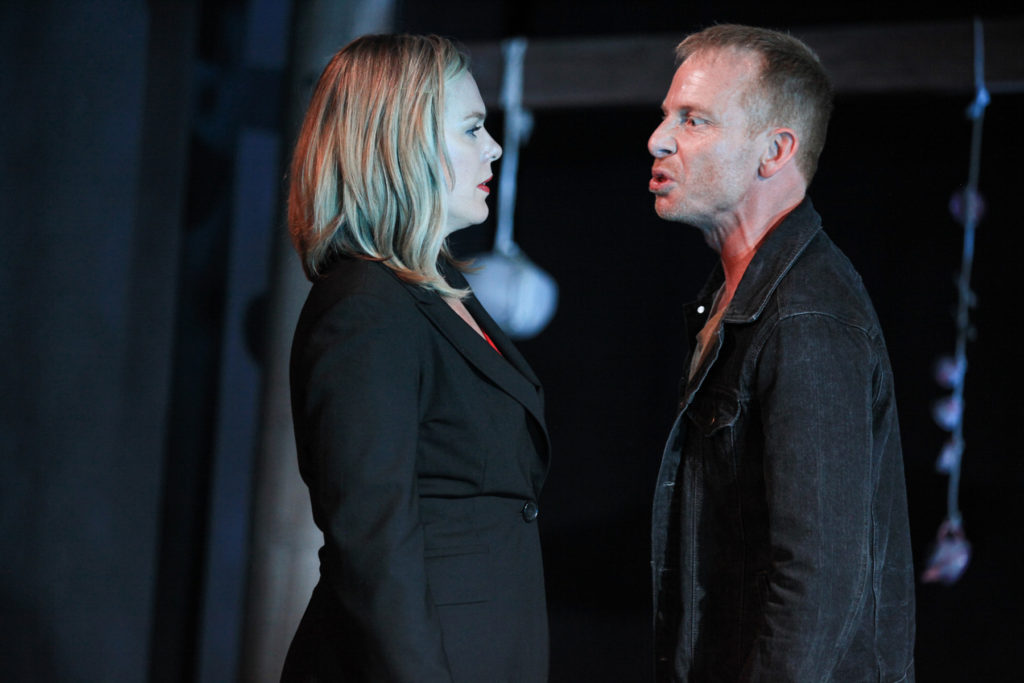 Schultz stages this with all the actors present.  When they aren't in the scene, they either have their back to the action or they helplessly watch the flashback. At one point, a remorseful Waller watches as Kingsley allows the precocious Meredith to straighten her hair. The playful scene shows the loving mother-daughter bond. Kingsley's face radiates with joy.  Her past happiness is a strong contrast to her palpable anguish in the present day. Kingsley pulls us into her despair so completely I get teary.       
The love between a parent and a child is this play's emotional essences.  And the loss of a child is the unforgettable takeaway.  SPINNING is powerful. The haunting story unfolds like a mystery. Following the thunderous applause, one audience member uttered 'wow!'  I heartily agree.
Running Time:  Eighty minutes with no intermission
The Den Theatre, 1333 N. Milwaukee Ave. in Chicago
Written by Deirdre Kinahan
Directed by Joanie Schultz
Thursdays, Fridays and Saturdays at 7:30 pm
Sundays at 3 pm
Thru July 3rd
Tickets are currently on sale at www.irishtheatreofchicago.org.
Photos by Emily Schwartz
For more information and reviews on Chicago theatre, visit Theater in Chicago.