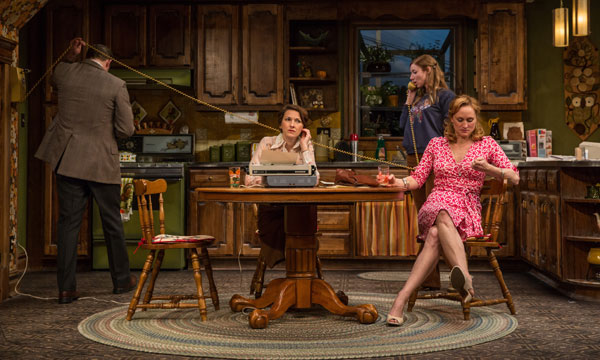 Goodman Theatre presents the Chicago Premiere of SOUPS, STEWS, AND CASSEROLES.
Playwright Rebecca Gilman sets her story in 1976 Wisconsin.  A corporation has bought the local cheese factory. As union workers ban together to save jobs, one man seizes his opportunity to get ahead. Gilman captures the historic onset of industrial downsizing that led to economic disparity. She tells the story from a small town perspective. She even narrows the focus to one extended family's response to 'selling out.'  The characters and set-up are so familiar, it feels like watching a 1970s television rerun. I correctly anticipate each character's next line, next move, next reaction.  Although Gilman sprinkles amusing humor throughout, the drama isn't there. The absence of tension makes the show fairly dull.   
Gilman utilizes multiple shorter scenes. Even though the scene transitions makes the overall show drag, it also sets up Costume Designer Jenny Mannis to orchestrate a 70s vintage fashion show. As a female character exits yet again, we know she is coming back with a groovy new look.  Mannis brings back the 70s with nude stockings, high-waisted jeans, headscarves and a chic-flowing-disco-era-gown. The visit back to the 70s is an all too real eye-rolling flashback remembrance. Scenic Designer Kevin Depinet also adds to the deja vu experience with his kitsch kitchen. I feel I've visited this place with its wood cabinets, percolating coffee pot, dangling citrus accented light, and yellow phone with extra long cord. The look is pure Midwest working class.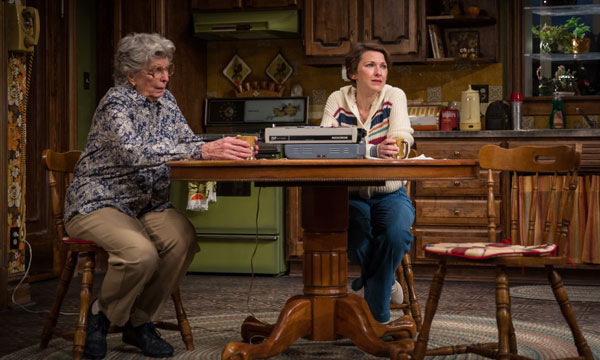 Despite feeling the attack-on-the-union plot was predictable and pedestrian, I did enjoy the dynamic between Gilman's female characters.  Under the direction of Robert Falls, we watch Cora Vander Broek (Kat) get swept off her feet by town newcomer Angela Reed (Elaine).  The vivacious Reed infiltrates Vander Broek's cozy recipe clique.  The cantankerous Ann Whitney (JoAnne) immediately dislikes Reed's domineering presence.  The interactions have a mean-girls-turned-women spirit.  Even daughter Lindsay Stock (Kelly) is initially wooed by Reed. The friendships, new and old, seem legit. These ladies bond and fall out with authentic excitement and annoyance.    
SOUPS, STEWS, AND CASSEROLES is served lukewarm.  Some of it's tasty but nothing of sustenance to make it memorable. 
Running Time:  Two hours and twenty minutes includes an intermission
GoodmanTheatre, 170 N. Dearborn
Written by Rebecca Gilman
Directed by Robert Falls 
Wednesdays, Thursdays and June 7th, 12th, 19th at 7:30pm
Fridays at 8pm
Saturdays at 2pm and 8pm
Sundays at 2pm (no 2pm performance on June 19th)
Thru June 19th
Tickets are currently on sale at www.goodmantheatre.org
For more information and reviews on Chicago theatre, visit Theater in Chicago.