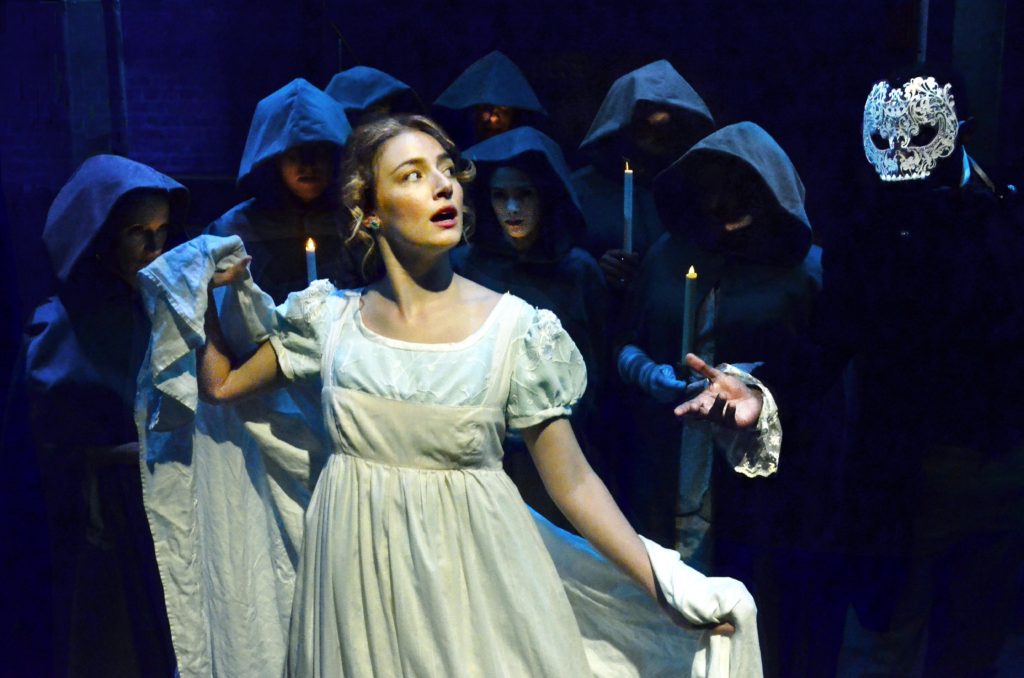 Lifeline Theatre presents the World Premiere musical adaptation of NORTHANGER ABBEY.
This. Show. Is. Excellent! The dynamic husband and wife team of Rob (book) and Elise (director) Kauzlaric resurrect Jane Austen's novel about a girl infatuated with gothic romances. The young bookworm finds herself plucked from her country home obscurity and dropped into sophisticated high society.  She experiences her new life with an innocent heart, active imagination and literary ghosts. The script is smart. The wit is pristine.  The ensemble is solid.  It could have been another wonderful Lifeline 18th century play.  Instead, it's an outstanding Lifeline 18th century musical.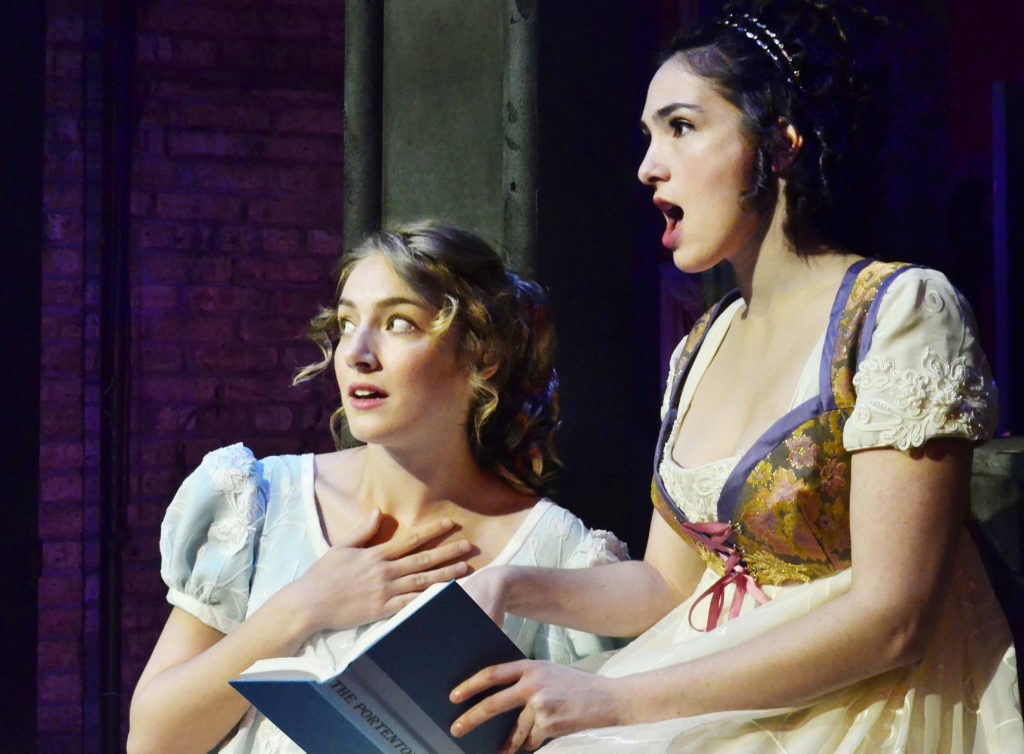 Composer George Howe (music and lyrics) joins the Kauzlarics in creating a spirited, clever adaptation. Howe's songs fit so perfectly they sound like an extension of the dialogue. Jenifer Tyler (Mrs. Allen) transitions from lecturing to singing as she hilariously nit-picks Stephanie Stockstill (Catherine) in A Woman's Reputation. Throughout the show whenever Stockstill is alone with her thoughts, the voices in her head are the harmonious chorus. They influence Stockstill by conjuring up wild notions in melodramatic style. One of my favorite songs is Torment where the cunning Lydia Hiller (Isabelle) flirts with both the noble Chris Ballou(James) and the lecherous Denzel Tsopnang (Frederick). The song, accompanied with choreography by Todd Rhoades, changes back and forth from sweet to steamy as Hiller's dance partner changes. It's sexy and funny. I also loved The Symmetry of Flowers, The Story has been Written and Let Me Offer My Hand.  Each song has a distinct melody and message. I found myself humming them in my head during and after the show. (I want to download these tunes).   
The talented ensemble transform into these elegant aristocrats that sing and say the most deliciously wrong things. Tyler's timing is comedic perfection as she lifts an eyebrow or sails through the ballroom to greet the elite. Her snobby buffoonery brilliantly contrasts with our heroine-in-training, the irresistible Stockstill. The wide-eyed Stockstill radiates an infectious excitement for a book, a man or dead nuns. When she meets the dashing Javier Ferreira (Henry), her apparent pleasure is completely adorable. She is the epitome of a young romantic. She reminded me of Keira Knightly.
NORTHANGER ABBEY is tight. I absolutely loved every aspect. The design team, Sarah Lewis (scenic) and Diane D. Fairchild (lighting), create a harsh, gothic framework.  Costume Designer Aly Renee Amidei fills their space with exquisite finery. The aesthetic transports us into the pages of an Austen novel. The writing, the directing, the music, the acting make us want to stay indefinitely.  This summer, get swept away with this exceptional new musical.
Running Time:  Two hours and thirty minutes includes an intermission
LifelineTheatre, 6912 N. Glenwood
Based on the novel by Jane Austen
Book by Robert Kauzlaric
Music and lyrics by George Howe
Music direction by Ellen K. Morris
Directed by Elise Kauzlaric
Thursdays, Fridays at 7:30pm
Saturdays at 4pm and 8pm
Sundays at 4pm
EXTENDED Thru August 13th
Tickets are currently on sale at www.lifelinetheatre.com
Photo by Suzanne Plunkett.
For more information and reviews on Chicago theatre, visit Theater in Chicago.