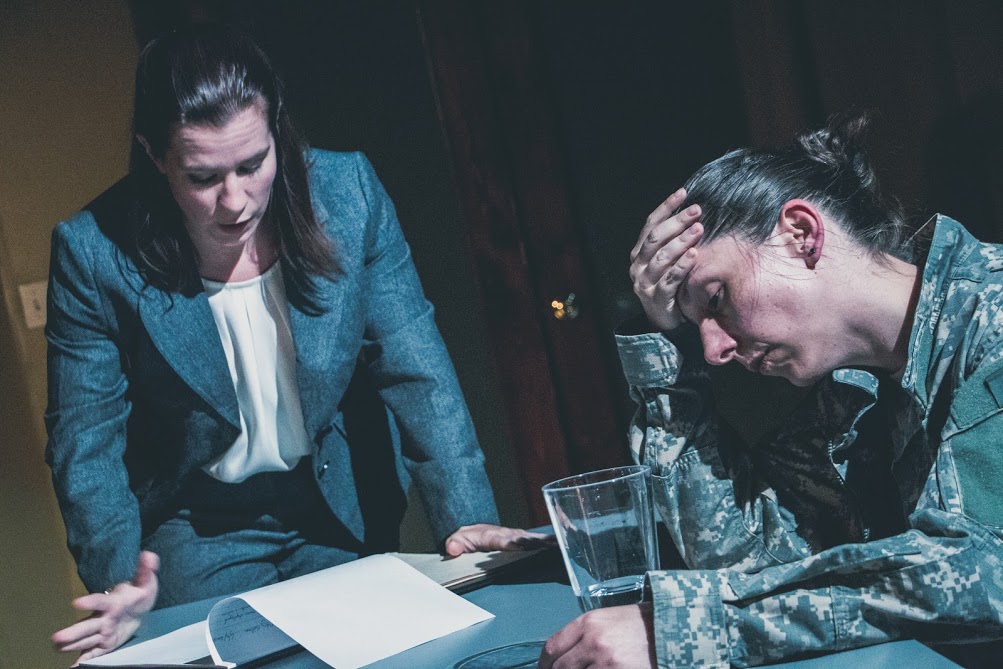 Broken Nose Theatre presents the Chicago premiere production of HUMAN TERRAIN.
When I watch the news about the U.S.'s involvement in the Middle East, I understand it from that perspective, a 15-30 second sliver of a military report. It's limited.  It's one dimensional. Playwright Jennifer Blackmer goes beyond that to tell an Iraq story from multiple angles.  It's riveting from the start. She plops us down in an interrogation room where Jassamyn Fitzpatrick (Kate) is questioning Kim Boler (Mabry) about an explosion.  Fitzpatrick is robotic. Boler is hostile. I'm immediately intrigued to find out what happened.
Through a series of flashbacks, we watch, we hear, we feel Boler's life as a civilian working with the army. Boler is outstanding.  Part of my wonderment about her powerhouse performance is that I last saw her in The Factory's The Last Big Mistake     .  The contrast between that hilariously wacky character and this compassionate anthropologist is amazing.  Boler delivers an emotionally charged, compelling defense to Fitzpatrick. She tethers us to her vulnerability and strength as a woman, as an outsider and as a scientist. She is so authentic in the role that at various points I'm angry or teary in response to her current situation.
Blackmer goes beyond stereotypes to create characters with depth. Under the skillful direction of Benjamin Brownson, the terrific ensemble bring a realism to this storytelling.  Robert Koon (Alford) is a gruff colonel. Matt Singleton (Detty) is the gentle protector. Evan Sesek is the hot-head redneck.  Sunny Anam (Kemal U/S) is a nervous local. In the intimate space, one scene had me uncomfortably scared. Brownson builds tension with the ensemble's volatile reactions. A steadfast Boler steps in to calm everyone down…including me. It takes awhile.  The danger feels real.
Each character's connection to Boler is the story. We learn more about their back stories through Boler's sincere inquiries. Her role is to study people.  Blackmer cleverly lets an anthropologist be the main character.  And it's through Fitzpatrick's interrogation of Boler's probing that we are tethered to all the characters.  The relationship between Boler and Shozzett Silva (Adiliah) is particularly thought-provoking.  Silva's explanation of a niqab opened my mind to a different way of thinking.  Blackmer neatly weaves that narrative back into the final scene.        
I enjoyed this show immensely. The whole human terrain concept fascinates me. An anthropologist assisting the military in better understanding the place they are occupying. It's right and wrong at the same time. This show does that a lot. It broadens our perspective by making the division between right and wrong miniscule. HUMAN TERRAIN masterfully tells all sides of the story.  At the end, we have a full grasp of what occurred which makes the future even more uncertain. I highly recommend this multi-dimensional show.     
Running Time:  One hour and fifty minutes includes an intermission
Voice of the City, 3429 W. Diversey
Written by Jennifer Blackmer
Directed by Benjamin Brownson
Thursdays, Fridays, Saturdays at 7:30pm
Sundays at 3pm
Thru July 9th
Pay-what-you-can tickets at www.brokennosetheatre.com or at the door
Production photos by Matthew Freer
For more information and reviews on Chicago theatre, visit Theater in Chicago.